News Release > Pilgrim Nuclear Power Station Returned to Normal Regulatory Oversight
For Immediate Release
Pilgrim Nuclear Power Station Returned to Normal Regulatory Oversight
03/06/2019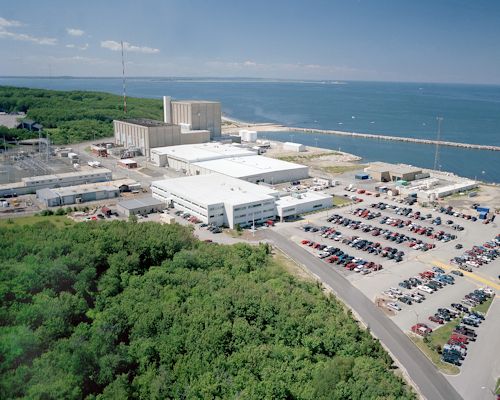 PLYMOUTH, Ma – Entergy's Pilgrim Nuclear Power Station was returned to normal, baseline oversight by the Nuclear Regulatory Commission this week, moving the plant from Column 4 to Column 1 in the agency's Reactor Oversight Program.   
The action came following the NRC's closure of a Confirmatory Action Letter issued in  August 2017 that detailed specific actions Entergy committed to complete in order to fully address the plant's performance issues.
"Each of our 600 employees committed themselves to returning the plant to the NRC's top regulatory category, which required our performance and corrective actions to undergo thousands of hours of enhanced reviews and inspections over the last two years," said Brian R. Sullivan, site vice president and Entergy's top official at the site.
"Since Pilgrim was already slated to be permanently retired by June, I'm sure some wondered whether we would return to normal oversight before shutdown," Sullivan continued.   "The professionalism and pride of our employees was evident every single day, and along with strong support from our company's nuclear division, are the reasons we have seen greatly improved performance at the site. When people look back years from now at Pilgrim's nearly 50-year history of service to our region, our legacy will always reflect the dedication, hard work, and commitment of thousands of men and women completely committed to Pilgrim's safe operation."
"The employees at Pilgrim are some of the finest nuclear professionals I have known. Their dedication, along with the support from our company's nuclear division and other plants, was evident throughout this multiyear performance improvement effort," said Chris Costanzo, senior vice president of nuclear operations for Entergy.
Entergy announced in Oct. 2015 the permanent shutdown of Pilgrim by June 1, 2019.
Entergy has invested more than $600 million in safety and reliability improvements to ensure delivery of hundreds of millions of megawatt hours of safe, reliable, carbon-free power to the region since purchasing Pilgrim from Boston Edison in 1999.
About Pilgrim and Entergy
The Pilgrim Nuclear Power Station employs about 600 nuclear professionals and generates 680 megawatts of safe, reliable, carbon-free power, enough to power more than 600,000 homes. Pilgrim began generating electricity in 1972.  Additional information is available at www.pilgrimpower.com.
Entergy Corporation is an integrated energy company engaged primarily in electric power production and retail distribution operations. Entergy owns and operates power plants with approximately 30,000 megawatts of electric generating capacity, including nearly 9,000 megawatts of nuclear power. Entergy delivers electricity to 2.9 million utility customers in Arkansas, Louisiana, Mississippi and Texas. Entergy has annual revenues of approximately $11 billion and more than 13,000 employees.
---