News Release > Posse New Orleans: an Entergy Charitable Foundation Success Story
For Immediate Release
Posse New Orleans: an Entergy Charitable Foundation Success Story
01/30/2018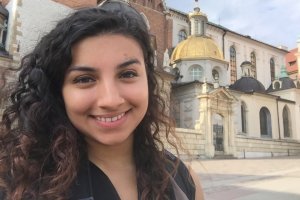 New grant awards raise 2017 Entergy Charitable Foundation contributions to $2.4 million
NEW ORLEANS – Support from the Entergy Charitable Foundation has helped Posse New Orleans fulfill the college-bound dreams of more than 150 high-school scholars, many of whom would have otherwise lacked the resources to continue their education.
Now the foundation is announcing $1.1 million of new grant awards, provided to community improvement partners in states where Entergy operates. The new awards bring the program's total 2017 contributions to $2.4 million. A list of new recipients can be viewed here. 
In her final semester at Bard College, Posse Alumna Angie Del Arca earned the Humanity in Action Fellowship and was invited to travel to Warsaw, Poland, to study human rights. She also served an internship with Entergy's corporate social responsibility program as part of her career development experiences with Posse New Orleans. Photo courtesy of The Posse Foundation.
ECF is just one of a variety of Entergy programs that support nonprofits in local communities. In total, Entergy Corporation supports more than 2,200 nonprofits annually with charitable contributions of approximately $16 million.
For Posse New Orleans, Entergy's partnership since 2011 has helped secure more than $26 million in full-tuition, four-year scholarships for students to Tulane University, Notre Dame University, Bard College and Grinnell University and helped the nonprofit expand its outreach.
In 2016, Posse New Orleans celebrated the graduation of its first two cohorts of scholars from Bard College and Tulane University and recruited two new institutional partners for the program — Illinois Wesleyan University and Case Western Reserve University.
The national Posse program provides college preparation, access and support that enable many low-income minority students to attend Tier 1 universities and has a 90 percent graduation rate. Its name refers to the practice of sending scholars to campus in multicultural teams – or posses – of 10 students who provide critical support for one another. In addition to funding, Entergy has provided volunteers, hired scholars for internships and sponsored events for the New Orleans chapter.
"Entergy's contributions to Posse over the years reflect a serious commitment to education and to creating opportunities for nontraditional pools of talent," said Monica Sylvain, director of Posse New Orleans. "Our success as an organization hinges on this kind of support. Entergy's investments have helped to expand the program's reach and deepen its impact on the lives of so many promising students in New Orleans."
"Expanding access to education is one of the most important ways we power life and brighten futures in our communities," said Patty Riddlebarger, Entergy's director of corporate social responsibility. "Posse New Orleans not only makes it possible for scholars to graduate from the nation's top universities, but it also equips them with the skills and resources they need to become leaders in the workforce and the community."
Entergy Charitable Foundation grants are awarded twice a year. For details, visit Corporate and Foundation Giving at entergy.com. And as a reminder for those submitting grants for the next cycle, the deadline to have those finalized is tomorrow, Feb. 1, 2018. The next deadline will be Aug. 1, 2018.
Entergy New Orleans, LLC is an electric and gas utility that serves Louisiana's Orleans Parish. The company provides electricity to more than 198,000 customers and natural gas to more than 106,000 customers. 
Entergy Corporation is an integrated energy company engaged primarily in electric power production and retail distribution operations. Entergy owns and operates power plants with approximately 30,000 megawatts of electric generating capacity, including nearly 9,000 megawatts of nuclear power. Entergy delivers electricity to 2.9 million utility customers in Arkansas, Louisiana, Mississippi and Texas. Entergy has annual revenues of approximately $10.8 billion and more than 13,000 employees.
-30-
entergyneworleans.com
facebook.com/EntergyNOLA
Twitter: @EntergyNOLA
---