News Release > The power of 100: Entergy Mississippi donates $100K to Extra Table
For Immediate Release
The power of 100: Entergy Mississippi donates $100K to Extra Table
04/12/2023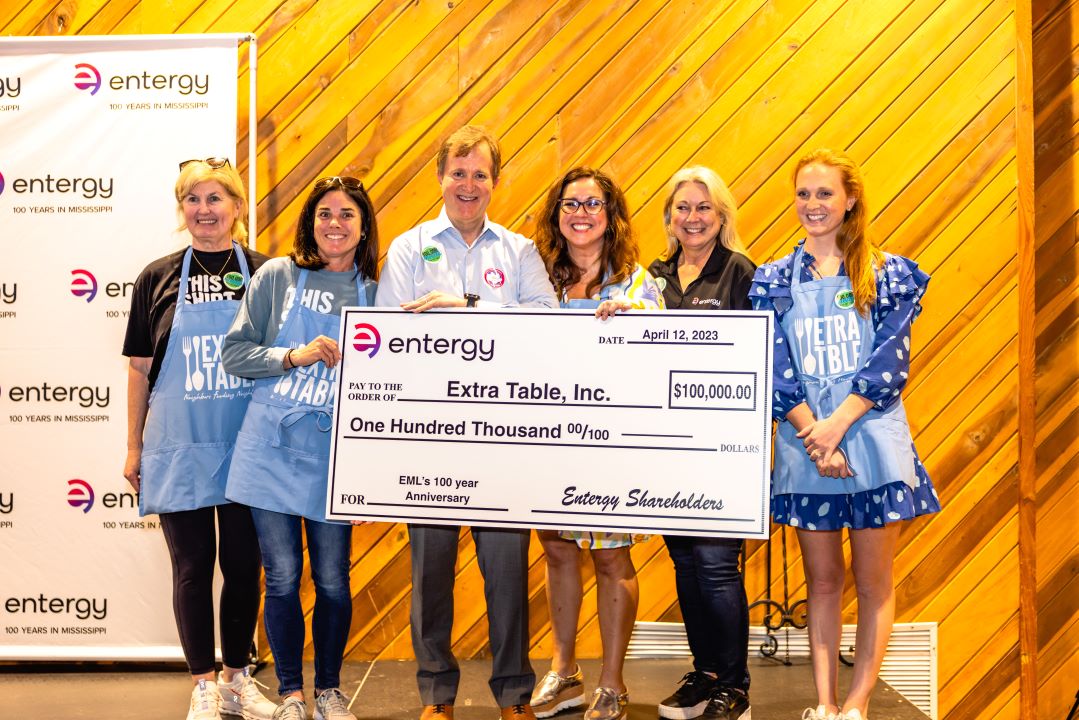 Company celebrates 100th anniversary with $100K gift and 100K meal packing commitment
JACKSON, Miss. – What is the perfect menu to commemorate a century of powering Mississippi? Red beans and rice. The healthy and nutritious meal is part of a year-long effort Entergy Mississippi has launched for its 100th anniversary to invest in poverty solutions and activate the power of employee volunteers to support Mississippi communities. The company is teaming with Extra Table to pack meals for families impacted by food scarcity and donating $100,000 to help eliminate hunger in the state.
Entergy volunteers packed 2,500 boxes of red beans, rice and spices—one box for every Entergy Mississippi employee—at the Mississippi Agriculture and Forestry Museum. It's the first event of a multi-phase 100,000-meal commitment by Entergy Mississippi. Along with the $100,000 gift, funded by shareholders, Entergy Mississippi's support will help Extra Table stock 62 food pantries in the state with nutritious, shelf stable food.
In addition to packing meals, employees throughout Entergy's four-state service area are donating items to support Entergy's Mississippi Delta customers devastated by the March tornadoes. The donations will be distributed by Goodwill Industries.
"This significant moment in our company's history must highlight our communities that particularly need us to be good neighbors right now," said Haley Fisackerly, Entergy Mississippi president and CEO. "Many of our customers live below the poverty level and struggle to meet the basic needs of their families. On top of that, communities in the Delta have a long road to recovery after last month's storms. The best way to step into our next century while honoring our community roots is by helping our fellow Mississippians."
Giving back to communities through philanthropy, volunteerism and advocacy is integral to Entergy Mississippi's purpose of powering life today and for future generations.
"We're grateful that Entergy chose to partner with us to celebrate their incredible milestone," said Martha Allen, Extra Table executive director. "It shows their dedication to solving hunger, and their heart for Mississippi families. With their helping hands and generosity, we will be able to provide half a million meals to families in need."
Entergy Mississippi, which began as Mississippi Power & Light Company, was founded by Harvey Couch on April 12, 1923. The company began providing reliable, affordable power to Jackson, Vicksburg, Greenville and Columbus. In 1926, the company sold its properties in northeast Mississippi, which moved Columbus outside of its service area. Now Entergy Mississippi serves 461,000 customers in 45 of Mississippi's 82 counties.  Entergy Mississippi continues to keep rates lower than the national average, even with increases resulting from higher natural gas prices.
Entergy Mississippi is a national leader in customer service, a compassionate corporate citizen, a catalyst for economic development and known for its unprecedented commitment to safety.
To read more about Entergy's 100-year history in Mississippi, click here.
About Entergy Mississippi
Entergy Mississippi, LLC provides electricity to approximately 461,000 customers in 45 counties. Entergy Mississippi is a subsidiary of Entergy Corporation, a Fortune 500 electric company. Entergy powers life for 3 million customers through our operating companies in Arkansas, Louisiana, Mississippi and Texas. We're investing in the reliability and resilience of the energy system while helping our region transition to cleaner, more efficient energy solutions. With roots in our communities for more than 100 years, Entergy is a nationally recognized leader in sustainability and corporate citizenship. Since 2018, we have delivered more than $100 million in economic benefits each year to local communities through philanthropy, volunteerism and advocacy. Entergy is headquartered in New Orleans, Louisiana, and has approximately 12,000 employees. For the latest news from Entergy, visit the Newsroom.
---