News Release > Power to the People: Entergy Mississippi Dedicates Hinds Solar Site
For Immediate Release
Power to the People: Entergy Mississippi Dedicates Hinds Solar Site
05/09/2016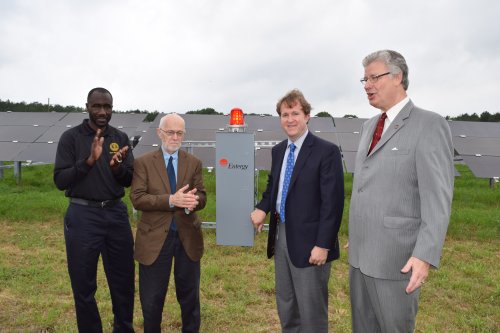 Company officials 'flip the switch' on the last of three sites in the Bright Future solar system
JACKSON, Mississippi– The day was overcast but the future was bright as officials with Entergy Mississippi, Inc., joined by employees, community and business leaders, and city, county and state representatives, dedicated the third and final site in the company's Bright Future pilot solar system.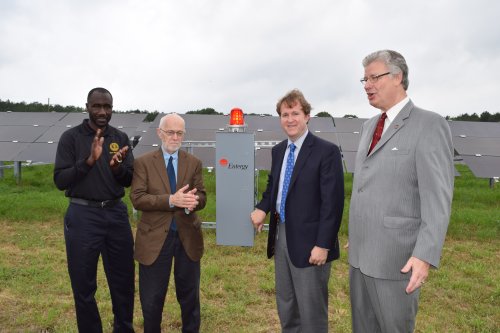 The Hinds solar site is a ground-mounted system that tracks the sun's movement throughout the day to produce up to 500 kilowatts of electricity. It is part of a pilot project to collect data and help determine the economics and feasibility of solar generation in Mississippi. The study results will help guide comparisons of solar generation to other generation options in Entergy Mississippi's service area. It will also help provide insight on the more optimal locational and technical details of future solar projects.
"This installation, along with ones in Lincoln and DeSoto Counties, are the first-ever utility-owned projects in the state," said Haley Fisackerly, Entergy Mississippi president and CEO. "Soon, these three sites will give us answers to questions that will help us prepare for the future."
The three sites combined will produce 1,500 kilowatts of electricity (500 kW each), which is enough electricity to power the equivalent of 175 homes. All three sites include real-time data monitoring linked to Entergy Mississippi's website at entergy-mississippi.com/solarproject/. While the Hinds solar site is a tracking system, the DeSoto and Lincoln sites are fixed-tilt arrays.
The Bright Future pilot solar system is part of the Bright Future plan, a blueprint for Mississippi's electric service needs through 2025. Approved by the Mississippi Public Service Commission, the plan is designed to improve reliability, modernize the grid, maintain an adequate workforce, stabilize rates, use new technologies and attract new industry.
Entergy Mississippi, Inc. provides electricity to approximately 445,000 customers in 45 counties. It is a subsidiary of Entergy Corporation. Entergy Corporation is an integrated energy company engaged primarily in electric power production and retail distribution operations. Entergy owns and operates power plants with approximately 30,000 megawatts of electric generating capacity, including nearly 10,000 megawatts of nuclear power. Entergy delivers electricity to 2.8 million utility customers in Arkansas, Louisiana, Mississippi and Texas. Entergy has annual revenues of more than $11.5 billion and more than 13,000 employees.
-30-
entergy-mississippi.com
Twitter: @EntergyMS
facebook.com/EntergyMS
---