News Center > Restoration Underway Following Severe Weather
For Immediate Release
Restoration Underway Following Severe Weather
04/10/2020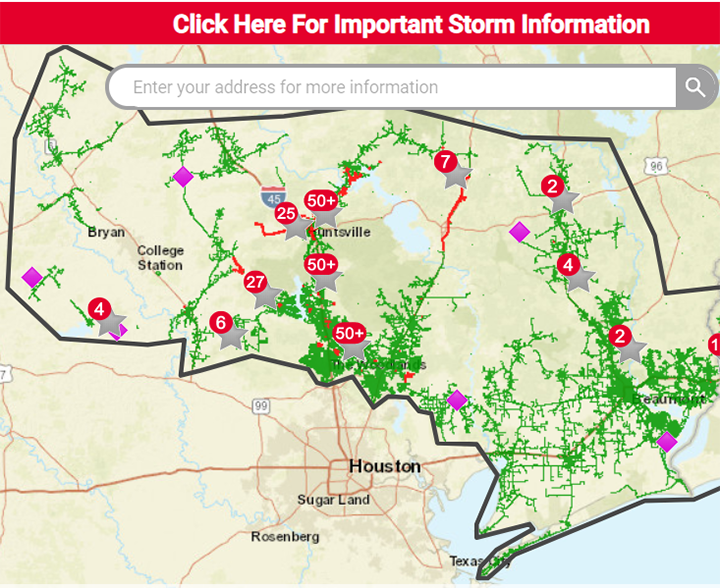 Severe storms blew through Southeast Texas Thursday, bringing down power lines, poles and damaging critical infrastructure. As of 11:00 a.m., around 8,000 Entergy Texas customers were without power, down from more than 31,000 at the height of the storm.
The hardest-hit areas are Walker and Montgomery Counties. Crews are assessing damage and restoring power as quickly as is safely possible and expect to restore the vast majority of customers by this evening. Customers should remain weather aware this weekend as more severe weather is expected to impact Southeast Texas.
"During these challenging and uncertain times, we know how critical power is to the communities we serve," said Stuart Barrett, vice president of customer service for Entergy Texas. "Our commitment to our customers remains unchanged – we will continue to work until all customers are restored."
As our crews respond to outages, they are also maintaining additional safety precautions during the COVID-19 pandemic. Restoration times may be extended, due to additional measures, such as social distancing, crews must take due to the COVID-19 pandemic. 
Even in the field, our crews are practicing social distancing. For their safety and yours, please stay away from their work zones. If you need to report a problem with your service or get bill payment help, we're just a phone call away: 1-800-ENTERGY.
Additionally, customers are urged to use precaution and stay away from downed power lines, and any debris that may be around it as the line may still be energized. Customers should contact Entergy immediately by calling 1-800-9OUTAGE to report downed lines. For more emergency tips, visit the Entergy Storm Center.
As we complete our restoration work, we will keep you informed using the following channels:
Entergy Texas, Inc. provides electricity to approximately 461,000 customers in 27 counties. Entergy Corporation is an integrated energy company engaged primarily in electric power production and retail distribution operations. Entergy owns and operates power plants with approximately 30,000 megawatts of electric generating capacity, including nearly 9,000 megawatts of nuclear power. Entergy delivers electricity to 2.9 million utility customers in Arkansas, Louisiana, Mississippi and Texas. Entergy has annual revenues of approximately $11 billion and more than 13,000 employees.
-30-
Twitter: @EntergyTX
Facebook: Facebook.com/EntergyTX
---