News Center > Russellville Completes Second Entergy Arkansas 'Select Site' Certification
For Immediate Release
Russellville Completes Second Entergy Arkansas 'Select Site' Certification
12/04/2020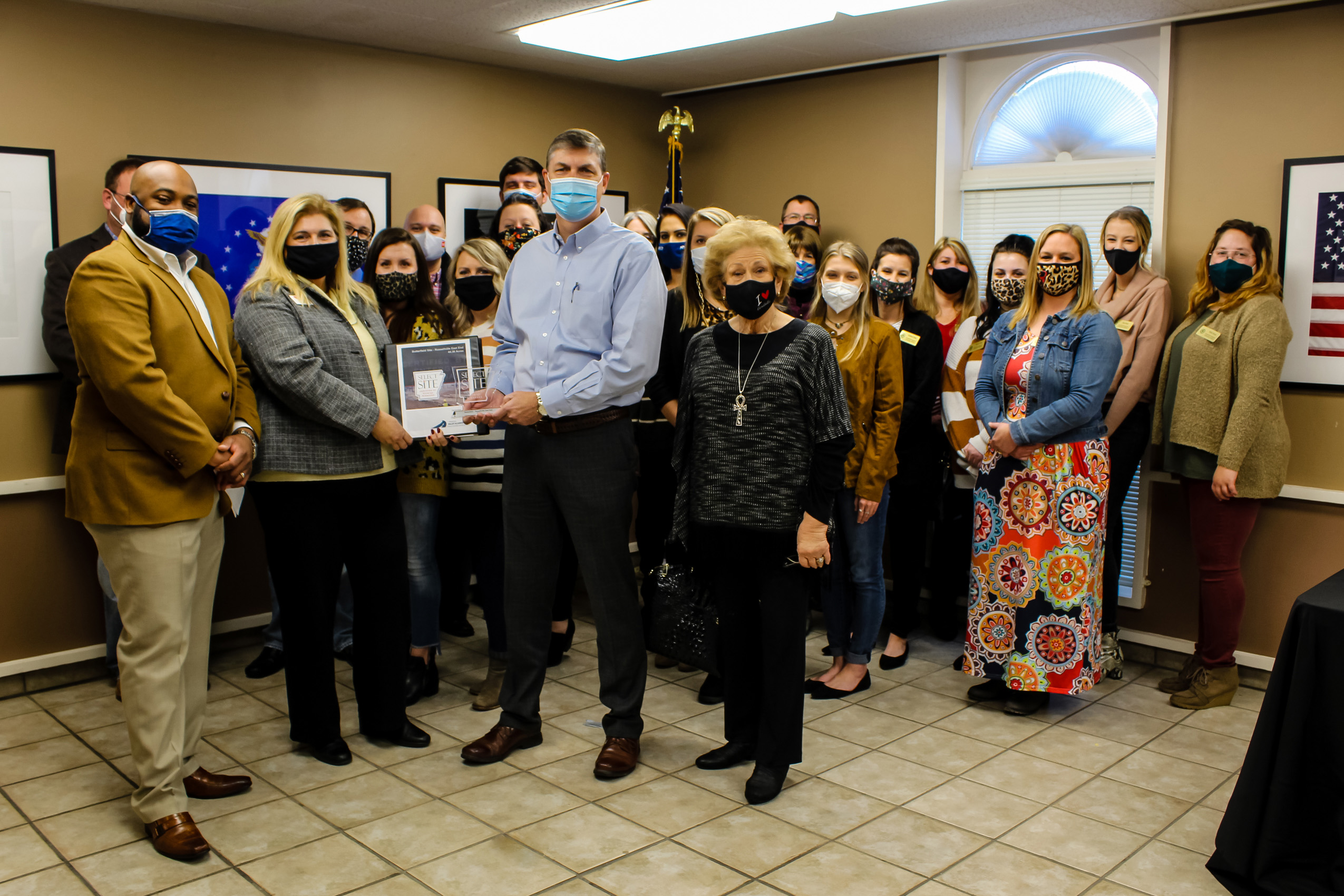 Officials with the Russellville Regional Alliance for Economic Development and Entergy Arkansas announced Wednesday the completed certification of the city's second certified Select Site through the utility company's program. 
"We couldn't be prouder to be the only community in Arkansas with two certified sites," said Paul Harvel, president of the Russellville Regional Alliance for Economic Development. "I want to thank Entergy Arkansas for the opportunity and to thank all the people who put in hard work to get us to today's success."
Omar Clemons, area customer service manager, and Tandee White, community developer, were on hand to recognize Russellville on behalf of Entergy Arkansas for completing the comprehensive review and documentation process for its 44.38-acre industrial site known as the Butterfield – Russellville East End Site and to present a grant check to the Alliance to offset some of the costs associated with the certification.
Entergy Arkansas works with communities to implement an assessment tool that allows communities to certify their sites and communicate the prepared status to the Arkansas Economic Development Commission, site location consultants and company decision makers.
"Along with providing reliable and affordable power with rates among the lowest in the country, Entergy Arkansas works to prepare the communities we serve for attracting new business and encouraging business expansions that result in new jobs, investments and economic growth," said Danny Games, director of Business and Economic Development for Entergy Arkansas. "With today's climate, it is even more important that we communicate that state of readiness online and up our digital game."
The Select Site program helps communities better prepare their sites as winning candidates for high-tech, manufacturing and distribution projects with a thorough audit of the site's readiness for new or expanding business. Preparedness is a necessity for economic development success in today's business environment, officials with Entergy Arkansas said, as site location consultants and prospective companies require immediate response times often on very short notice. Through the Select Site program and the Arkansas Site Selection Center, Entergy is helping to meet those needs. Other Select Site properties are located in  Jefferson County, Little Rock, Magnolia, Maumelle, Newport, and West Memphis.  
Visit www.ArkansasSiteSelection.com to see more details of each Entergy Select Site, including the latest Butterfield – Russellville East End site.
BUTTERFIELD - RUSSELLVILLE EAST END SITE AERIAL
---