News Center > Southwest Steel Processing, LLC., Receives $111,787 from Entergy Arkansas for Saving Energy
For Immediate Release
Southwest Steel Processing, LLC., Receives $111,787 from Entergy Arkansas for Saving Energy
03/17/2017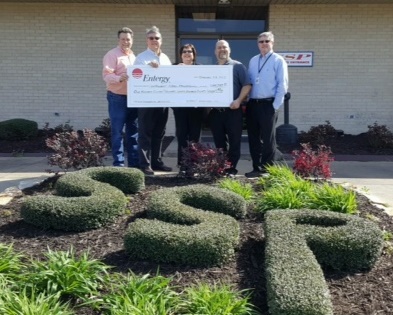 CONTACT:
Chris Murphy
(501) 377-4467(o)
Cmurph4@entergy.com
David Burnette
(870) 762-3534 (o)
DBurnet@entergy.com
NEWPORT, Ark. – Energy efficiency incentives from Entergy Arkansas, Inc. are helping Southwest Steel Processing, LLC Newport manufacturing plant save money by reducing the amount of electricity required to produce steel forgings.
"Entergy Arkansas offered SSP a financial incentive to upgrade our facility, and it turned out to be a really good opportunity for us," said Ken Copeland, SSP president. "We employ about 120 and we have been actively engaged in the community for 17 years. The money we're saving on energy can be re-invested in our business, boosting the economy of this area. On top of that, these changes are good for the environment, which is very important to Southwest Steel Processing and our customers."
Participating in Entergy's large commercial and industrial program resulted in $111,787 total incentives and saved about 890 thousand kWh of energy annually. That is equivalent to avoiding 613 tons of carbon dioxide being released into the atmosphere, or removing 129 vehicles from our roadways. Their project included replacing 2 large modulating compressors with a smaller variable speed compressor, fixing air leaks and adding engineered nozzles.
"Taking steps to be more energy efficient helps not only Southwest Steel Processing's bottom line, but all Entergy Arkansas customers by reducing the overall demand for electricity," said David Burnette, Entergy Arkansas' customer service manager in Newport.
Entergy Arkansas has an award-winning portfolio of energy efficiency programs for both residential and business customers. To learn more about these programs, visit http://www.entergyarkansas.com/energyefficiency.
Southwest Steel processing, LLC., which was formed as a partnership between Cleveland based Park-Ohio Holdings and Arkansas Steel, LLC., was built in Newport, Arkansas in 2002.  In 2003, they produced their first forged products in support of rail customers.  Today, SSP produces steel forgings for rail, energy, industrial and mass transit sectors.  They can supply raw forgings or completely machines, heat treated, and assembled components.  SSP continues to grow and they are currently in construction with another multimillion dollar expansion.  They employ approximately 120 people and they are valued corporate partners of the Newport community.  To learn more about the Southwest Steel Processing, visit www.sspforge.com.
Entergy Arkansas provides electricity to approximately 700,000 customers in 63 counties. Entergy Arkansas is a subsidiary of Entergy Corporation, an integrated energy company engaged primarily in electric power production and retail distribution operations. Entergy owns and operates power plants with approximately 30,000 megawatts of electric generating capacity, including nearly 10,000 megawatts of nuclear power, making it one of the nation's leading nuclear generators. Entergy delivers electricity to 2.8 million utility customers in Arkansas, Louisiana, Mississippi and Texas. Entergy has annual revenues of more than $11.5 billion and approximately 13,000 employees.
The check presentation was attended by (left to right) –Jon Chadwell, Newport director of economic development, David Burnette, Entergy Arkansas customer service manager, Paula Sigman, SSP plant manager, Daniel Baker, SSP plant maintenance manager, and Chris Murphy, Entergy Arkansas business retention and expansion representative.
-30-
entergyarkansas.com
@entergyark
Facebook.com/EntergyARK
---