News Center > Special 'Spinners' Keep Squirrels off Power Lines Leading into Substations; Installation Helps Prevent Animal-Related Outages
For Immediate Release
Special 'Spinners' Keep Squirrels off Power Lines Leading into Substations; Installation Helps Prevent Animal-Related Outages
11/10/2015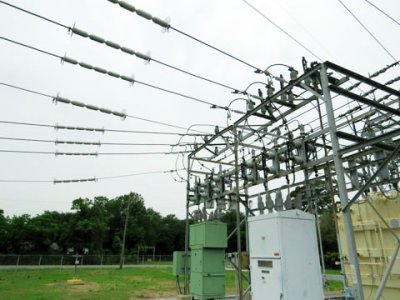 The Woodlands, Texas -- Southeast Texas' sizeable population of squirrels may prove entertaining to watch in the backyard. But there's nothing amusing about the way they deftly dart along power lines, slip into electric substations and cause power outages to neighborhoods.
Entergy Texas, Inc., however, found a way to take on the squirrels. As part of its ongoing service reliability program, the company this year invested about $25,000 to purchase round plastic "spinners" for installation on power lines leading into some 36 at-risk substations throughout its service area. Although a small amount compared to the $2.65 million budgeted overall for service reliability efforts this year, it's a particularly--and peculiarly--effective spend.
When squirrels scamper along a power line and come to the spinner, it does what the name implies. It spins, promptly and safely throwing the squirrel off the power line, preventing it from entering the substation where it could get into equipment and cause an outage.
"This was a pro-active effort on our part to make an improvement to the infrastructure that would also help us improve the reliability of service to our customers," explained Vernon Pierce, customer service vice president for Entergy Texas. "This is one of a number of programs in place that work toward preventing outages. The heavy vegetation we have in Southeast Texas is a perfect habitat for critters and makes animal intrusion a very real problem when it comes to keeping the lights on for our customers. This means we face circumstances that sometimes require us to be creative to ensure safe, reliable power."
One of the first substations to get the spinner treatment was Cordrey Substation in Orange. The substation was plagued with squirrel-related outages for years. But in 2014, Entergy Texas installed a number of measures to prevent animal intrusion, including adding the spinners to power lines squirrels used to get into it. Since then, squirrel-related outages have dropped to zero at the Cordrey Substation.
While zero squirrel outages cannot be guaranteed, the positive results at Cordrey lead Entergy Texas personnel to believe the investment and work to put spinners in place at substations throughout the service territory will pay off in fewer outages for customers.
Entergy Texas, Inc. delivers electricity to more than 430,000 customers in 27 counties. It is a subsidiary of Entergy Corporation. Entergy is an integrated energy company engaged primarily in electric power production and retail distribution operations. Entergy owns and operates power plants with approximately 30,000 megawatts of electric generating capacity including nearly 10,000 megawatts of nuclear power, making it one of the nation's leading nuclear generators. Entergy delivers electricity to 2.8 million utility customers in Arkansas, Louisiana, Mississippi and Texas.
-30-
entergytexas.com
Twitter: @EntergyTX
Facebook: Facebook.com/EntergyTX
---