News Center > Traffic Alert - Road Closures and Detours
For Immediate Release
Traffic Alert - Road Closures and Detours
01/05/2016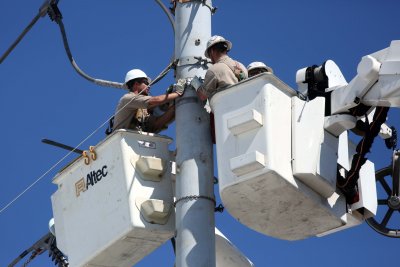 CONTACT
Yolanda Pollard / Charlotte J. Cavell
504-670-3624
powertogrownola@entergy.com
Map: powertogrownola.com
NEW ORLEANS -- Entergy New Orleans, Inc. crews began working Monday, Jan. 4 on Lafayette Street from South Galvez Street to Bertrand Street, as the company continues the technological upgrade to its electric power transmission system. Work on this segment will continue through Monday, Jan. 11, weather permitting, and will include the project's final Interstate 10 crossing.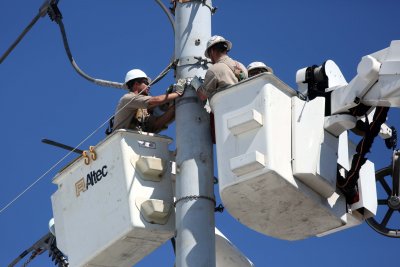 Multiple Entergy crews with bucket trucks and cranes are conducting work in stages and traffic is being blocked at the site of each steel transmission pole. Here's a breakdown:
· When "pre-pull" and "post-pull" work is underway, no parking is allowed on Lafayette in the work zones.
· During the critical "pull" work, all automobile, bicycle and pedestrian traffic is prohibited, and no parking is allowed on South Galvez and Lafayette streets in the work zones.
Beginning Saturday, Jan. 9 and running through Sunday, Jan. 10, Entergy New Orleans crews will work on transmission lines crossing Interstate 10 at Lafayette. Work on the lines will include short, intermittent closures of I-10 West and I-10 East near the Mercedes-Benz Superdome both days from 6-10 a.m.
· Police will stop westbound and eastbound I-10 traffic near the Mercedes-Benz Superdome.
· The West Bank / South Claiborne exit will be impacted.
· Message boards will alert motorists to the closure.
· Traffic controls will be in place at various on-ramps.
Along with the signage and notifications for drivers, residents and customers in the impacted area have received specific information about the transmission line replacement procedure and how it will affect them.
-30- 
Project Website: powertogrownola.com
Project Email: powertogrownola@entergy.com
Project Hotline: (504) 670-3624
---