News Center > Two-Thirds of Entergy Customer Outages Restored in 12 Hours
For Immediate Release
Two-Thirds of Entergy Customer Outages Restored in 12 Hours
05/28/2017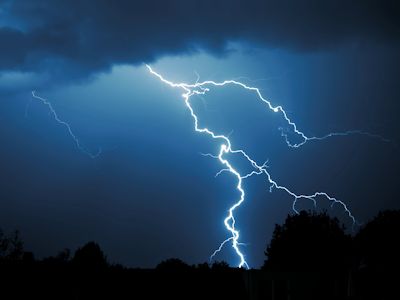 Little Rock, Arkansas – Arkansas was hit by a round of severe weather overnight Saturday, May 27. The storm caused damage to the electrical system and outages statewide. 
Workers have restored approximately two-thirds of those without power. About 3 a.m. Sunday, outages peaked at 19,000 customers out. About 7,000 customer outages remain as of 4 p.m. Sunday. Entergy Arkansas expects to have the majority of them restored Sunday evening with a few remaining cases back in service by Monday. Entergy Arkansas mobilized 125 contract workers in addition to the Entergy crews who worked through Saturday night.
"As always we are proud and humbled by the commitment and dedication shown by our employees and the safe, efficient manner in which they go about their work," said Audie Foret, senior manager of operations and safety.
Scouts across the state reported downed trees and power lines, broken poles and lightning damage.
As with any weather event, please be mindful of the following safety tips:
Live wires can be deadly. Stay away from downed power lines. Call 1 800 9OUTAGE or 1 800 968 8243 to report downed or dangling power lines, poles or other damaged equipment.
Do not trim trees or remove debris on or near downed power lines. Only power company crews or their contractors should remove trees or limbs touching power lines.
Keep away from the immediate areas where crews are working. There is always the danger of moving equipment and the possibility of construction materials or limbs or overhead wires falling to the ground.
If you plan on using a generator for temporary power, get a licensed electrician and disconnect from the utility electric system before hooking up to your home main electric panel. 
Do not run a generator in a confined space without adequate ventilation.
Entergy Arkansas provides electricity to approximately 700,000 customers in 63 counties. Entergy Corporation is an integrated energy company engaged primarily in electric power production and retail distribution operations. Entergy owns and operates power plants with approximately 30,000 megawatts of electric generating capacity, including nearly 9,000 megawatts of nuclear power. Entergy delivers electricity to 2.9 million utility customers in Arkansas, Louisiana, Mississippi and Texas. Entergy has annual revenues of approximately $10.8 billion and more than 13,000 employees.
-30-

More information is available on Entergy's website at entergy-arkansas.com
@entergyark
---