Insights > Corporate social responsibility efforts help the most vulnerable Mississippians
Corporate social responsibility efforts help the most vulnerable Mississippians
08/31/2023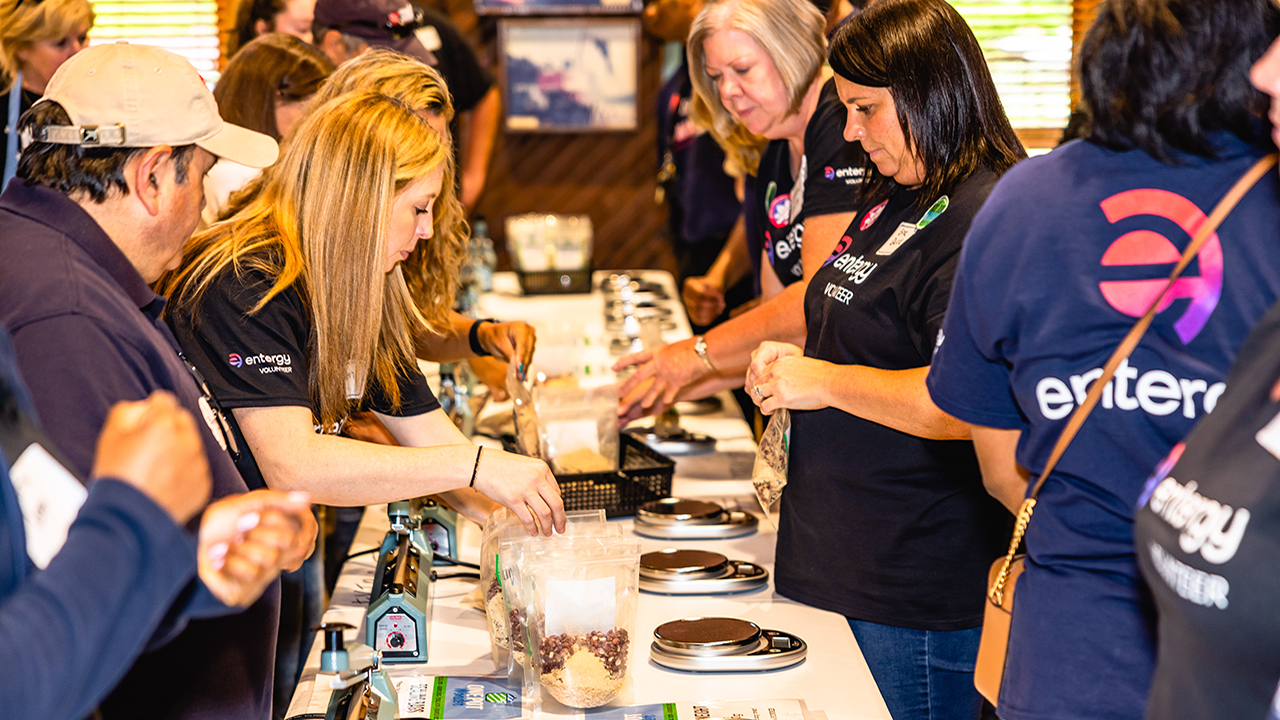 Over the past century, Entergy Mississippi has powered life throughout its 45-county service area by producing safe, reliable, affordable electricity and investing in programs that have improved the quality of life for customers and communities.
Today, the company is recognized as a leader in corporate social responsibility for supporting initiatives that lift families out of poverty, strengthen education and workforce development, and protect and preserve the environment.
"Entergy is unique in terms of establishing a corporate social responsibility program and sticking with it, year after year, to respond to our customers and communities," said Liz Brister, corporate social responsibility manager. "We also have an amazing network of nonprofit partners throughout the state who are fulfilling a variety of critical needs. By working together, we're making a difference by helping the most vulnerable Mississippians."
Addressing the root causes of poverty became a business imperative for Entergy under the late Wayne Leonard, who served as president from 1998 to 2013. In 2004, Entergy established a corporate social responsibility group to maximize synergies between charitable giving and low-income customer initiatives.
Focused on education
One of the first focus areas in Mississippi was publicly funded pre-kindergarten. At the time, Mississippi was the only Southern state that lacked state-supported pre-K and had fallen behind most other states in early childhood education.
Entergy Mississippi's early advocacy and investments in programs such as Mississippi Building Blocks and Excel By 5 were instrumental in developing strategies to expand access to quality pre-K education. In 2013, those efforts paid off when the Legislature passed the Early Learning Collaborative Act, which established Mississippi's first state-funded pre-K program.
Since that time, literacy skills among students in pre-K through third grade have steadily improved. The Mississippi Department of Education reported that 85% of students passed the  Third Grade Reading Assessment in 2022, meaning that the large majority met the highest reading standard ever required under the Literacy-Based Promotion Act.
"Entergy Mississippi's involvement was pivotal in moving the state forward in early childhood education, and those efforts continue," Brister said. "We want to help students thrive in every step of their journey, including career preparation and workforce development, so they'll have the resources they need to build successful lives and futures."
More recently, Entergy partnered with the Children's Foundation of Mississippi to create Kids to College, which enables families to establish savings accounts for their children to attend a two- or four-year college, trade school or technical school. By saving at least $50, account holders receive a $50 match from Entergy.
Entergy Mississippi also partners with Historically Black Colleges and Universities in its service area, including Tougaloo College, Jackson State University and Alcorn State University, to promote science, technology, engineering and math and utility careers.
Lending a helping hand
Making bill-payment assistance available for low-income customers is another area in which Entergy Mississippi's support has been vital. Entergy was one of the first companies to promote the need for the federal Low Income Home Energy Assistance Program, which provides financial assistance to eligible households to help pay energy bills.
In 2021, Entergy was recognized by the U.S. Chamber of Commerce Foundation for its innovative outreach efforts during the COVID-19 pandemic to inform low-income customers about resources and assistance to pay utility bills. The company's employees, customers and shareholders also provide emergency bill payment assistance to elderly and disabled Mississippians through The Power to Care.
In addition to advocacy and philanthropy, employee volunteerism is a key resource in Entergy Mississippi's CSR initiatives. An example is free tax preparation at Volunteer Income Tax Assistance sites, where IRS-certified employees help eligible customers receive the Earned Income Tax Credit, one of the nation's most effective means of lifting Americans out of poverty.
Since 2009, Entergy's tax assistance has helped return $320 million to 177,000 customers in Arkansas, Louisiana, Mississippi and Texas. In Mississippi, nearly 40,000 residents have received more than $83 million.
The company offers 16 hours of volunteer paid time off annually to encourage employees to volunteer during scheduled work hours. Through Entergy's Community Connectors program, employees and retirees can support a variety of needs where they live and work, from stocking food pantries to organizing school supply drives to planting butterfly gardens. They also can earn grants for nonprofit organizations by logging their volunteer service hours.
"We're able to be leaders in corporate social responsibility because our employees are leaders and doers," said Valarie Mabry, public affairs analyst. "Their year-round volunteer efforts make it possible for us to enhance our outreach to those in need. We know we can always count on them, because being community-minded is part of their mindset—they're always looking for opportunities to give back."
---