Insights > Entergy's Economic Opportunity and Empowerment Program Recognized by U.S. Chamber Foundation
Entergy's Economic Opportunity and Empowerment Program Recognized by U.S. Chamber Foundation
11/18/2021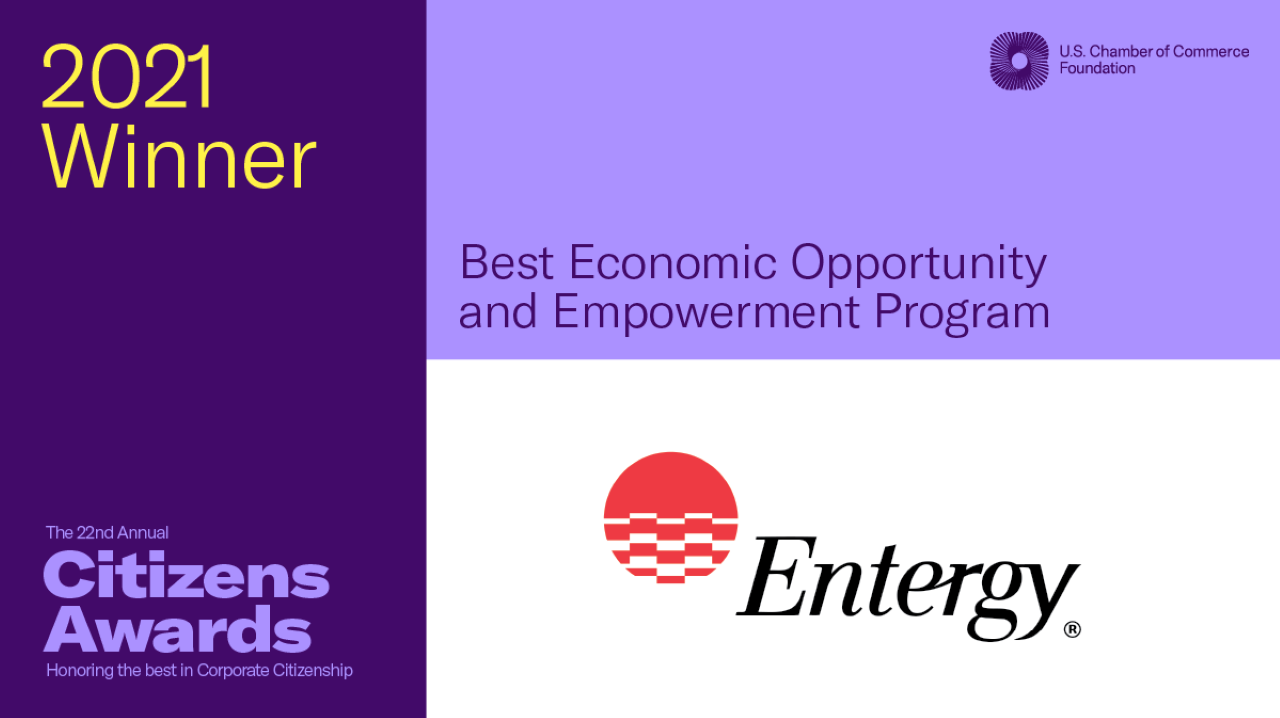 The U.S. Chamber of Commerce Foundation named Entergy the winner of the Best Economic Opportunity and Empowerment Program during its 22nd Annual Citizens Awards.
The Citizens Awards program recognizes the most innovative and impactful corporate citizenship initiatives that raise the bar on social responsibility and advance a more equitable and sustainable future.
"Entergy has formed strong partnerships with state and local agencies to combat poverty across our region," said Patty Riddlebarger, Entergy's vice president of corporate social responsibility. "We are proud that the U.S. Chamber Foundation has recognized Entergy for our low-income customer outreach efforts that help power the lives of hundreds of thousands living in our communities."
Entergy was awarded the Best Economic Opportunity and Empowerment Program for its outreach efforts to communicate with low-income customers about resources and assistance available to pay their utility bills. In response to the challenges Entergy's communities faced in 2020, the company formed a task force to ensure eligible customers received the maximum amount of available assistance and that customers who had never needed financial assistance knew about resources available to them.
The task force leveraged a variety of communication platforms, including a robotic process automation program, to customize and deliver 3.5 million messages to more than 230,000 potentially eligible households. As a result, a record number of Entergy customers received utility bill assistance and program awareness increased by 43%. More than 250,000 utility bills were paid with $65.4 million in financial assistance, increasing the number of bills paid by 26% from 2019.
Last year, Entergy celebrated 20 years of its Low-Income Customer Initiative. Entergy is an inaugural inductee in the U.S. Chamber Foundation's Corporate Citizenship Hall of Fame.
Entergy Citizens Award from Entergy on Vimeo.
---