Insights > Crew Clears Debris for First Responders to Reach Ailing Woman
Crew Clears Debris for First Responders to Reach Ailing Woman
03/06/2021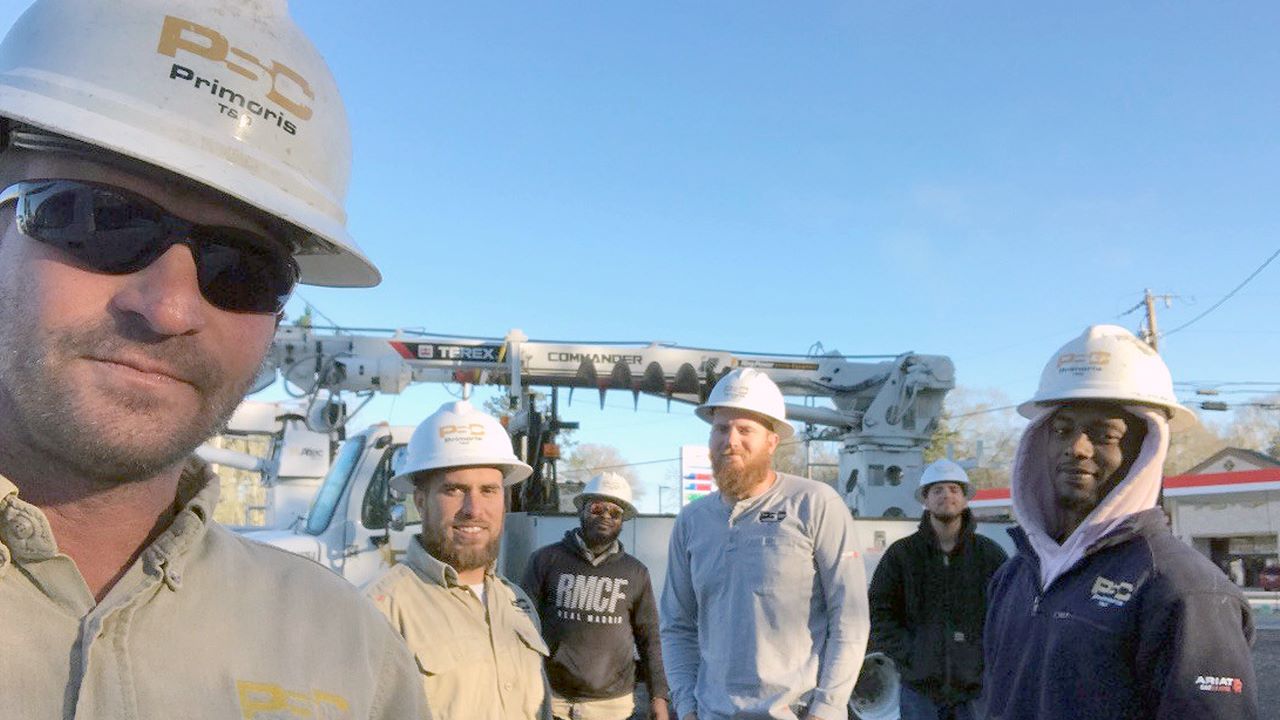 Ken Schaeffer says he and his crew of line workers were just trying to do the right thing when they cleared debris following last week's winter storm so that first responders could quickly reach an elderly woman in need of medical attention.
Humble by nature, line workers are typically known for their craftsmanship and ability to get the lights back on following natural disasters. But when the need arises, they can also go above and beyond the call of duty to help save lives. However, Schaeffer, a crew lead with Primoris Services Corporation, doesn't see it that way. To him, it's part of life and comes with the job.
Schaeffer and his crew of five, including Line Workers Chris Altom, Jacob Altom, Terrance Bethal, Jacob Sandifer and Bryan Sherril traveled from Florida to Louisiana to help restore power following the recent ice storms. Their initial assignments were in Tangipahoa Parish. When work wrapped up there, the crew was assigned to Ferriday in the north Louisiana parish of Concordia.
The crew connected with a construction supervisor and patrolled an area to determine what work needed to be done. There were several spans of wire down, including some in the backyards of homes.
The crew gathered materials and headed to safely make repairs and restore power. They arrived at a neighborhood off US-425 and began to unload equipment and get to work when someone heard the faint voice of a woman asking for help. The crew looked toward a nearby home and noticed a sign in the window that read, "Please call 911."
While some crew members went to check on the woman, Sherril called 911. Meanwhile, Schaeffer, who began his career trimming trees around power lines, grabbed a chainsaw. The crew cut a downed tree and limbs away from the driveway and moved a detached gutter away from the home.
"We were all just trying to do the right thing and help somebody. That's the best way I can describe it," Schaeffer said. "We had it all done by the time paramedics got there. They were able to get back there, get her and take her to the hospital, and that's a long story short."
The woman, whom Schaeffer referred to as "incredibly tough," had mustered the strength to put signs in two windows of her home before falling and being unable to get up. But the quick action of he and his crew as well as other first responders helped get her the medical attention she needed.
When asked why he's a line worker, Schaefer said, "I love this job. It's my favorite thing, and honestly, it's my life. It's pretty much my passion, and I try to instill that same passion in the people that work for me."
"The actions this PSC crew took in Ferriday following the winter storms speaks volumes to their character and who they are," said John Hawkins, vice president of distribution operations for Entergy in Louisiana. "At Entergy, we strive every day to be more than a utility provider, but a partner who helps better the lives of our customers and the communities we serve. I want to commend Ken Schaeffer and his crew for sharing and exercising those values."
---