Insights > Engineering expertise enhances public safety, grid stability during 2011 Mississippi River flood
Engineering expertise enhances public safety, grid stability during 2011 Mississippi River flood
04/27/2023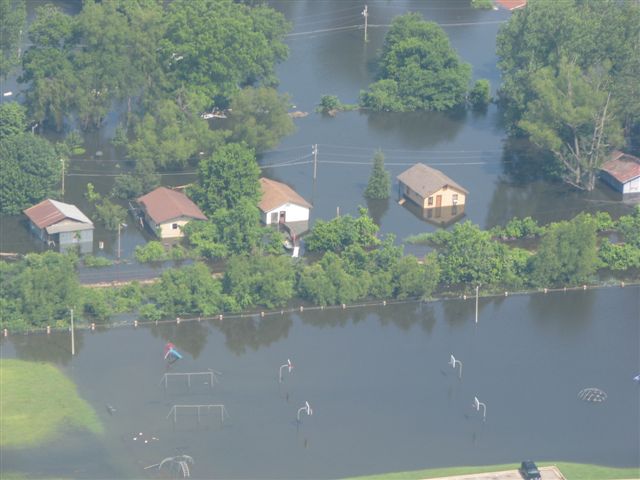 "The Mississippi River will always have its own way; no engineering skill can persuade it to do otherwise." – Mark Twain
Though Mark Twain may have had a point, Entergy Mississippi knows for a fact that engineering skill is essential in mitigating the impacts of a renegade river. That was made clear during the historic Mississippi River flood of 2011 when an engineering-led team took action to improve public safety, protect electrical infrastructure, prevent widespread outages and develop the company's first large-scale flood response plan.
That year, a combination of snowmelt and heavy rains caused the Mississippi River to reach levels not seen since the Great Flood of 1927. As rising waters surged toward Entergy's service area in late April, there was time for residents in the projected flood zone to prepare for evacuations and other protective measures—but not much. 
"The flood was like a slow-moving storm or hurricane, in the sense that we could track it," said Mississippi Grid Senior Manager John Stevens, who at the time was a transmission line engineer. "The challenge was looking ahead to figure out what things we needed to focus on prior to the crest. Today, Entergy has a flood plan that addresses events of that scale because of the work done in 2011."
As they monitored river forecasts, Stevens and fellow engineers began reviewing prints of substations, transmission lines and other equipment in the impact area to determine if they were under threat based on their elevation levels. They found that most substations would be safe during the projected crest, but transmission lines were another story.
There were potential areas, especially near Greenville and Vicksburg, where required clearances between transmission lines and water would not be maintained, placing them in violation of National Electrical Safety Code standards. In such instances, Entergy would have to de-energize the lines and take steps to ensure public safety. 
Looped design advantageous
Taking lines out of service also required close coordination with system planners to ensure the integrity of the transmission grid. Even though several lines had to be de-energized during the flood event, most customers never lost power because of the looped design of Entergy's electrical system.
Employees arranged for warning signage and buoys to be placed around transmission lines and worked with law enforcement agencies and the Mississippi Department of Wildlife, Fisheries and Parks to close and guard access points to flooded areas. Entergy also chartered helicopters to conduct aerial line patrols three times each day.  The flights were staffed by a team of Entergy employee volunteers.
In the meantime, employees were on standby to dispatch via boats should members of the public be spotted near transmission line facilities or if floating trees and debris that could damage transmission structures were identified from the aerial line patrols. They also advised recreational boaters to stay clear of electrical equipment. 
"It was a big challenge to orchestrate, and it took a lot of teamwork to get everything in place," Stevens said. "Our biggest concern was public safety. In some places, a boater could get within 5 feet of a conductor, and if they had a fishing pole, they could likely touch a conductor. We were responsible for de-energizing lines and keeping people away so that nobody got hurt. In the end, there were no public safety events reported."
Another point of concern was the substation near Baxter Wilson generating plant in Vicksburg, which at the time served as one of the feeds for Grand Gulf Nuclear Station. Although it was deemed safe based on elevation and river gauge calculations, substation engineers decided to take precautions by securing the control house to prevent water from entering.
"The water never made it that high, but it was close," Stevens said. "Had it gotten in the control house, it could have potentially impacted Grand Gulf, so we were doing everything we could to protect it. We also surveyed outlet drains around the station to see if water could come through them and create backflow into the control house. A lot of things came up that we'd never thought about before and that we were figuring out as we went."
Entergy lends helping hand
Entergy also worked closely with other power providers to manage grid safety and minimize or prevent service interruptions. When conditions made it necessary to de-energize a substation serving Yazoo Valley Electric Power Association, Entergy Mississippi installed a mobile transformer that allowed Yazoo Valley to continue providing electricity to customers not located in flood zones.
Throughout the flood event, engineers surveyed equipment elevations to gain more insights into electrical system impacts. After the river crested at 57.1 feet in Vicksburg on May 19, they continued monitoring conditions as floodwaters receded until normal operating conditions could be restored safely. 
In the following weeks and months, employees conducted an extensive analysis of Entergy's flood response efforts and developed a detailed, comprehensive response plan that continues to be revised and improved. 
Engineers also redesigned flood-prone portions of Entergy's transmission system. The following year, crews began installing taller poles, which moved conductors higher in the air, and raising transmission lines 15 feet or more. Using highly precise LIDAR technology, employees can measure the elevations of lines and conductors to ensure required clearances and know when protective measures are necessary.
Their efforts are part of a company-wide focus on improving grid resilience and upgrading infrastructure to meet new storm-hardening standards—investments that will reduce power outage durations after major weather events, which have been increasing in frequency and severity in recent decades.
"Seeing so much water just inches from the top of a levee was something I'll never forget and may never see again in my lifetime," Stevens said. "The Mississippi River flood of 2011 was a major learning experience that ultimately made us a stronger company. If something like that happens again, we will be better prepared to respond quickly and work with partnering agencies to keep customers and communities safe."
---