Insights > Entergy Employees Conquer Storm Drills in Preparation for Hurricane Season
Entergy Employees Conquer Storm Drills in Preparation for Hurricane Season
06/13/2018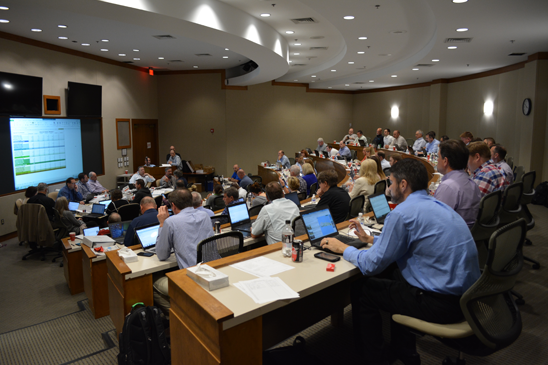 Hurricane season is here, and we're ready.
This May, employees throughout our four-state service area responded to a fictional hurricane scenario to prepare for what could be an active 2018 hurricane season.
This year's simulation presented a Category 4 hurricane named Vennis. The storm had winds up to 110 mph and passed over Louisiana and a small portion of Texas. The simulated emergency gave employees a chance to sharpen their storm-response skills and prepare for this year's hurricane season that the National Oceanic and Atmospheric Administration is predicting will be "near - or above - normal."
"We're known in our industry as one of the best when it comes to incident response, whether it's a storm or other natural disaster event that may affect us," said Louis Dabdoub, director, incident response. "That doesn't happen by accident. It is our unfailing commitment to being the absolute best we can be by exercising and refining our processes, at least annually."
During the storm drills, employees reviewed and revised emergency-response tactics that affect customer service, logistics and communication. These annual hurricane simulations are part of what makes our company a leader in storm restoration. We are the only utility company in the nation to have earned recognition from the Edison Electric Institute every year since the launch of its Emergency Response Award program. Entergy has received 29 EEI awards for recovery and assistance work.
"No team can be champions without consistent and meaningful practice," said Dabdoub, "including ours."
---