Insights > Entergy Named Among Top Corporations for Supporting Women's Businesses
Entergy Named Among Top Corporations for Supporting Women's Businesses
05/05/2017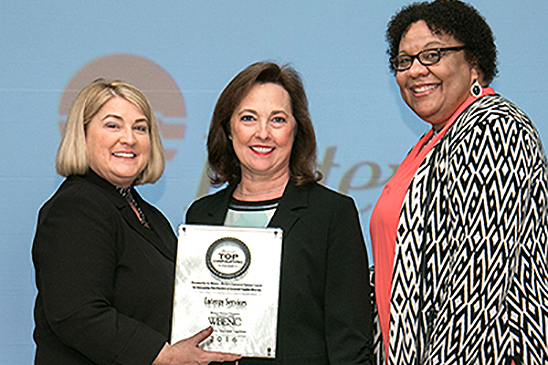 The Women's Business Enterprise National Council recently presented Entergy with the America's Top Corporations for Women's Business Enterprises award.
Entergy and 59 other U.S. corporations were recognized at WBENC's recent annual summit, held in New Orleans. Honorees were celebrated for collectively spending more than $35 billion with women-owned companies, "positively impacting our nation and our communities by fueling economic growth while breaking down barriers."
At the conference, Entergy Texas President and CEO Sallie Rainer accepted the award on behalf of Entergy.
During the event, Lauren Kenney, Entergy's vice president of product development and program management, participated in an industry panel discussion on "the utility of the future." She discussed the changes taking place in the utility industry, including advanced metering and the increased use of data and analytics.
Founded in 1997, WBENC is a third-party certifier of more than 13,000 businesses owned and operated by women. Throughout the year, WBENC provides opportunities for interactions between more than 650 member corporations, government agencies and thousands of certified businesses.
Learn more about Entergy's commitment to diverse suppliers.
---