Insights > Entergy Responds to an Unprecedented Storm Season (EEI Electric Perspectives)
Entergy Responds to an Unprecedented Storm Season (EEI Electric Perspectives)
12/01/2020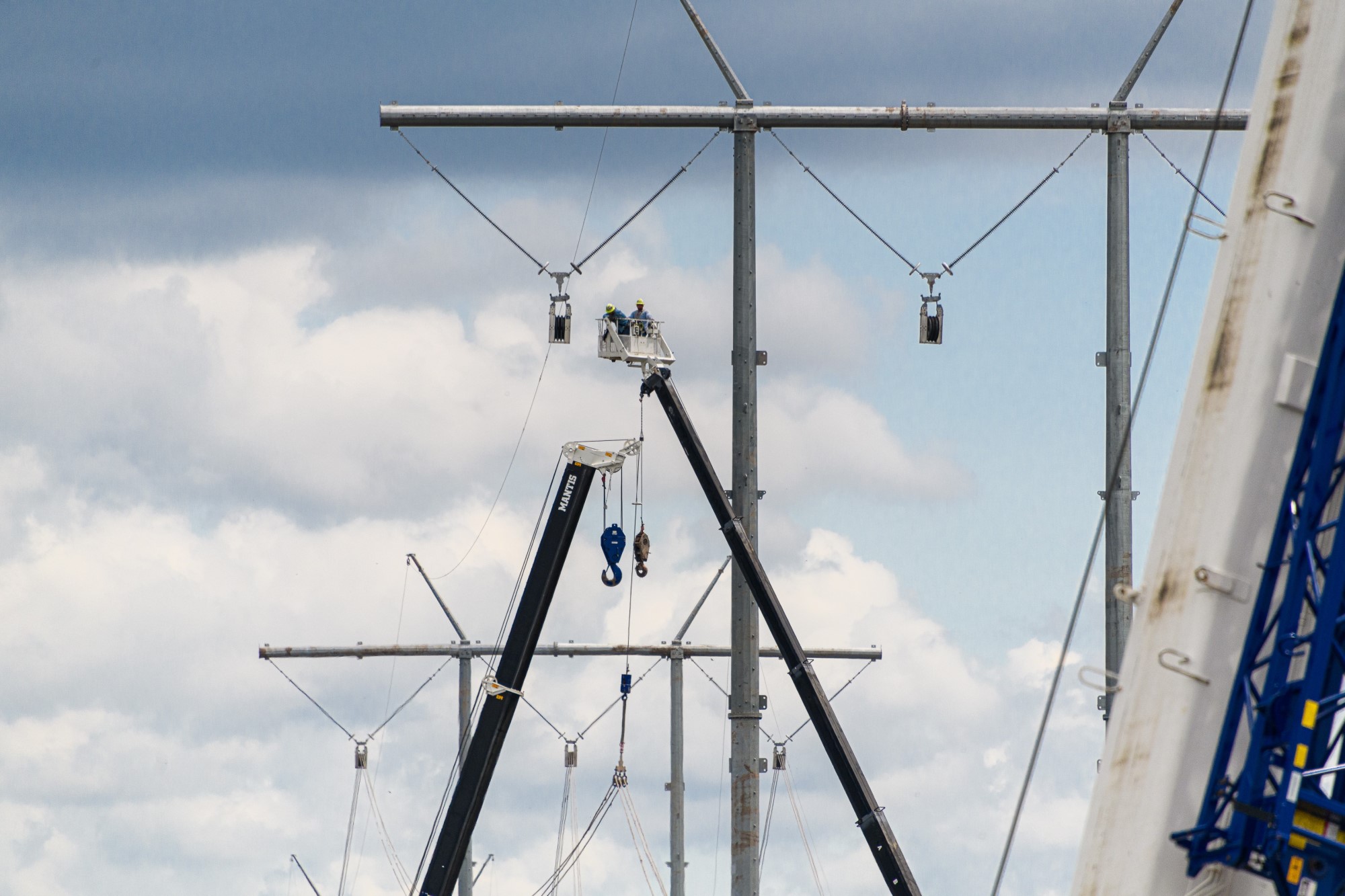 Entergy and our customers in Arkansas, Louisiana, Mississippi, and Texas are no strangers to severe weather. We thought we had faced it all—from ice storms and tornadoes to unnamed tropical disturbances and 2005's mighty Hurricane Katrina. Then came the historic 2020 Atlantic hurricane season and Hurricane Laura, the strongest storm to hit Louisiana since 1856.
Laura left an unprecedented path of destruction, causing more than 900,000 Entergy customers to lose power. Some of them remained in the dark for as long as 35 days, as a workforce of at least 26,000 men and women from 31 states, the District of Columbia, and Canada rebuilt the electric system that Mother Nature had torn apart.
The storm came fast on the heels of another hurricane in the Gulf, Marco, making it difficult for planners and forecasters to predict Laura's exact track and intensity.
"Early the morning of August 27, I woke up to the news that Hurricane Laura had slammed into our service territory, and I immediately knew we would be facing a technical trial and a physical marathon to get everyone's power back on," said Jim Schott, vice president of transmission for Entergy.
HISTORICAL PROPORTIONS
The National Oceanic and Atmospheric Administration (NOAA) predicted in May that the 2020 Atlantic hurricane season, which officially runs June 1 through November 30, was going to be an especially active and tumultuous one. NOAA predicted that there would be 13-19 named storms (12 is average) and 6-10 hurricanes. As EP goes to press, there have been 30 named storms, 11 of which struck the U.S. mainland this season, eclipsing the nine storms that hit in 1916.
PREPARING FOR LAURA
Encountering favorable conditions for tropical development between Cuba and Louisiana, Laura quickly gained strength. Our emergency planners, employees, and customers knew days in advance we were facing a serious threat. With every mile Laura traveled across the warm waters of the Gulf of Mexico, the forecast became more ominous. Entergy's well-rehearsed storm plan calls for placing workers, equipment, and materials close enough to the expected destruction to respond quickly, but far enough away to avoid damage themselves while they safely ride out the storm. As outside help from mutual assistance partners and contractors was staging, the nearly 3,000 Entergy employees in the path of the storm implemented their personal emergency plans and prepared to respond once the storm cleared and it was safe to do so.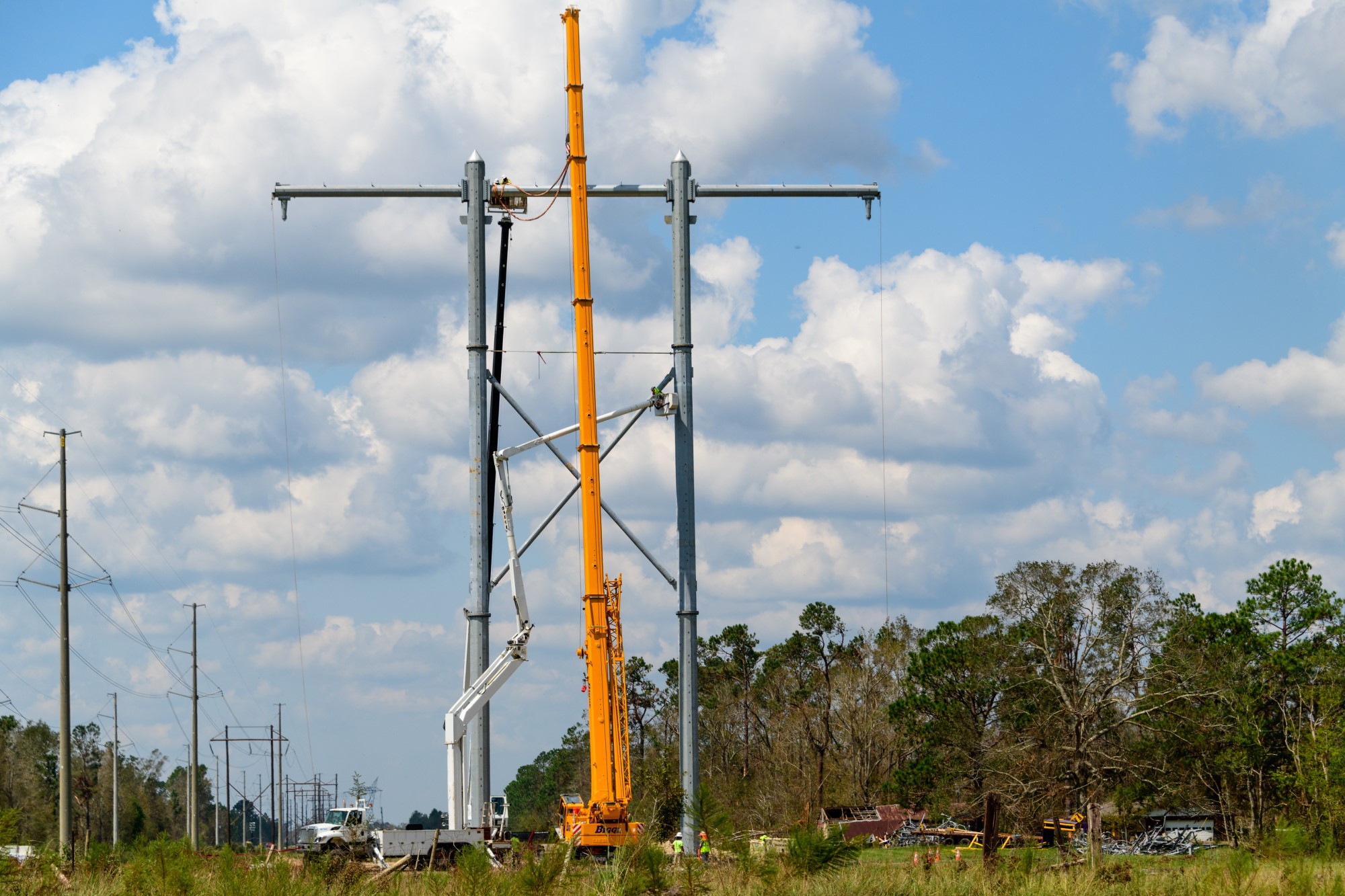 More than 1,400 transmission structures were destroyed by Hurricane Laura, requiring a complete rebuild of the energy grid in the worst-hit areas.
WORSE THAN EXPECTED
We were prepared for a major event, but this storm exceeded all expectations. Laura made landfall at Cameron, Louisiana, as a high-end Category 4 hurricane with sustained winds of 150 miles per hour. By the time the storm subsided, nearly 14,000 of our distribution poles and more than 1,400 transmission structures would be destroyed. Four Entergy power plants also were damaged and in need of repairs.
The region of southwest Louisiana in and around Lake Charles took the brunt of the storm's force, while southeast Texas, served by Entergy Texas, sustained extensive damage that caused 109,000 customer outages. Because of the storm's historic intensity, it continued through northern Louisiana and stubbornly held on as a tropical storm deep into Arkansas. As a result, a day after Laura made landfall, nearly 48,000 Entergy Arkansas customers also lost power. Tropical storm-related power outages in Arkansas are rare, to say the least, but Laura's sustained intensity caused a peak of nearly one million customer outages for the electric companies, public power utilities, and electric cooperatives in her path throughout Arkansas, Louisiana, Mississippi, and Texas.
"In southwest Louisiana, more than 20 percent of the existing transmission line structures had been destroyed and, ultimately, would be replaced."
REBUILDING THE TRANSMISSION SYSTEM WHILE BALANCING SUPPLY AND DEMAND
While replacing 14,000 distribution poles and 30,000 spans of wire is no small chore, the most urgent task was securing the electric transmission system that serves southeast Texas and southwest Louisiana. This area includes a uniquely dense population of large industrial customers and critical energy infrastructure.
The storm took out seven of nine transmission ties into Texas. Southwest Louisiana was isolated completely from the system, with all nine transmission lines into that region severed. In total, about 300 substations had been knocked out of service, with more than 1,400 transmission structures destroyed and another 450 damaged. In southwest Louisiana, more than 20 percent of the existing transmission line structures had been destroyed and, ultimately, would be replaced.
"This is not a restoration," said Entergy Louisiana President and CEO Phillip May at the time. "It's almost a complete rebuild of our transmission and distribution system that serves Calcasieu and Cameron parishes."
In the clearest sign yet of how badly the transmission system was damaged, the Midcontinent Independent System Operator (MISO), Entergy's reliability coordinator, directed us to shed load in portions of Texas that were not affected by the storm. Laura was still wending her way through Louisiana when MISO directed the periodic outages.
"Shedding load protects the stability of the bulk electric system and helps prevent further outages," Schott explained. "By the time the hurricane had passed through the region, we understood there was historic damage to our system, as well as our neighbors' systems. We knew it would require an extended time to rebuild, leaving the region's grid highly insecure while those repairs were made. The planning and operations effort would need to sequence the start-up of isolated areas, and mobilize engineering, project management, construction, supply, and logistics services to safely execute a massive rebuild plan."
Imagine facing this: one unstable region in southeast Texas and one isolated region in southwest Louisiana, both requiring active planning, operations coordination, and risk management with MISO, other electric companies, and customers while also managing load-shed planning and black-start coordination issues. Both regions required complex sequencing of generation and regional load, with the added complexity of large industrial loads and their associated large-motor start requirements, advanced power quality needs, and reliability requirements.
While power was restored to all Texas customers within seven days, it would take 13 days, until Sept. 9, for the first lights in southwest Louisiana to come on. That was the day the first transmission tie into the region from Cleco and the Eastern Interconnection was established.
Cleco also had been devastated by Laura, and a single tie was insufficient to serve the entire region. This first tie, coupled with a path to the Calcasieu generating plant, allowed for Entergy to start that generator and begin bringing on customers.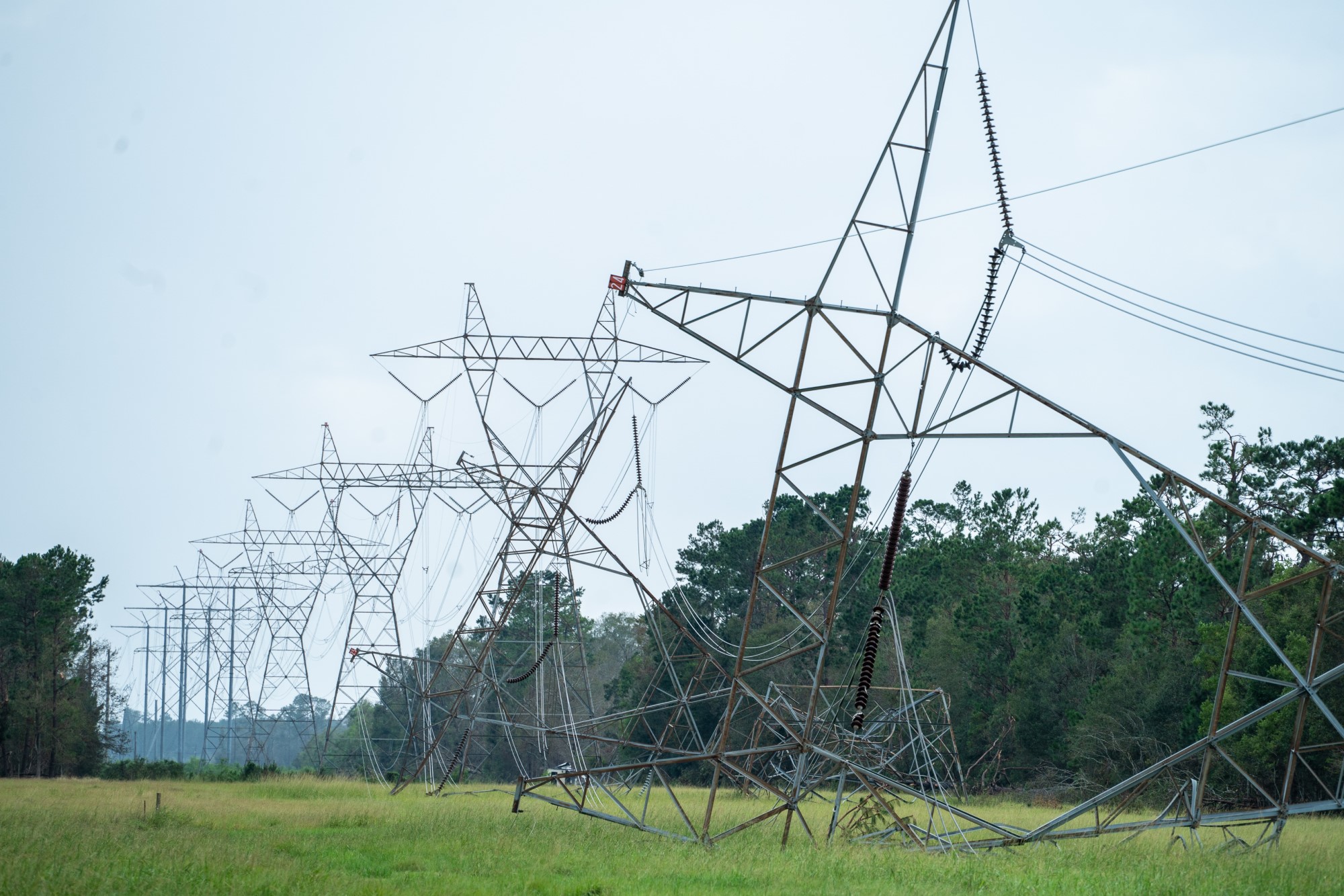 Hurricane Laura took out seven of nine transmission ties into Texas, while all nine transmission lines into southwest Louisiana were severed.
A LONG HISTORY OF RESPONDING TO HISTORIC STORMS
Damage caused by Laura presented challenges Entergy had not seen before—and we have seen a lot. Entergy is the only electric company in the nation to receive an EEI Emergency Response Award every year offered, receiving more than 30 awards since 1998 for our restoration and mutual assistance work. "Mutual assistance from our industry partners, who provided both labor and material, was critical. Once again, the performance of our industry coming together proved the remarkable capability, resiliency, and character of this industry," Schott said.
Given the severity and scale of the damage, Entergy modified its restoration organizational structure to resemble a large-scale capital project effort. This was needed to align resources effectively and to streamline stakeholder engagement. For example, logistics and material management teams established 14 temporary laydown yards focused on voltage level and material movement to the field, minimizing delivery times.
While mission success rightly can be attributed to good planning and hard work, it's also important to have the right tools for the job. In swampy southwest Louisiana, we deployed K-MAX helicopters to quickly move mangled structures out of the way and new ones into place. Crews also utilized tracked marsh buggies, barge-mounted cranes, and air boats to access some of the hard-to-reach areas. In other parts of our service territory where damage was less severe, progress was swift.
With the help of the vast army of mutual assistance workers from around the country, we restored service to 80 percent of those who had lost power by end of week one, 86 percent after two weeks, 94 percent after three, and by the end of week four, 99 percent of customers were back online. We announced on September 30—35 days after landfall of Hurricane Laura—that all customers who could receive power had been restored. "I could not be more proud of our team's response to this natural disaster," said Willie Wilson, vice president of power plant operations for Entergy, who served as incident commander for Hurricane Laura recovery. "The employees, the contractors, the mutual assistance workers from other utility companies—they all worked in concert and with tremendous heart to take care of the people whose lives were upended by this historic storm."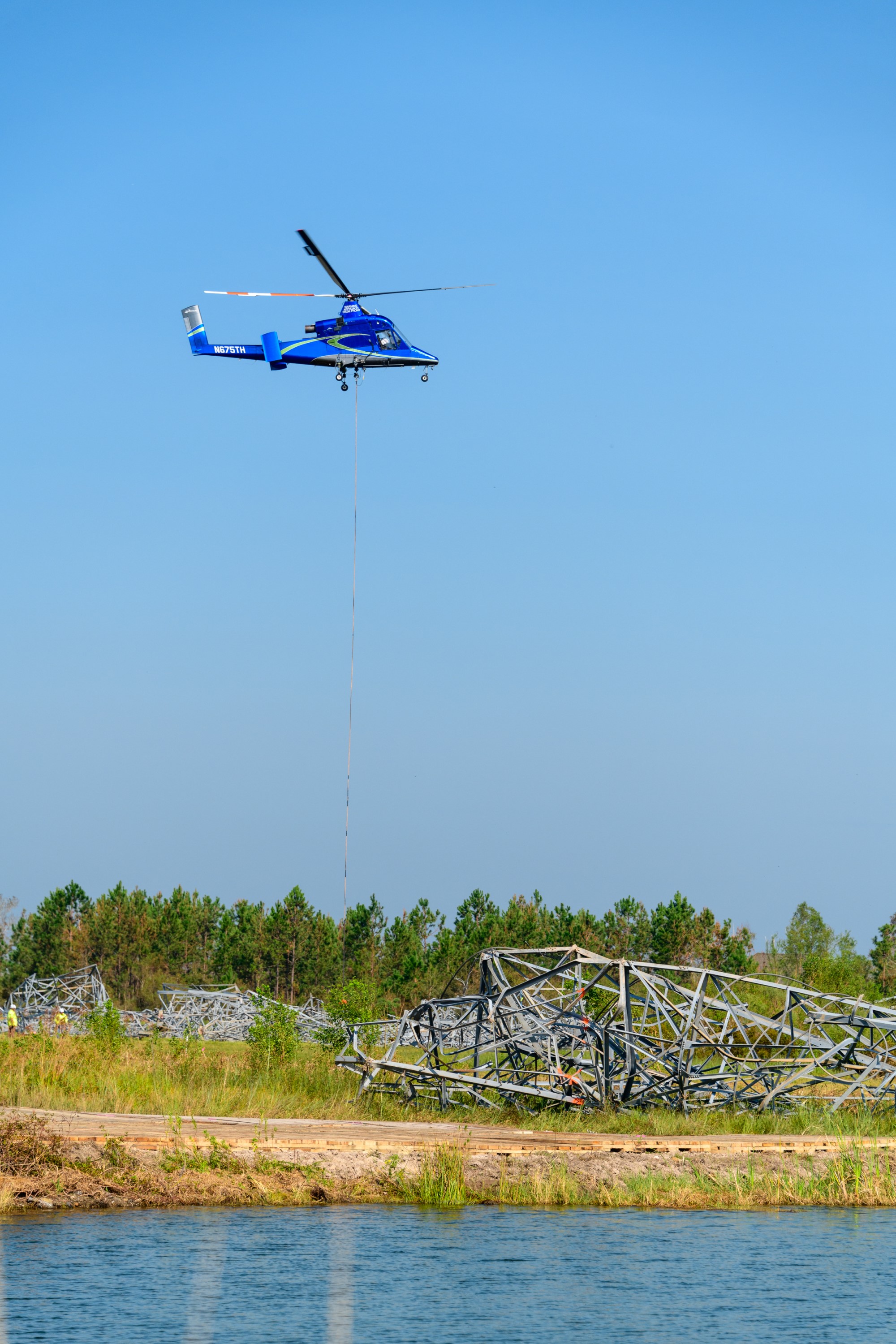 Entergy deployed K-MAX helicopters to quickly move mangled structures out of the way and new ones into place.
RESTORING POWER IN A PANDEMIC
In addition to facing more damage than we had ever experienced, including from hurricanes Katrina and Rita in 2005, Entergy was responding to Laura in the middle of a global pandemic. Wisely, the industry had addressed the matter at the national level prior to storm season with a set of safety protocols developed by the CEO-led Electricity Subsector Coordinating Council (ESCC), and Entergy had established a dual-threat process to prepare.
Crews came with their own pandemic personal protective equipment (PPE) and maintained their own supplies of PPE to offset potential scarcity. Planners managed work to keep crews together in pods to minimize potential exposure and allow for contact tracing. All restoration partners implemented personnel screening to track and monitor cases and to mitigate spread. Large-scale workspace gatherings related to safety onboarding, equipment staging, and dining were replaced with smaller and safer alternatives. Staging centers were cut to half capacity. Entergy engaged third-party health and safety groups to assist with COVID-19 coaching at the staging, lodging, and work sites.
Housing and feeding the crews were special challenges. Although restoration workers normally sleep in hotels in the communities they are working to restore, the damage caused by Laura rendered most hotels uninhabitable. With beds in short supply, restoration workers slept in bunk trailers, tents, and even two floating hotels. Where normally we would depend on local caterers and restaurants to feed workers in group settings, Hurricane Laura required the mobilization of major catering vendors from across the region to serve as many as 45,000 to-go meals each day for several weeks.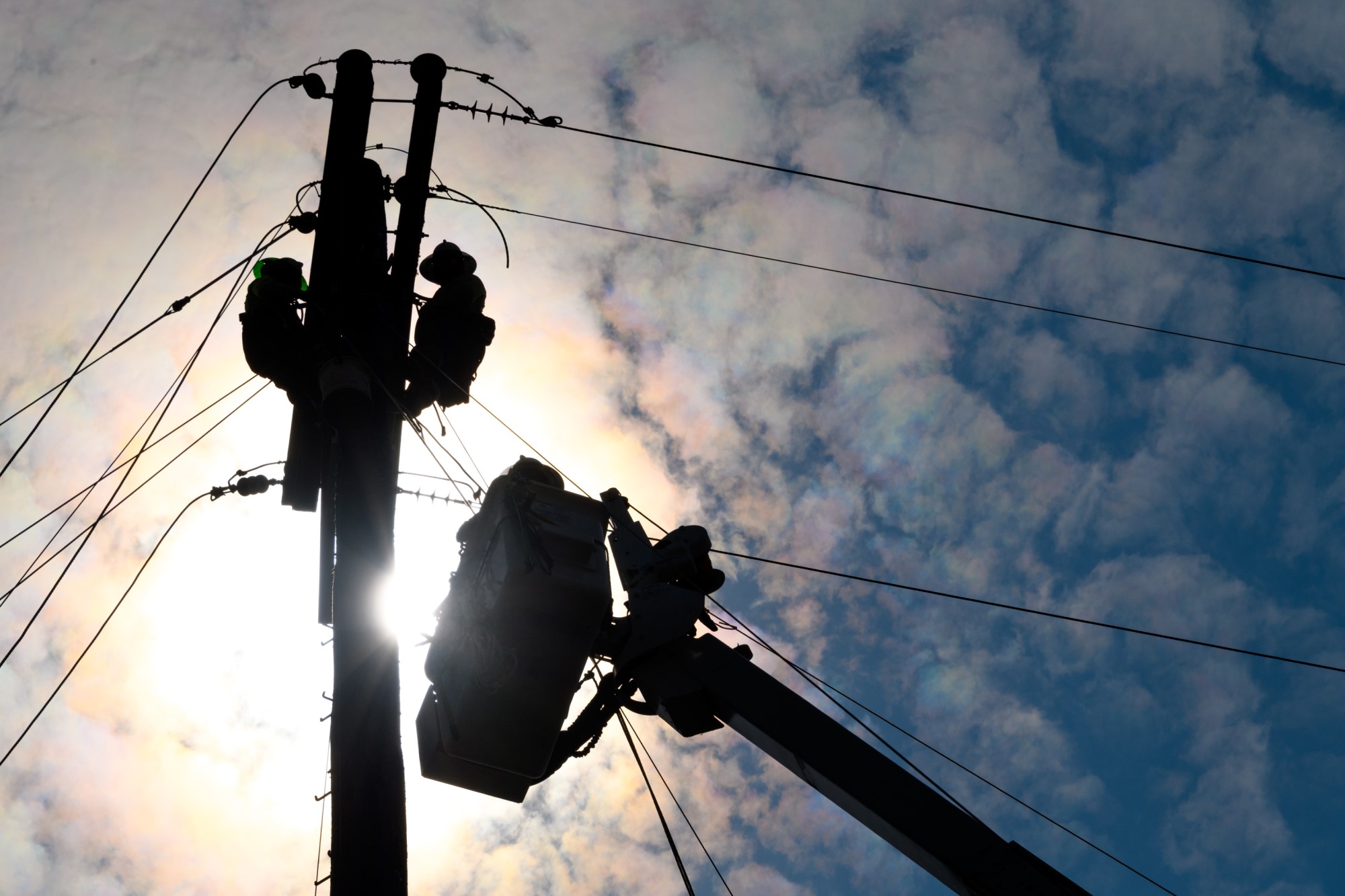 Crews worked tirelessly to restore power for impacted customers and communities.
A THIRST FOR INFORMATION
Lineworkers and vegetation crews cleared debris and began replacing components of the energy grid, while company representatives were busy communicating with customers, assuring them that a monumental effort had been launched on their behalf, and also setting expectations that it could be weeks before all who could accept power would be re-energized.
Affected customers were, understandably, hungry for information. We told the restoration story through multiple channels, including:
801 proactive social media posts, with a reach of more than 20 million;
138 posts on Entergy's online Storm Center, read by 610,000 visitors;
Entergy's storm response website dedicated exclusively to Hurricane Laura, which received more than 100,000 visits;
20 news releases issued to the news media, supported by dozens of interviews and accommodations for information and updates;
2,120 safety-approved still photos and video clips, 40 interviews, and 21 edited videos created by staff and freelance help shared on social media; and 
5.9 million direct messages delivered to our customers by phone call, text message, or email.
In addition, we partnered closely with EEI, which shared updates through its vast communications network. We also engaged with the ESCC to ensure unity of effort and unity of message among all segments of the electric power industry and our government partners.
Nearly 3,000 Entergy employees live in the path of Hurricane Laura. Of them, almost 650 reported some level of damage to their homes. As they juggled their own power outages and professional responsibilities, employees were kept up to speed through online internal communications vehicles, including an electronic newsletter, Facebook Workplace, emails, and weekly video messages from Entergy Chairman and CEO Leo Denault.
While all these communications were delivering updates to our residential and commercial customers, Entergy's industrial account executives were working one-on-one with petroleum refineries, chemical manufacturers, major pipelines, liquefied natural gas exporters, and other large-load customers that make up the enormous industrial complex that spans the Gulf Coast region. These customers were more than receivers of power in this ordeal; they were active partners in the restoration process. We needed them to receive power as it was added to the energy grid. They needed electricity, but many had specific ramp-up and power-quality requirements. Keeping load and generation in balance required constant communication and coordination by electrical experts on both sides.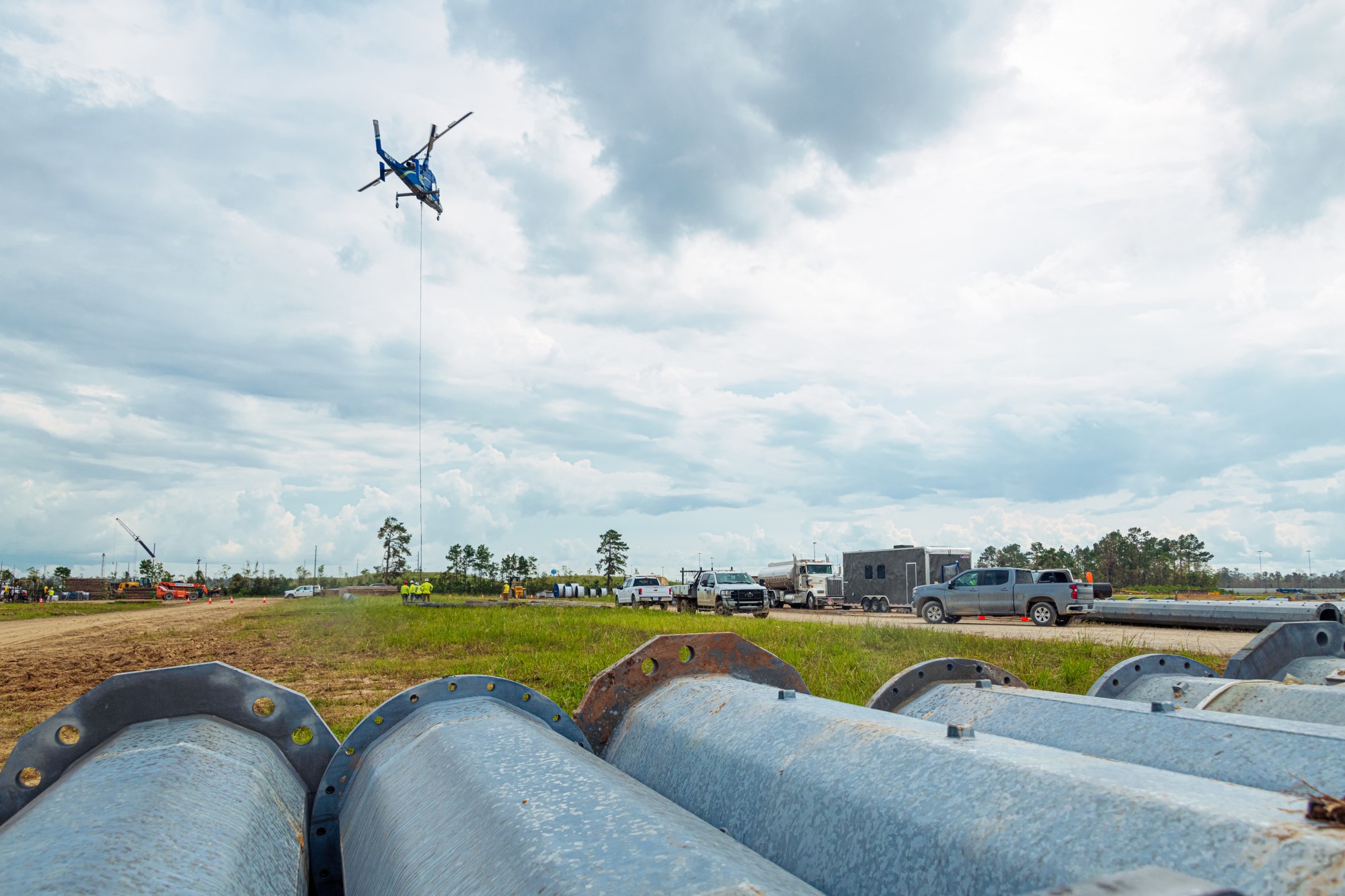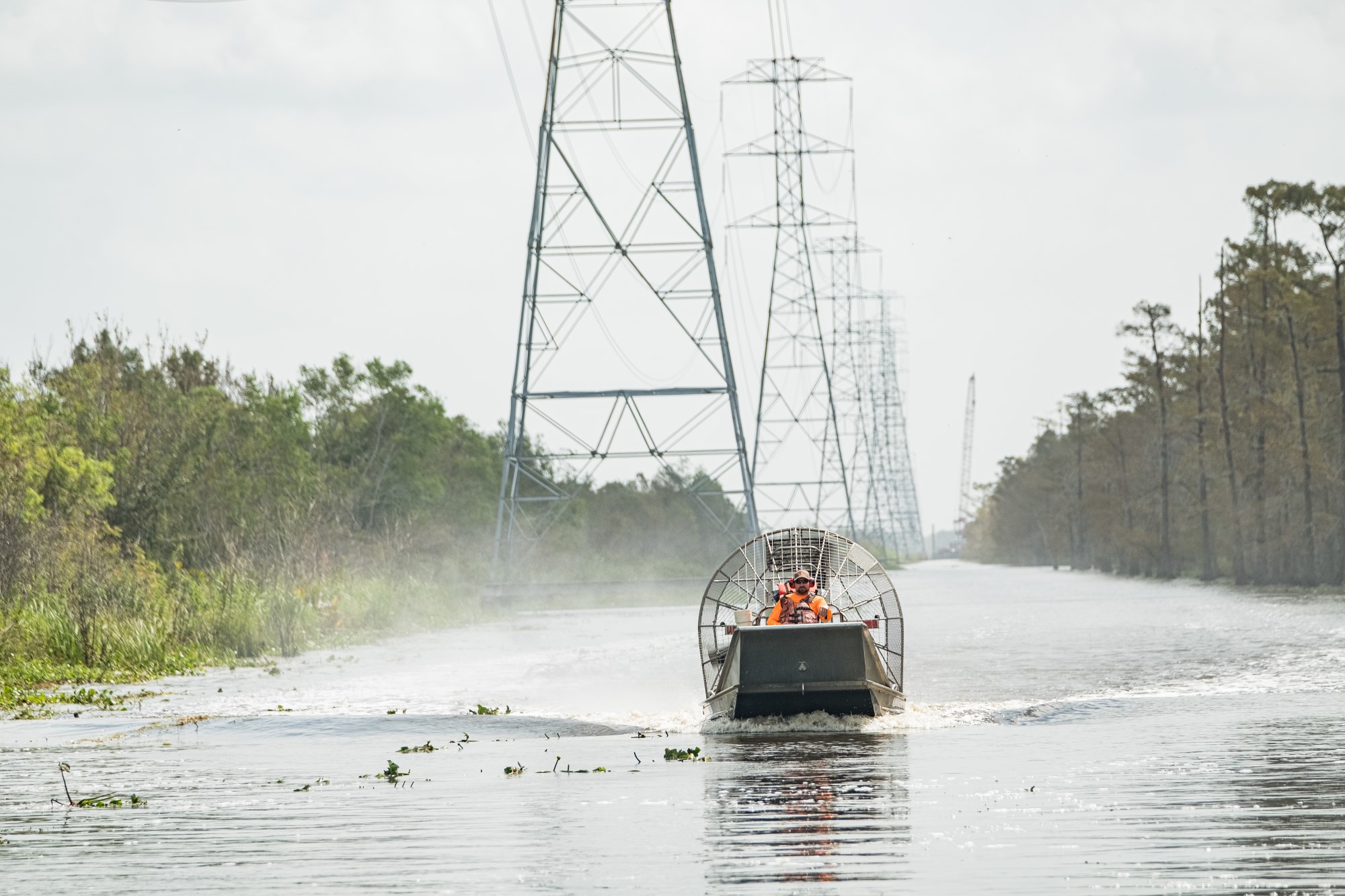 Crews from Entergy and mutual assistance partners utilized a wide range of specialized equipment, including helicopters and air boats, to restore power for customers after Hurricane Laura.
LOOKING BACK
What means the most to the Entergy team working on the restoration is satisfied customers in the midst of an extended power outage. Support from all parts of the community was overwhelming. Lake Charles Mayor Nic Hunter said: "I can't tell you how proud I am of our city employees and Entergy, our electric utility, for moving mountains to make these things happen…. I think the government can take a page out of Entergy's book sometimes."
"Hats off to Entergy for their great work bringing power back to Texans affected by Hurricane Laura," commented Texas State Senator Robert Nichols. "We truly appreciate their hard work and dedication to serving East Texas."
There were many hundreds of social media posts from customers that sounded much like this one: "Y'all are amazing and may God bless you all!!!! Thank you for your commitment to serving your customers!!"
"At Entergy, 'We Power Life.' On a normal day, it's a catchy tagline. But during and after Hurricane Laura, it was profoundly appropriate," said Eliecer Viamontes, vice president of utility distribution operations. "It's humbling and gratifying to be reminded how much our customers depend every minute of every day on the service we provide. Getting things back to normal was a gargantuan task, but you do what it takes to help rebuild the communities we serve. People are depending on us."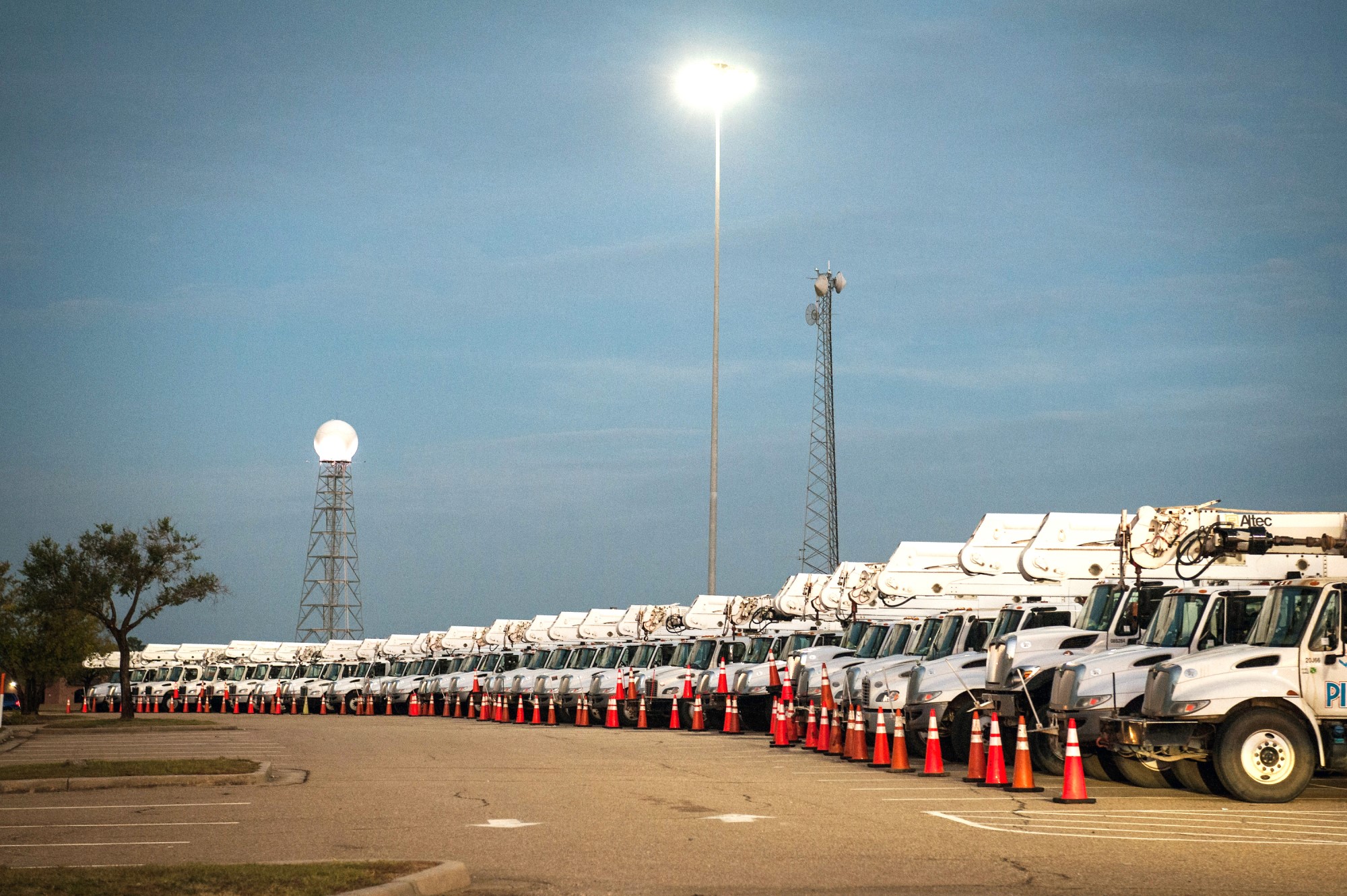 A workforce of at least 26,000 men and women from 31 states, the District of Columbia, and Canada was dedicated to the Hurricane Laura response.
LESSONS LEARNED
Every storm presents opportunities to learn in order to respond better to the next one. Lessons learned from Hurricane Laura included: the need to review and refine black-start processes; an affirmation of the value of having detailed load-shed plans when faced with a catastrophic loss of transmission and generation; and a constant need for faster damage assessment by leveraging technology.
NOT AGAIN
Just when it appeared that hurricane season might be winding down, Hurricane Delta made its way into the Gulf with its eye again squarely on the Louisiana coastline.
Incredibly, the storm made landfall just 13 miles to the east of where Laura came ashore. It would strike Louisiana as a high-end Category 2 storm on October 9, just six weeks after Laura devastated the area. Delta's wrath knocked out power to more than 850,000 Entergy customers, many of whom still were rebuilding their lives after Laura.
Thankfully, the grid rebuilt just a month prior held up well and complete restoration took less than a week. Most important, all the new transmission structures rebuilt after Laura were undamaged. Also, we installed Class 1 distribution poles in and around Lake Charles after Laura, resulting in only one-tenth the pole damage in Delta. The upgrades and resilience measures brought an unwanted affirmation of the success of our swift planning and execution in the wake of Laura.
And when Hurricane Zeta made landfall on October 28, Entergy and the entire industry responded safely and swiftly once again. 
One improves by learning from what could have gone better. But the most gratifying lessons learned are those that affirm you know what you're doing. As one Entergy restoration team member stated, "We got this. It's what we do." In a year that the entire world, it seems, has been in social, economic, political, and medical pandemonium, nature chose to unleash an extra dose of challenges on the U.S. Gulf Coast.
The most important measure is safety. "We always want folks to go back home in the same good health in which they arrived," said Viamontes. "We never stop looking for ways to improve our processes, procedures, equipment, and, most important, mindset, to make this dangerous work safer for those who bravely do it."
Through it all, the Entergy team had a well-practiced plan, worked the plan, and came out stronger and more experienced, if not a bit winded—and more than ready for the arrival of November 30, the official end of hurricane season.
"At Entergy, 'We Power Life.' On a normal day, it's a catchy tagline. But during and after Hurricane Laura, it was profoundly appropriate." –Eliecer Viamontes, vice president of utility distribution operations
David Lewis is a senior communications specialist at Entergy. This article was originally published in the November/December 2020 issue of EEI Electric Perspectives magazine.
---