Insights > Entergy's Red Cross Donation Helps Louisiana Flood Victims
Entergy's Red Cross Donation Helps Louisiana Flood Victims
03/24/2016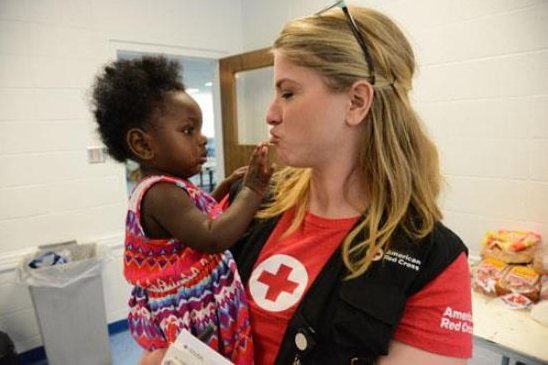 Thousands of Louisianians chased from their homes by the recent devastating storms and flooding got help they needed from the American Red Cross and Entergy Louisiana.
People like 78-year-old Annias Baker found essential support at a Red Cross shelter after the Monroe home he shares with his sister flooded. It was the first time in the 30 years Baker has lived there that the house flooded.
"The water was all the way up to the bed," Baker told Red Cross officials.
Flooding damaged nearly 13,000 Louisiana homes, according to preliminary state estimates. Among the hardest hit areas were communities in central and north Louisiana.
The Red Cross was able to gear up quickly and provide food, emergency shelter, relief supplies and comfort to thousands of families across Louisiana thanks in part to Entergy's support.
Entergy gave a two-year $450,000 grant to the Red Cross to support disaster response in Entergy communities. The grant streamlines the response process in times of disaster, allowing help to be provided more quickly to those in need.
"Our hearts go out to those who were affected by the storms and flooding," Phillip May, president and CEO of Entergy Louisiana, LLC, said.  "After a storm, restoring power safely and quickly is our priority.  Equally important, however, is helping our neighbors who were impacted get back on their feet. As a national disaster response partner, Entergy enables the Red Cross to pre-position supplies and personnel and be on the ground immediately to provide hope, help and comfort. It's part of how we power life."
Red Cross volunteers from around the country are supporting flood relief efforts in Northeast Louisiana by delivering water, snacks and other supplies to neighborhoods that were affected. (Photo courtesy of the American Red Cross)
Through its partnership with the Red Cross, Entergy is able to direct funds to communities following storms or other disasters as they are needed during the year. Entergy Louisiana employee Amanda Edge, community development program representative in West Monroe, presented a check depicting the $50,000 directed toward the current disaster at a recent Red Cross telethon held in Monroe to raise funds for individuals and families affected by the flooding.
"We are pleased to join Louisianians across the state in coming together to help our neighbors. Many Entergy employees will be participating as well, whether through volunteering or making a donation," May said. "We also encourage our customers to make a donation to help the Red Cross disaster relief operations."
To donate to Red Cross disaster relief efforts, please click here.
Johnny Bradford of Monroe told Red Cross representatives how much he appreciated their help. He and his family were rescued from their home and brought to a Red Cross shelter.
"The Red Cross has done so much for us," the father of four girls said as he wondered what the future holds for his family.
Red Cross nurse Joan Nyitrai was able to provide Monroe resident Annias Baker with a wheelchair to make his time away from home a little more comfortable. (Photo courtesy of the American Red Cross)
---