Insights > FitzPatrick's First Female Nuclear Operator – A Look Back
FitzPatrick's First Female Nuclear Operator – A Look Back
02/17/2016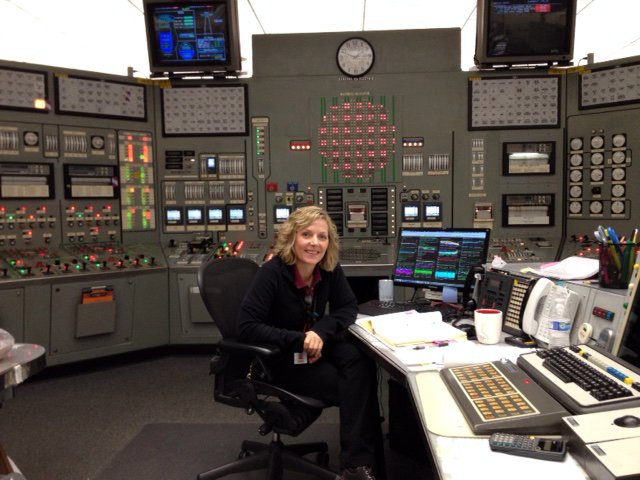 Kristin Chappell is a licensed reactor operator at James A. FitzPatrick Nuclear Power Plant in New York State. She joined the FitzPatrick team in May 1987 as an apprentice auxiliary operator. She resides in the Oswego area where she enjoys living near beautiful Lake Ontario, hiking throughout CNY during the warmer months as well as skiing and snowshoeing in the winter months.
How her career began
Chappell obtained a reactor operator license at a research reactor in Buffalo (since decommissioned and demolished). She then moved from western New York to the Oswego area to join operations at FitzPatrick.
"I never saw myself staying at FitzPatrick past the four years it took (back then) to achieve my journeyman's papers," she said. "The area, the people and the job grew on me and the rest is history."
Setting standards – Chappell looks back at being the plant's first female nuclear operator
She admits that, at first, it took the other nuclear operators some getting used to.
"It was challenging in some ways because it was new and different for the department to have a female operator in the mix," she said.
Overall, they treated her fairly and helped her learn the plant and her role as an operator.
Although there were no other female operators at the time, there were a few other women working field jobs on site in chemistry, instrumentation and controls and radiation protection.
"They were like lighthouses to me," she said. "They were great mentors when I was the new girl out in the plant."
More female operators
Over the years, additional women have joined Chappell in the operations department.
"We've had an influx of many great, new operators over the years but it was really satisfying to me personally to see the next generation of women interested in operations and become successful in the field too," she said.
Most memorable moment on shift
While Chappell has many great memories collected over the years, there is a recent one that happened Nov. 2015 at the top of her mind. She, Sarah Derrane and Andrea Drews (both operators) were all covering the same shift.
"It suddenly dawned on me that the shift composition was sort of special that night as there were almost an equal number of men and women in our work area at the start of shift," she said. "I remember being aware of it very distinctly and that it felt a bit surreal. It was sort of a come full circle moment for me that I was grateful to experience before my career here is done."
The heart of FitzPatrick
After almost three decades as a nuclear professional, Chappell still holds a large place in her heart for the plant and her co-workers.  
"The heart of FitzPatrick for me and the best memories of my time here are about the many, wonderful individuals that I've been blessed to work with for nearly 30 years," she said. "I will miss the plant and my role to a larger degree than I anticipated, and this especially rings true since the announcement to close the plant was made. It's been a great experience for me both professionally and personally."
---