Insights > Hinds Celebrates Five Years as an Entergy Mississippi Generating Plant
Hinds Celebrates Five Years as an Entergy Mississippi Generating Plant
03/20/2018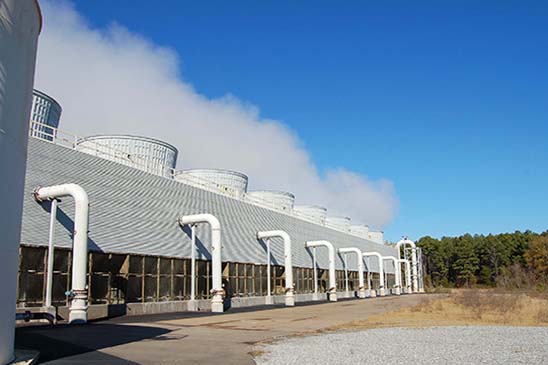 According to the old adage, time flies when you're having fun – or at least it seems to pass quickly when you're busy. Employees at the Hinds Energy Facility in Jackson, Mississippi, understand.
It seems just like yesterday Entergy Mississippi celebrated the acquisition in 2012 of the 450-megawatt natural gas-fired power plant. And on Nov. 30 of last year, the site marked its fifth year in the company's power generation portfolio.
The site boasts an impressive safety record - no employee recordable accidents in more than 14 years and no on-site contractor recordable incidents in more than 16 years.
"Based on our performance, the Hinds Plant has a strong team of engaged employees who demonstrate a track record of safe, compliant, environmentally sound and reliable operations that we expect to continue for years to come," said Bruce Bryan, plant manager.
From 2012 to the end of 2017, the site has generated 13,493,016 net megawatt-hours over 31,604 service hours.
The plant's future is bright, too.
Employees are learning about the operation and maintenance of new site technology that will be instrumental in meeting customer needs and maintaining diverse generation capabilities.
The plant now oversees two of Mississippi's solar sites, in Hinds and Lincoln counties, which along with the DeSoto county site, enable Entergy employees to study solar and determine how it fits into the future power generation portfolio. (Learn more about all three solar sites online.)
"We can attribute both our past and future achievements to our employees at Hinds," Bryan said. "They are a fully engaged and unified team that truly cares about the site and helping one another succeed. No matter what the task, they take pride in ownership and work together for the good of the plant."
An environmentally friendly resource, the Hinds Energy Facility is the most recent generating unit purchased by Entergy Mississippi, and it continues to help provide reliable, low-cost electric service for Entergy customers.
Learn more about how Entergy Mississippi is building the utility of the future.
---