Insights > Not Your Father's Electric Company…How Entergy Mississippi is Building the Utility of the Future
Not Your Father's Electric Company…How Entergy Mississippi is Building the Utility of the Future
02/21/2018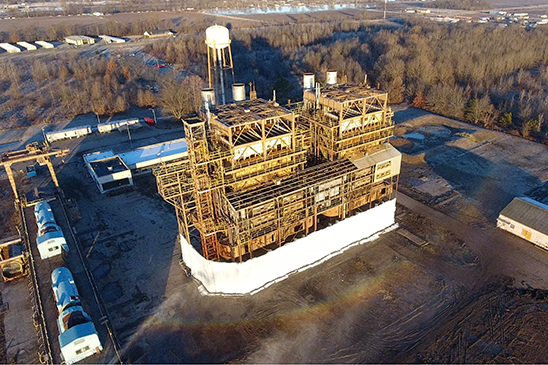 January 25, 2018 marked a historic day for the Mississippi Delta and for Entergy Mississippi. Early that morning, Entergy imploded the Delta Steam Electric Station.This generating plant in Cleveland had served our customers for more than half a century.
When Entergy Mississippi (then Mississippi Power & Light Company) built the Delta Steam plant in the 1950s, it was state-of-the-art and a significant economic investment. More than 7,500 people turned out for its dedication, and then-Governor Hugh L. White spoke at the event. It helped cement Entergy's commitment to building an integrated, area-wide electric utility system and a brighter, more energy-secure future for Mississippi.
But don't think for a minute the implosion of the plant signals an end to our commitment to the community. Rather, it's the opposite. It symbolizes changes the utility industry is going through, the progress Entergy is making and our dedication to building the utility of the future.
Mississippi's Energy Future: Meeting the Demands of Today and Tomorrow
The way electricity is produced is changing. Huge power plants like the Delta plant still exist, but joining them are newer, more efficient plants, solar farms, wind farms and hydroelectric power, as well as solar panels on homes and businesses. Perhaps most exciting are the strides being made in storing energy. In the future, our entire homes may well be battery-powered!
The way in which electricity is delivered is changing, too. The days where electricity flows in one direction—from generating plant to transmission tower to substation to the distribution lines leading into homes and businesses—are numbered. Technology is changing the power industry. The world is moving to an integrated grid. This modern grid consists of controls, computers and intelligent automation that will enable new technologies and equipment to work together to digitally respond in real time to outages or changes in electric demand. 
Customer expectations are changing as well, leading to changes in our company and in the industry. Our customers in the not-too-distant future will want to not only use but also manage and produce electricity according to their own preferences--while still having universal access to the electric grid.
Building the Foundation
Automated Metering Infrastructure, which includes wireless meters that offer two-way communications between customers and their utility, is the foundation of a modernized power grid. Advanced meters read energy in near real time, making it easier to determine patterns, spikes and disturbances.
These advanced meters also let the utility "ping" a meter to check if electricity is being delivered, and not wait for someone to check the meter manually. This is a huge benefit to both customers and utilities as it results in quicker response to outages, faster restoration and improved communications with customers.
These meters offer a number of other customer benefits:
Customers will have detailed access to information about their daily energy use that they can use to save money on their bills.
Improved customer service, including better information that will help us answer customers' billing and service questions more quickly and effectively.
It puts the technology in place to potentially launch new programs to help further encourage and improve energy reduction and contribute to environmentally sustainable communities.
Advanced metering is part of our vision to use widely-adopted, advanced technologies to provide safe, reliable and affordable energy to customers. With the approval of the Mississippi Public Service Commission last May, we are moving to install advanced meters in every home and business we serve. We are now building the infrastructure for these meters, and expect to begin deploying them in 2019 with a finish date in 2021. For updated information, visit www.energyfuturemississippi.com  or www.entergymississippi.com/AMI.
Entergy Mississippi's modern grid vision and efforts to build the utility of the future are part of our continued commitment to powering life for our customers. But it is not all that we are doing. We will continue to work diligently to improve our communities and the lives of our customers through initiatives that help the environment, educate our workforce and create poverty solutions, just as we have for nearly a century of service to the Delta and to the state.
---