Insights > Hurricane Laura Restoration Update - 8/28/20 @ 8 a.m.
Hurricane Laura Restoration Update - 8/28/20 @ 8 a.m.
08/28/2020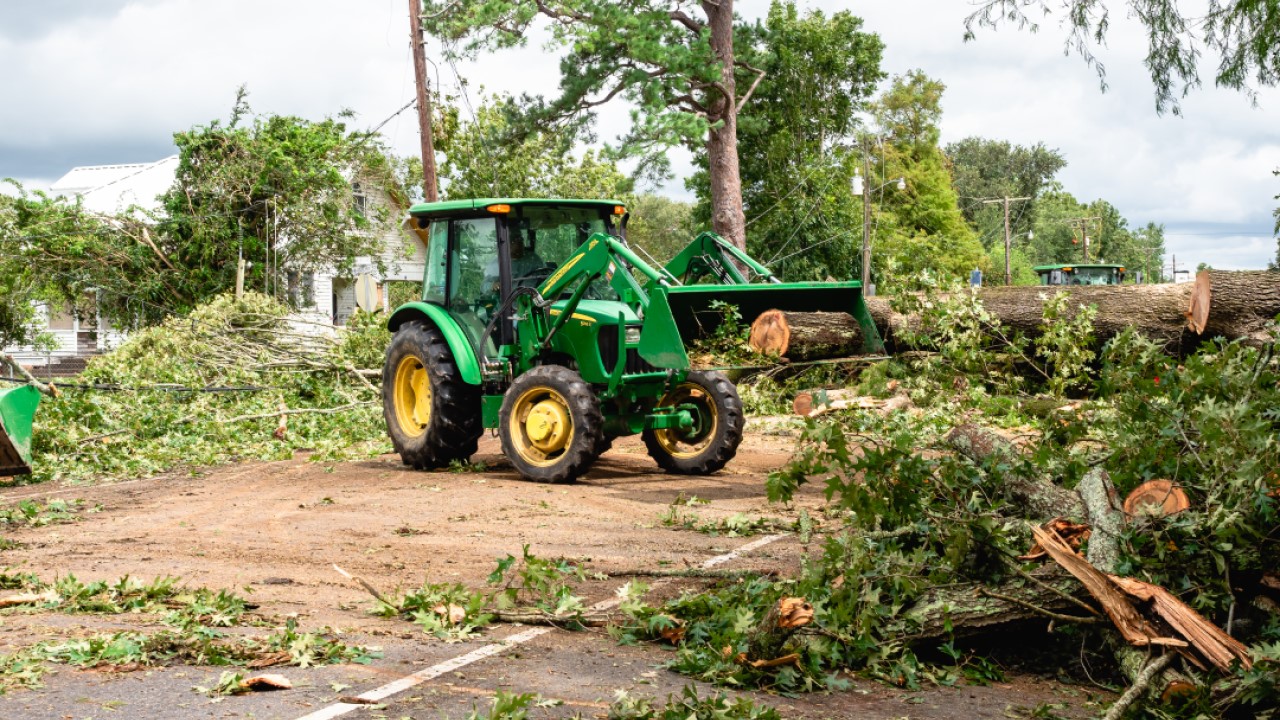 We have started restoring service to our customers where it is safe to do so and continue assessing damage to our system caused by Hurricane Laura.
The storm disrupted electrical service for 615,400 Entergy customers:
47,500 in Arkansas.
270,300 in Louisiana.
6,300 in Mississippi.
291,300 in Texas.
At 8 a.m., hard-working responders had restored 143,489, or 23% of the 615,400 customers who lost power. Outages included:
Louisiana – 244,621
Texas – 182,577
Mississippi – 3,504
Arkansas – 41,209
The Lake Charles area experienced extensive damage. Areas around Jennings and Lafayette also experienced power outages. In Texas, the Port Arthur/Beaumont areas were heavily damaged, with significant outages extending north into Hardin County. Click here for storm restoration photos and videos.
We are no longer planning periodic power outages among some of our Texas customers north of Houston and no longer appealing to all Texas customers to reduce their use of electricity.
Around midnight, our reliability coordinator, MISO, cancelled its order for periodic power outages in the Entergy Texas region. Shortly after this, Entergy Texas returned all customers who were affected by these rotating outages back in service.
We understand many of our customers were affected by these outages and how inconvenient and frustrating it can be. We assure you that these steps were only a last resort measure taken to ensure the overall stability of the electric grid.
Since yesterday, Entergy Texas has taken several steps to improve the integrity of the electric grid in its area.
We are assessing the damage to our system caused by this storm.
We know you want your power restored and we have started the process. As we begin restoring power to critical services, we begin to assess damage and put in place our restoration plan that will restore service to the greatest number of our customers as safely and quickly as possible.
We use advanced technology, like infrared cameras, drones and satellite imagery to assess damage by foot, vehicles, airboats, highwater vehicles and helicopters.
Assessment could take up to three days. Our scouts are assessing damage to determine the exact cause of your outage and how long it will take to correct the problem.
While we are assessing damage, we will continue restoring service where it is safe to do so.
We'll be better prepared to give an estimated time to restore your power after the full assessment is completed.
Entergy's transmission system has suffered extensive damage. Preliminary damage assessments show 170 transmission lines – 1,804 miles – and 205 substations affected by the storm. Both wooden and steel structures are damaged. Key transmission lines are out of service that will affect service restoration until they return.
Customers may see extended power outages. Given the intensity of this storm and the additional need for our crews to follow COVID-19 precautionary measures, hardest hit areas may experience outages for weeks. In addition, restoration may be hampered by flooding, blocked access or other obstacles.
Our crews, contractors and mutual-assistance partners are prepared to work long hours restoring service to customers as safely and as quickly as possible. Restoration workers are coming from 28 states. We continue acquiring more resources for our restoration teams, with more than 21,040 currently ready to restore service for customers power may have been affected by Laura. These resources include company employees, contractors and mutual aid resources numbering 1,095 in Arkansas, 486 in Mississippi, 13,383 in Louisiana and 6,047 in Texas. These resources can be relocated across Entergy's service territory as needed to restore service to affected customers.
We are returning our staged external resources from their safe locations outside of the impacted area to safely restore service. As our workers return, we can safely restore service to customers by closing circuit breakers, rerouting power and other means.
Some of Entergy's power plants have returned to service that were shut down before landfall to protect the employees and the facilities. The remaining are being assessed and will return to service as soon as it is safe to do so.
Impacting progress in Lake Charles is a chemical fire at a plant in the city of Westlake that forced road closures and increased drive times for some crews who were instructed to avoid the area for their safety.
For customers with property damage:
If your property has any water damage, please turn off the electricity at either the main fuse box or circuit breaker. Don't step in water to get to the fuse box or circuit breaker.
Call a licensed electrician for advice when necessary. A licensed electrician may need to inspect your property's electric wiring before Entergy can restore power to a home or business which has water damage from rain or flood waters.
For customers without property damage:
Property owners without hurricane damage should be cautious.
Look for electrical system damage once power is restored. If you see sparks, broken or frayed wires, or the smell of hot insulation is noticeable, turn off the electricity at either the main fuse box or circuit breaker.
Call a licensed electrician for advice when necessary. Don't step in water to get to the fuse box or circuit breaker.
Entergy cannot restore power to a location with a damaged meter base, conduit or weather head (the metal pipe extending upward from the structure with electrical cables inside). They must be repaired by a qualified electrician before Entergy can restore power.
Due to the volume of outages and post-storm assessment status, the red/green lines on our outage maps may show discrepancies. When this happens, we switch to an "area view" and provide detailed restoration updates in the alert banner at the top of the map, updated twice daily.
You can make sure your home or business is ready for us to restore your power.
Check outside your home or business for damage to your electrical equipment.
If the meter or any of the piping and wires on the outside wall of your home or business is missing or looks damaged, call an electrician to make repairs.
If your home or business has been flooded, you will need to contact the city or county where you live or work for an electrical inspection before service can be restored.
Click here for information to help you know how to spot damages.
Here's how we approach things at this stage to restore your power safely and quickly when conditions are safe:
Repairs begin with major lines to the substations, then to the lines and equipment serving neighborhoods, businesses and homes.
Service lines to individual homes and businesses will be restored last because fewer customers are involved, and in the case of fewer outages spread over larger areas, it often takes more time to get power back on for them.
Significant flooding and other accessibility challenges due to the storm will affect our ability to reach some areas of our territory and could delay restoration in those communities.
When restoration starts, keep in mind that if you don't see us working near you, we may be working on another part of the electrical system that you can't see but must be repaired to get power to you.
Responding to a major storm and COVID-19 could affect our response:
Along with standard storm preparations, Entergy employees are navigating the COVID-19 pandemic by taking additional steps. These include traveling separately when possible, adjusting crew staging locations and increasing the use of drones.
Due to the additional measures crews must take, restoration may take longer, especially where there are widespread outages. Additionally, crews will continue to practice social distancing and we ask that customers do the same. For their safety and yours, please stay away from work zones.
In addition to disruption of normal business operations, customers may experience delays when calling our telephone centers, especially from unaffected areas, due to overloading of the system with outage calls. We encourage customers to use these other means to interact with us during restoration:
Download our free app for your smartphone at entergy.com/app.
Sign up for text alerts by texting REG to 36778 and have your account number and ZIP code handy. The registration pattern is as follows including spaces: REG (account number) (ZIP code). Once registered, text OUT to 36778 to report an outage. You can also report an outage online as a guest.
Visit the Entergy Storm Center website and our View Outages page.
Follow us on Twitter.com/entergy or Facebook.com/entergy.
Call us at 800-9OUTAGE (1-800-968-8243).
Follow updates in your local news media, like radio, television and newspapers.
You should stay safe following the storm.
There is no way to know if a downed line is energized or not, so if you see one, keep your distance and call 1-800-9OUTAGE (1-800-968-8243).
Stay safe and away from downed power lines and flooded areas. Do not walk in standing water and do not venture into areas of debris, since energized and dangerous power lines may not be visible.
Customers choosing to use portable electric generators should do so in accordance with the manufacturer's instructions. Customers must never connect a generator directly to a building's wiring without a licensed electrician disconnecting the house wiring from Entergy's service. Otherwise, it can create a safety hazard for the customer or our linemen working to restore power. And it may damage the generator or the house wiring.
Restoration workers who discover a generator attached directly to Entergy's system will work with the customer to disconnect the generator. As a last resort, the restoration worker will disconnect the customer's service connection to Entergy, which may take an extended time to reconnect due to the extensive restoration effort underway.
Storm restoration photos and videos
---