Insights > Life on the (Front) Lines: Gene Woolsey
Life on the (Front) Lines: Gene Woolsey
07/09/2020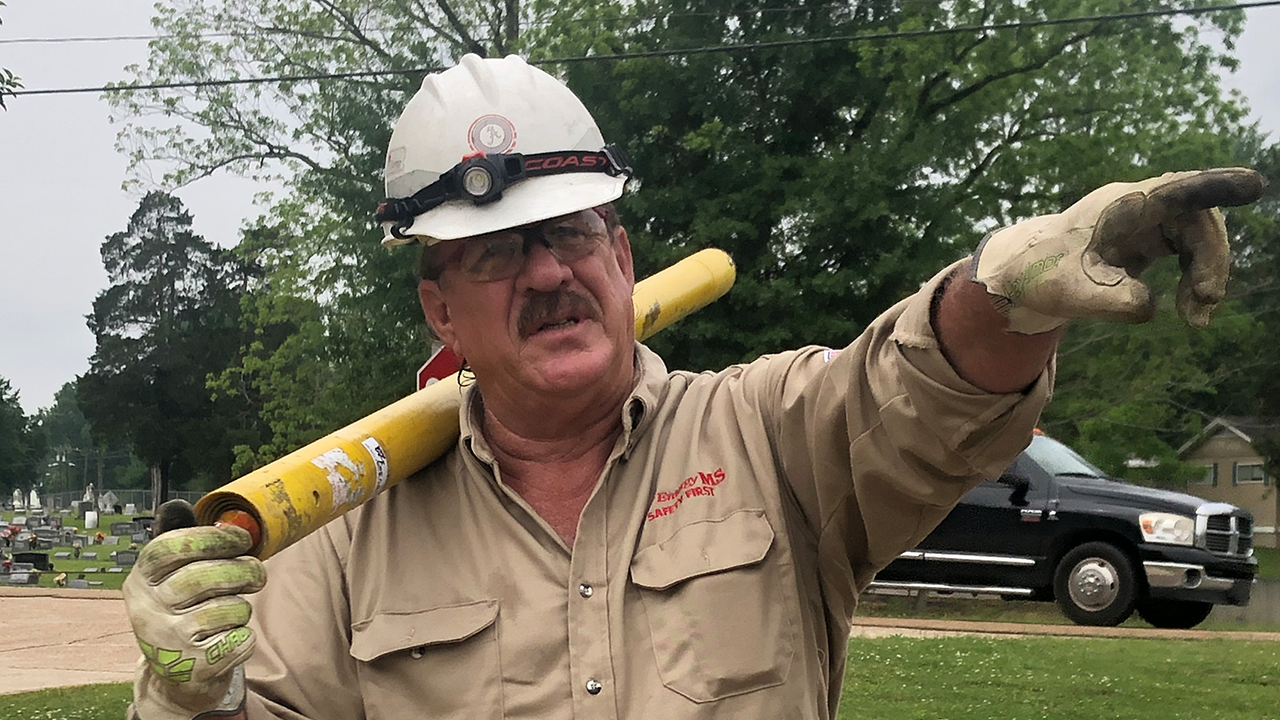 Safety precautions and pampering poodles help the Woolseys through the pandemic
Gene Woolsey, senior lineman, thought he had worked through every type of power emergency possible in his 39 years at Entergy Mississippi. He's restored power outages caused by hurricanes, tornadoes, thunderstorms, ice storms, extreme temperatures, flooding, lightning, fires, animals and cars. A pandemic is not one of the situations he expected to include on that list. Yet, throughout COVID-19, he is among those on the front lines keeping power flowing.
Entergy has long held high safety standards. And while the job is the same, the company has increased safety measures to help reduce employees' exposure to the virus. Social distancing, frequent hand washing, using hand sanitizer, staggering work schedules and sanitizing trucks are now part of our workers' normal routines.
Woolsey is grateful the extra efforts are in place to protect him, his co-workers and his family.
"We're not letting this pandemic hold us back," he said. "As a company, we've always prepared for the worst. I'm proud we are working through it and staying healthy while providing customers reliable service."
"We've gotten into a regular routine both at work and home. We use hand sanitizer and wipe down everything from doorknobs and computers to my truck," he added. "When I get home every day, I wash my hands and sanitize before I touch or do anything. I don't even touch the dogs until I clean up."
And cleaning up for the dogs is a big deal for Woolsey. He and his wife, Janetlyn, play with their pure-bred standard poodles, Duke and Duchess, to relax and get COVID-19 off their minds at the end of the day.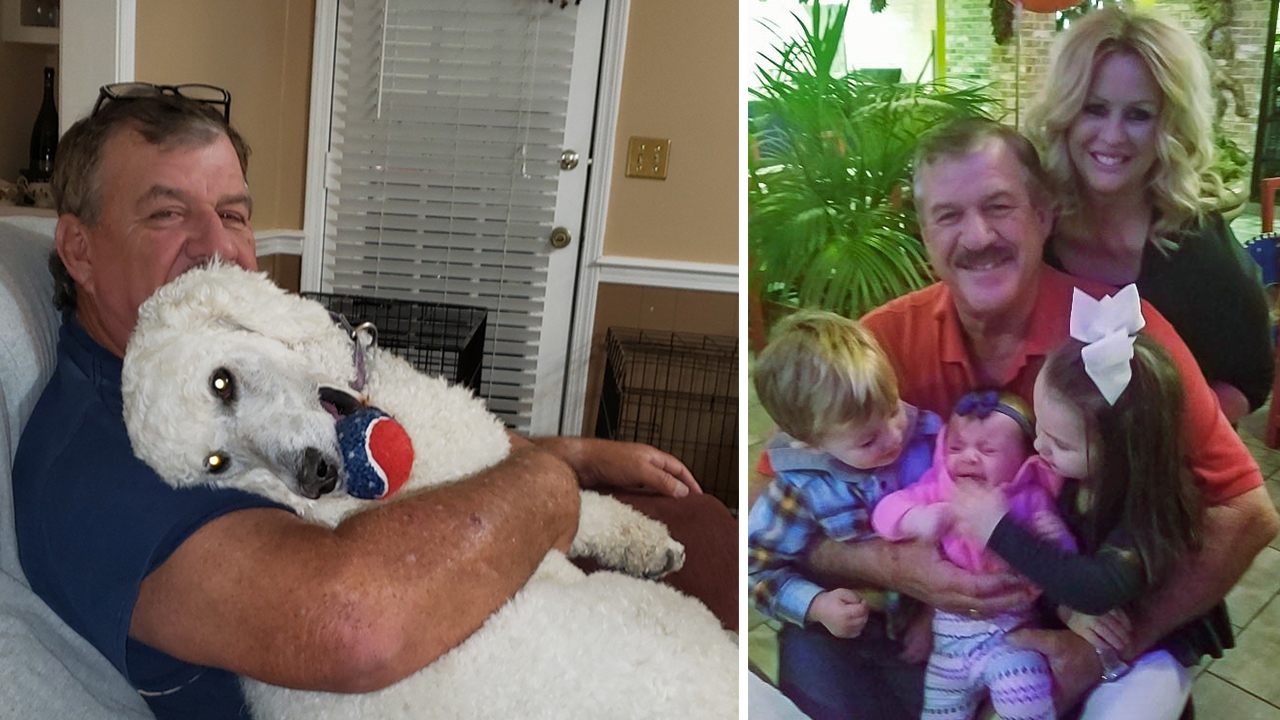 Woolsey with Duchess (left). The Woolseys also enjoying visiting with their adult children and three grandchildren (pictured) in person again, though they take careful precautions to keep the family safe and healthy.
Whether it's COVID-19 or the other dangers of the job, Janetlyn Woolsey trusts her husband and his fellow linemen to focus on safety so they can come home to their families in the same condition as when they left for work.  
"I put my faith in Gene knowing that no matter what, he's doing all he can to make sure he and his crew are safe," she said. "Every day there's a possibility something bad can happen. It never gets easier, but you learn how to live with it and not let it control your life.
"These men work very hard in a job they love. They take safety very seriously and take every precaution to do their jobs well. I'm always incredibly proud of what he does, making sure that people's lights are on. There's a lot of pride in that."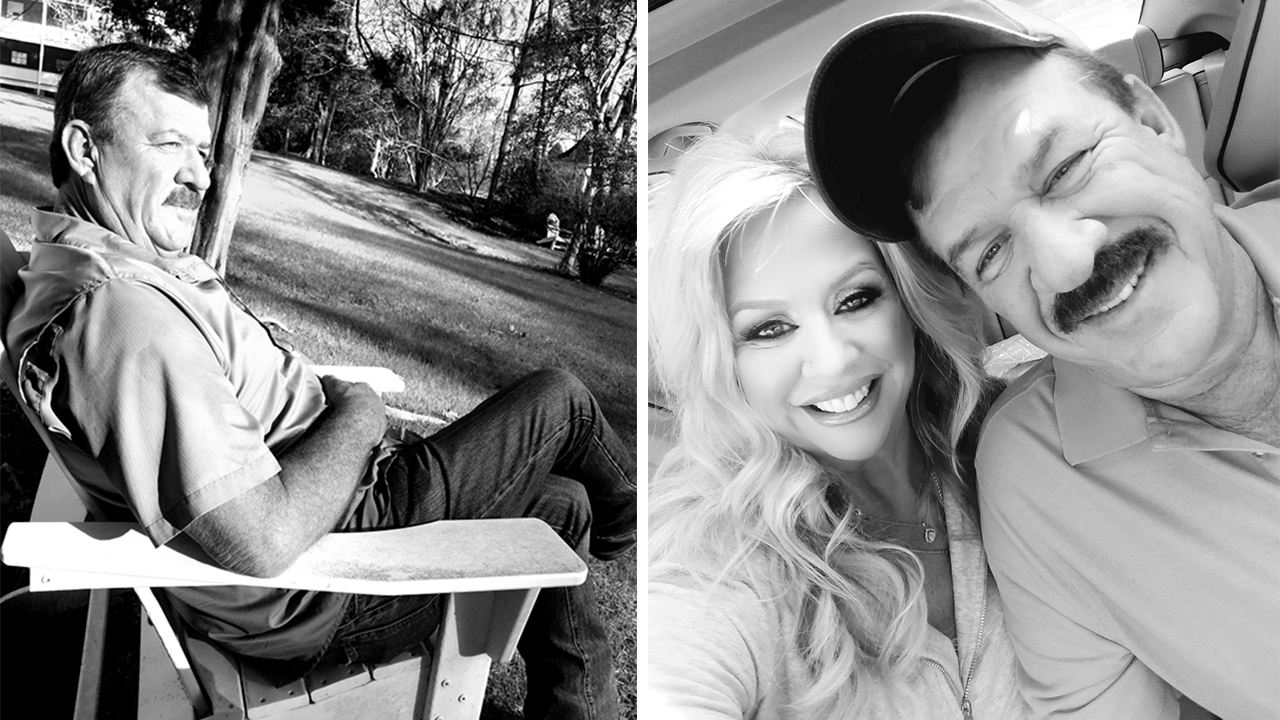 Woolsey relaxes outdoors (left) and spends time with Janetlyn (right).
It's a job Gene Woolsey will fondly miss when he retires later this month. As soon as they feel it's safe, they plan to travel the country in an RV, with three poodles in tow (Duchess recently had puppies!). Seeing wires stretched across the highways as they travel will remind him of his satisfying career as a lineman.
"There's no better feeling than riding into a neighborhood where people are cheering and waving because you're there to get their lights back on," he said. "All of Entergy's employees are part of what we do and it takes the whole company, not just the linemen, to make it work. I'm proud to be part of this company and to have had a wonderful career here."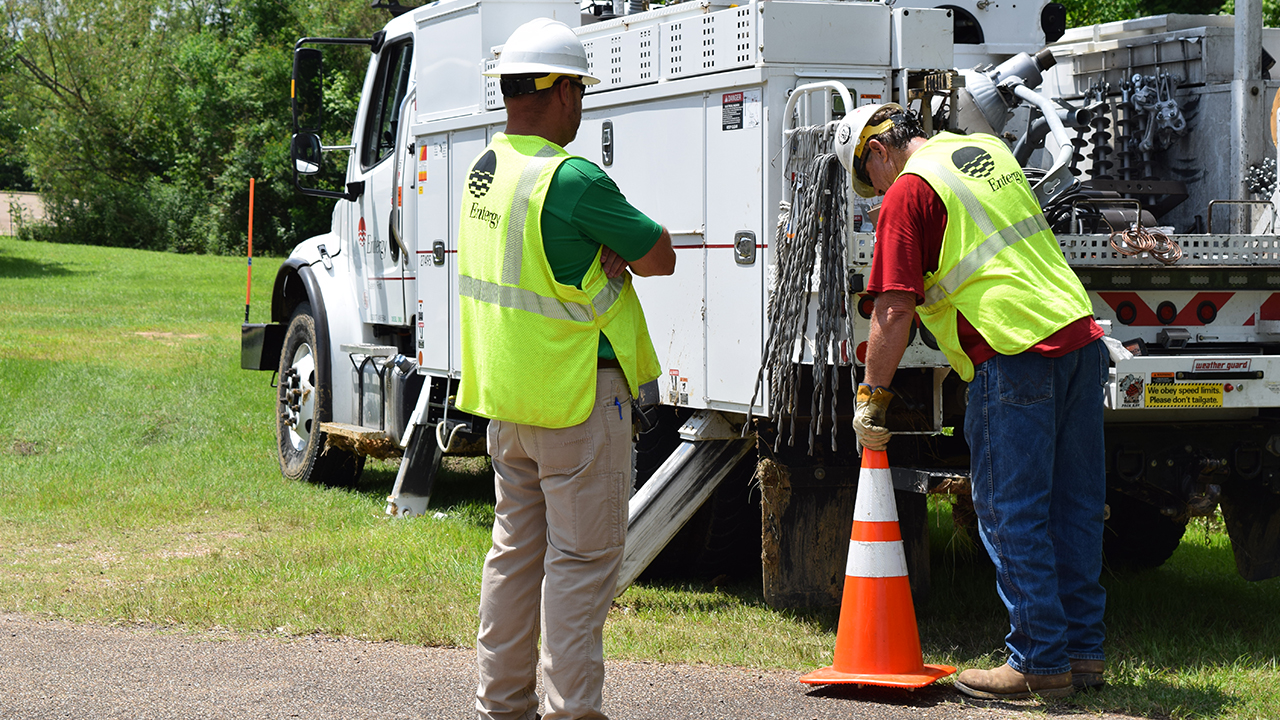 Woolsey (right) establishes a safety zone around his truck while on a job site in May 2019 as Mike Wooten, line supervisor, looks on.
---