Insights > Linemen's Boot Camp Graduates Ready to Begin New Careers
Linemen's Boot Camp Graduates Ready to Begin New Careers
07/30/2020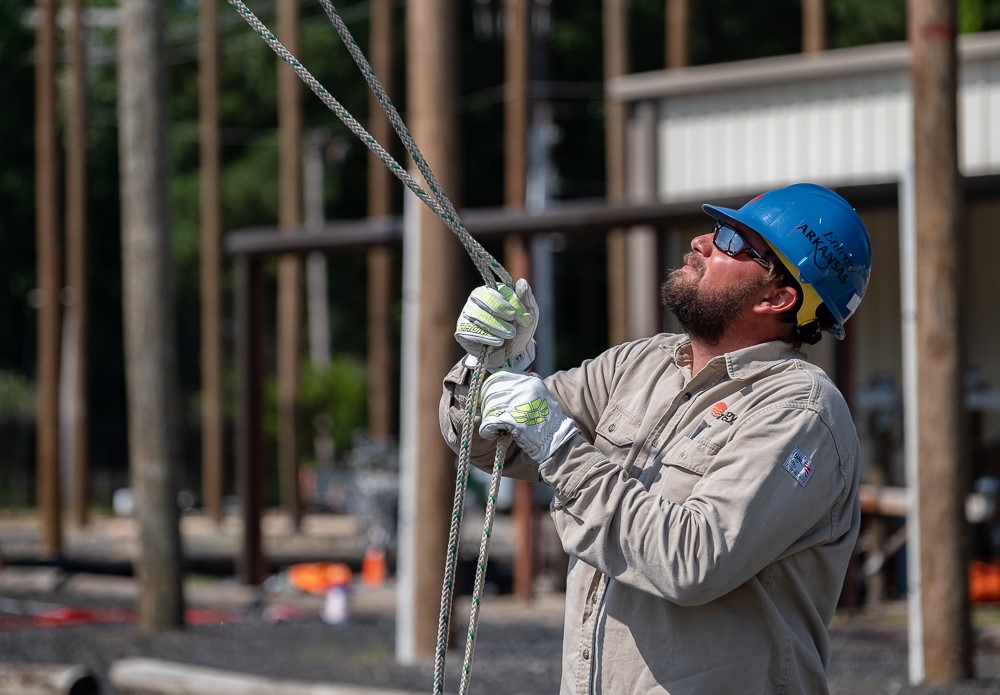 Entergy Arkansas linemen got an influx of new blood this week with the graduation of 11 apprentice linemen from the Summer 2020 Linemen's Boot Camp.
The boot camp is a 12-week Entergy Arkansas training program that introduces new hires to the fundamentals of line work and the principle of working with safety as a core value. Boot camp is split between classroom instruction and practice on real, but unenergized, equipment at the Baseline Skills and Training Center in southwest Little Rock. Boot camp is followed by a four-year apprenticeship before earning the designation of journeyman lineman.
A key new skill all boot campers learn is how to climb a pole. Using "hooks" (spikes mounted on the instep of the boot) and a fall-protection belt that wraps around the pole, they progress week by week from awkward to confident. "I'm ready to get up there and actually get some work done and get some lights on," said trainee Chad Newport.
At age 34, Newport is older than the average new hire. He had worked for a commercial tree service for 12 years prior to joining Entergy Arkansas. "I've climbed some trees, but climbing poles is totally different," he said.
Entergy Arkansas trains its linemen from the ground up. The Linemen's Boot Camp introduces the new hires to the nuts and bolts of working with high-voltage electrical equipment, always focusing on how to do the work safely.
"I always thought I was safe when I was working, but I never did really understand what safety meant until I got into boot camp," Newport said. "Safety's a big deal. And when you think you're being safe, there are some more steps you can take to be more safe. I realize that now after coming through this boot camp. It's really changed my outlook on things, the way I work, and even the way I go through my life off the job."
Linemen are a close-knit bunch. They often refer to being their brothers' keeper. Their union is the International Brotherhood of Electrical Workers. "You realize that once you become part of the team, you're a family now," Newport said. "Those are your brothers out there. I didn't know these other guys before boot camp, and now it's like, 'man, I'd do anything for you, and I'm going to be watching your back and you'll be watching mine.'"
The trainees were hired to fill openings in their specific locations – usually their home towns --- throughout the Entergy Arkansas service territory. Anyone interested in a job at Entergy should check employment opportunities at Entergy.com.
The boot campers graduate July 30, after which they are considered apprentice linemen.
The newest team members and their work locations are:
Justise Graham, Batesville
Jack Land, Russellville
Chad Newport, Russellville
Jeffery Canada, Russellville
Landon Whorton, Russellville
Cody Nolen, Hot Springs
Dale Scott, El Dorado
Russell Smith, El Dorado
Grant Staton, Stuttgart
Waylon Martin, Little Rock
Tyler Clement, Little Rock
---