Insights > Meet the crew - Kelvin Winslow
Meet the crew - Kelvin Winslow
02/27/2023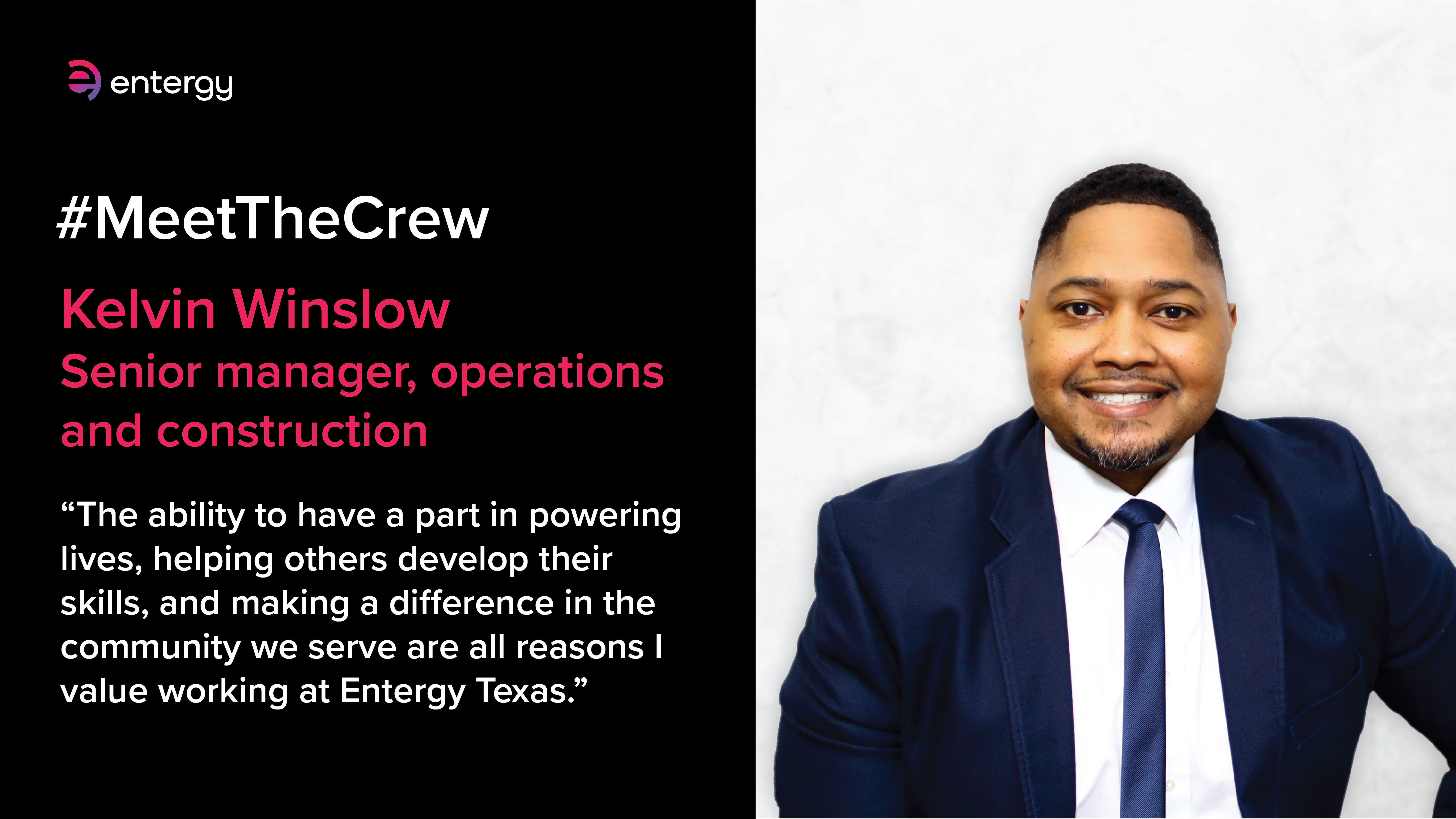 Get to know our people at Entergy Texas with #MeetTheCrew
Meet Kelvin Winslow, senior manager of operations and construction at Entergy Texas. Kelvin is from Alexandria, Louisiana, also known as the "Heart of CenLA". He notes his hometown as a place where his heart will always be, because his family is there.  
"My family being there is the main thing," said Kelvin. "Next to that, it is a very slow-paced corner of the world, which is a good change from the busy greater Houston area, where I now reside." 
His alma mater is Louisiana Tech University, home of the Bulldogs.  
His interest in Entergy sparked after he interacted with an engineering manager at a recruiting event while in college who provided solid insight into the company around developmental opportunities and the various growth avenues. Most importantly, Kelvin was impressed with how highly the employee spoke of his team and his peers.
In May, he'll celebrate 16 years with Entergy.  
"The ability to have a part in powering lives, helping others develop their skills, and making a difference in the community we serve are all reasons I value working at Entergy Texas," said Kelvin. "From storm operations to major projects to a local light repair, each effort benefits someone in a way."  
Name an activity that brings you joy. 
Cheering on my two daughters in their activities is my favorite. I also enjoy graphic design and golf.  
What's something you learned about yourself in the last six months? 
That comfort is a simple choice.   
If you were to write one, would be the title of your autobiography? 
"But a Second Longer" 
What was the last thing you did that you were proud of? 
Tried my hand a woodworking and built a cabinet and shelf! 
What's a phrase that you live by or motivates you? 
"See it through."
---