Insights > Meet the women who made history at Entergy
Meet the women who made history at Entergy
01/23/2023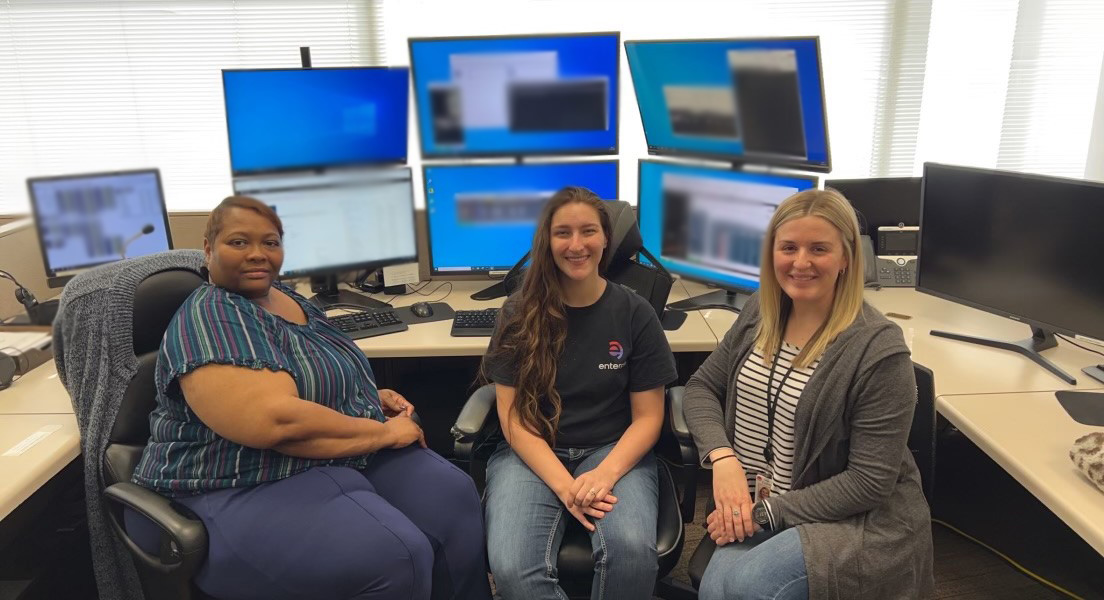 An all-women shift team led our distribution operations center for the first time in company history.
Entergy Texas marked a significant milestone Nov. 12, 2022. For the first time in company history, an all-women team was at the controls of the Texas distribution operations center.
The DOC is the control center for our operations and plays a major role in ensuring critical infrastructure is functioning properly to supply energy to customers. It's operated 24/7, with rotating shifts of 12 hours. 
Roles at the DOC have traditionally been held by individuals with a distribution or substation field background – historically all men. Over the years, we've continued to recruit individuals with a variety of professional backgrounds to work at the DOC, resulting in a diverse candidate pool to fill essential control center positions.
Although this was a historical moment for the company, Andrea Jackson, Chelsea Parsons and Kathryn Ramirez went to work like any other day. 
"It made me feel good to be part of the first all-women shift," said Chelsea Parsons, operator at the DOC. "Although it was exciting, we knew that we had to handle the day with confidence and courage."
Tasks at the DOC consist of, but are not limited to, monitoring the status of Entergy Texas' distribution system, checking outages in real-time, dispatching crews, troubleshooting and providing important information to line crew members who make repairs in the field. 
"Staying focused, making sure everyone makes it home safe to their families, and keeping our customers satisfied are the priorities," said Andrea Jackson, operator at the DOC. 
Over the last two years, operations employees at the DOC have evolved from only men in the operator ranks to both men and women from various backgrounds. 
Parsons has a background in nursing, and Jackson has a background in manufacturing as a quality lead coordinator. Both decided to switch careers and explore their opportunities.  
On the other hand, Ramirez has years of experience in operations, previously working in the process operating field before her role at Entergy Texas. 
"My family's been in operations, making me a fourth-generation operator," said Ramirez. "One of my favorite things about working a shift is that you spend more time with your coworkers, have a sense of teamwork, and see the results. There's always a different challenge every day."
Each of these women represent that a career in operations is possible for anyone.
"Hiring women at the operator ranks is the first step to normalizing women in operations," said Megan Norris, manager of the DOC. "We're committed to being a company where our workforce reflects the communities we serve across the board."
---