Insights > One team! One fight!
One team! One fight!
03/02/2023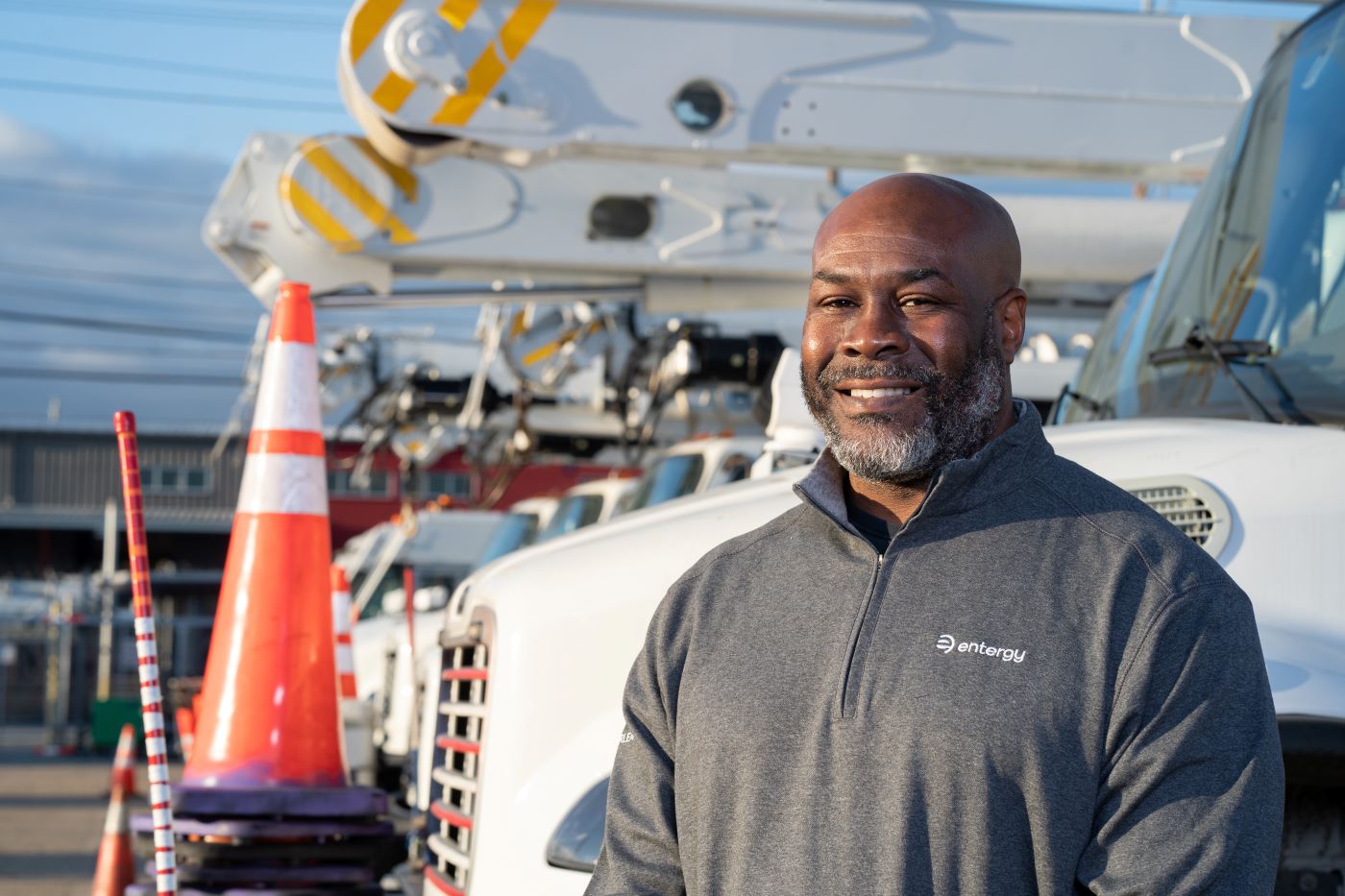 Shrimp Remoulade, Oysters Rockefeller, boiled Crawfish and Étouffée: these are just a few of the famous seafood-based meals that people travel to New Orleans to enjoy. Ironically, for Shelton Hudson, a seafood allergy is why he now calls New Orleans home.  
Shelton, who was recently promoted to Director of Metro Reliability for Entergy New Orleans, began his career with the Navy as a Nuclear Machinist Mate. Growing up in the hustle and bustle of the Bronx, New York, Hudson's energy and enthusiasm for hard work quickly put him on track toward higher ranks. He was set on becoming a Surface Warfare Officer, and the Navy offered to send him to school to begin training to lead the operations of his own Naval ship.
"I have an explorer's heart, so I wanted to come to a place I'd never been before," said Shelton. "I enrolled at LSU to find out what Louisiana culture was all about."
At LSU, Shelton walked onto the football team, and, in 2003, he won a National Championship under head coach Nick Saban. However, while playing football and completing his military training in Baton Rouge, he had a reaction to seafood. After being tested for 17 different fish and reacting to them all, the military ruled him out of taking command of a ship.
Shelton's life suddenly changed, and he decided to opt out of the military and search for a new beginning.
"When I was at church one Sunday in New Orleans, I bumped into someone I knew that worked for Entergy," said Shelton. "They knew me and understood my nature - how I need a dynamic environment and that I need to be going at all times - and they suggested I apply to be a lineman."
Shelton said that it was a perfect fit from the start: one job is never the same as the next, you work together strategically with trained professionals, and you constantly need to adapt and think on the fly. The New Yorker was hired as a helper in a craft position at Entergy New Orleans, and 15 years later, he now oversees the entire New Orleans power grid.
"I take a lot of pride in being an example," said Shelton. "When we talk about diversity at Entergy, we do a great job talking about gender, race, and background. But I want to include diversity of thought. When craft employees see someone in their field ascend to a management role like me, it shows that the path is there for everyone. Everyone can grow in this company."
After starting as a helper, Shelton served as a Lead Lineman in the Metro region for 10 years, an Operations Coordinator for Entergy New Orleans in 2019, a Line Superintended in 2020, a Construction Manager for Entergy Louisiana in 2021 and a Senior Regional Manager for Entergy Louisiana in 2022.
When the Metro crews gather for safety meetings and strategy briefings, Shelton's thundering voice can be heard shouting "One Team!" which is met with a unified "One Fight!" from his team in response. Shelton learned the chant from Coach Saban at LSU, and he's carried it with him throughout the company ever since.
"The foundation of my mission as Director of Metro Reliability for Entergy New Orleans is 'One Team, One Fight,'" said Shelton. "Whether you're playing on a football field for the Tigers, operating an aircraft carrier for your captain in the Navy or repairing a utility pole for Entergy with your crew members, we all have to be in alignment and execute as a team to be successful. From a leader to a helper, we're all responsible for each other."
Shelton remarked that his highlights with Entergy include managing one of the company's biggest one-day jobs in New Orleans that required 300 man-hours, helping safely restore power during Hurricane Ida, and learning the trade in Metro as a helper.
"From LSU football in Baton Rouge to Mardi Gras in New Orleans and everything in between, this is a state that is deep in tradition," said Shelton. "Everyone's family here, and I couldn't be more excited to be a leader at Entergy in New Orleans."
In case you're wondering - despite his seafood allergy, Shelton found a food he loves here more than anywhere else – pastalaya.
To learn more about our outstanding employees who are focused on making the right decisions and building a brighter and more resilient New Orleans, visit https://www.entergy-neworleans.com/we-are-eno/
---