Insights > Power Principle: Ana Gale-Orellana is Living the American Dream
Power Principle: Ana Gale-Orellana is Living the American Dream
09/25/2016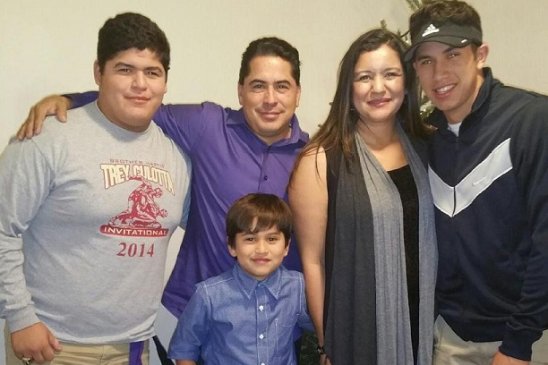 Ana Gale-Orellana, a senior engineer for Entergy Louisiana, is the embodiment of the American immigrant success story. Ana, her five brothers and sisters and their mother immigrated to the United States from Honduras when she was 13. The family took advantage of every opportunity offered by this country. Between them, there are four college degrees – two in electrical engineering, another in computer information systems and the fourth in business administration – and a distinguished career in the military.
Ana's path took her to the University of New Orleans, where she earned a bachelor's degree in electrical engineering. Ana has been with Entergy for more than 20 years, 18 of them as a full-time employee and two-and-a-half years as a contractor while she finished her degree. She and her husband, Vicente, who owns a heating and air conditioning business, live in Kenner, La., with their three sons: Anthony, 18, Joshua, 17, and Elijah, 9. Ana's life is centered around her family and her church.
Her power principle
My power principle is to work collaboratively, to create effective teamwork and inclusion. I always strive to be transparent and treat others with respect. I am constantly looking for ways to break down barriers and encouraging employees to help them recognize how they add value. 
Her proudest moment
The births of my three sons have been my proudest moments. I am the proud mother of Anthony, Joshua, and Elijah. My husband and I always seek in raising our children to make a positive difference in the world. We take pride in investing in our next generation, in building their character with core values of respect, integrity and love. And we try to set an example for them on how our actions can make the world a better place.
The best work-related advice she received
The most important piece of work-related advice I received early in my career here at Entergy was always to treat people with dignity and respect. It's advice that has become an important part of my work ethic and how I interact with my fellow employees. It reinforces something I first learned from my late father. He was an excellent example of a man who always thought of others first before his needs. He was honest, full of integrity and treated everyone with respect. His example gave me my foundational work ethic.
Her favorite work project
I've been very fortunate to work on many cross-functional projects that have helped me learn many aspects of our business, but I think my favorite has been working with our diversity and inclusion councils to help build a more inclusive environment here at Entergy. Being a diversity and inclusion champion in my organization has been one of the most rewarding opportunities of my career.
Her involvement in our community
I am highly involved with my church in different community activities such as feeding the homeless, providing support for single parents, and working in our youth programs. I take every opportunity to work with young people to encourage them to get a college education and pursue careers in engineering or science.
She wants people to know this about Entergy
If you are looking for a company that holds true to its core values of safety and respect, you'll find it at Entergy. We all understand that our primary function is to keep the lights on, and we do it with pride. 
---