Insights > River Bend Team Member Celebrates 40 Years as a Nuclear Professional and Community Partner
River Bend Team Member Celebrates 40 Years as a Nuclear Professional and Community Partner
06/10/2021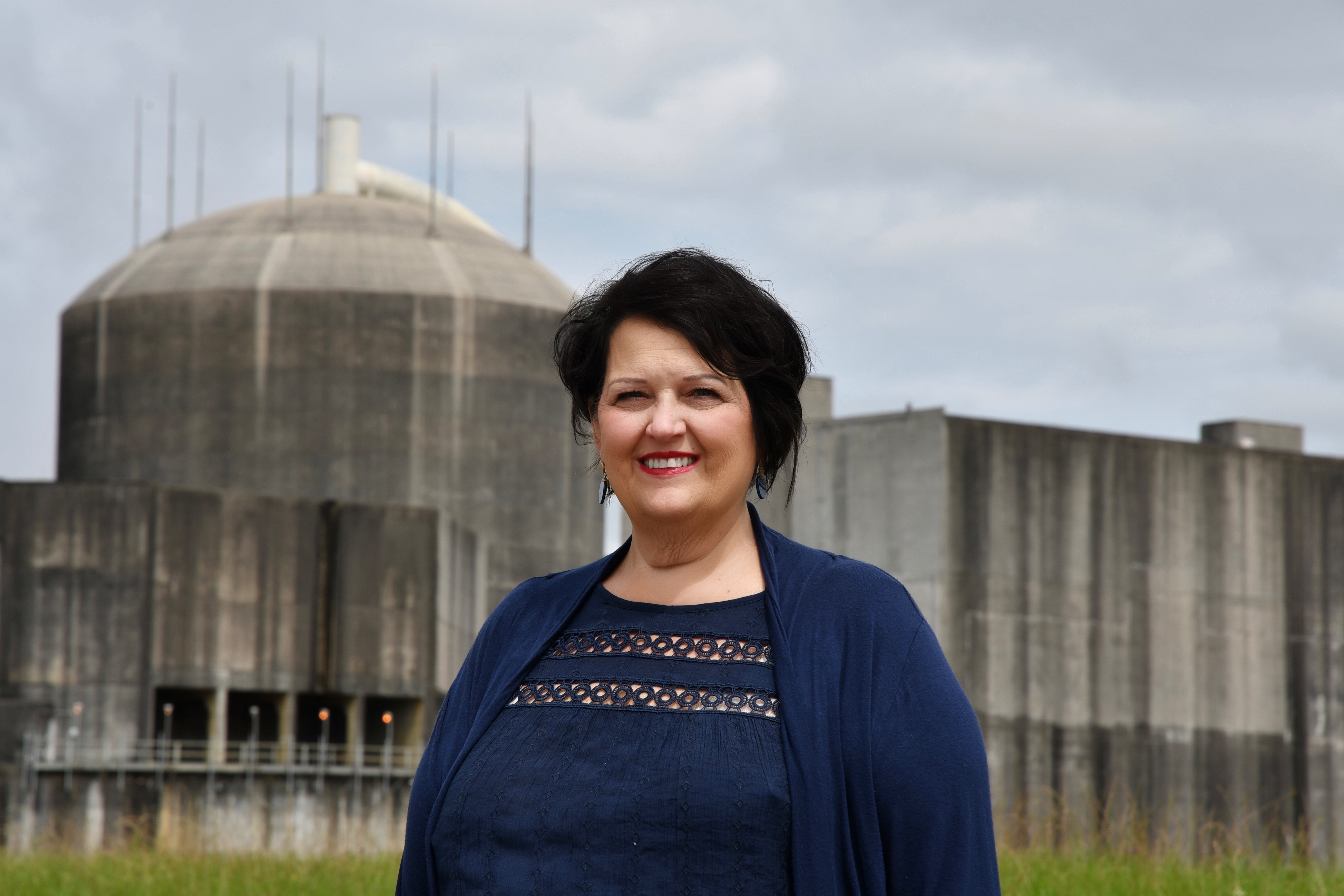 This June marks 35 years of safe, reliable and clean operations at Entergy's River Bend Station nuclear power plant. This milestone is possible due to employees, such as Kim Maxwell, dedicating their time and support to ensure the station successfully meets company goals and works with the communities Entergy serves.
This month, Maxwell celebrated 40 years at River Bend and has held various roles with the company while impacting the local community. "When I first started working, River Bend was still in construction," said Maxwell, who was supporting the startup and test department as an administrative specialist.  
"Seeing all of the buildings under construction is a memory that I will never forget," said Maxwell. She remembers thinking how incredible it was to see something so significant constructed in her small town. "For example, the training center was the second building in St. Francisville that had an elevator." One of her top memories of the construction phase was watching the dome placed on the plant's reactor. "I remember my family and I standing up on the hill behind a 6-feet chain link fence watching the whole process."
Out of all the roles she has held, the most beneficial one was her work supporting the community. "I first started working with Women in Nuclear to do my part in making a difference within the community," said Maxwell. Over the years, Maxwell served as chapter president and vice president for WIN's River Bend chapter.
Organizations such as North American Young Generation in Nuclear and WIN have chapters at River Bend, each playing a beneficial role in community involvement as we strive to become the premier utility. Maxwell has been heavily involved in community projects with both organizations. "Anywhere from Dress for Success to reading to local elementary schools to educate the children about benefits of carbon-free nuclear power, I have been able to participate and help organize ways the site can show its positive impact on the community."
When asked about her favorite organization to support, she proudly said the "Capital Area United Way." Maxwell leads the campaign for the site, coordinates the United Way auction week and organizes River Bend's team for the United Way's Jambalaya Jam. "Working with United Way is very rewarding. The organization provides an enormous amount of support for the community we operate in and for our neighbors." Over the years, she has invested a tremendous amount of work with the United Way and toured several of its agencies. 
Maxwell is local to the community and making a difference in her neighborhood is a top priority. "Just this year, we were able to build a playground for Rosenwald Elementary School and improve the drone program at West Feliciana High School. I believe my coworkers are making a huge impact in the community, and I am proud to be a part of the Entergy team." She is also chair of the River Bend Employee Club, an organization that sponsors local youth teams and events. The employee club supports students in the local and surrounding parishes. 
Entergy's River Bend Station, located in St. Francisville, La., is a BWR 6 with General Electric turbines and mechanical draft cooling towers. The station began commercial operation on June 16, 1986 and will celebrate 35 years of safe and reliable operations this June. At 974 megawatts, River Bend produces approximately 10 percent of the total energy demand of Louisiana. The station boasts a team of more than 870 highly trained and dedicated nuclear professionals, committed to their plant and their communities. You can follow Entergy's nuclear fleet on Twitter @EntergyNuclear.
---