Insights > 'Total Electric' housing market paves way to modern living
'Total Electric' housing market paves way to modern living
08/10/2023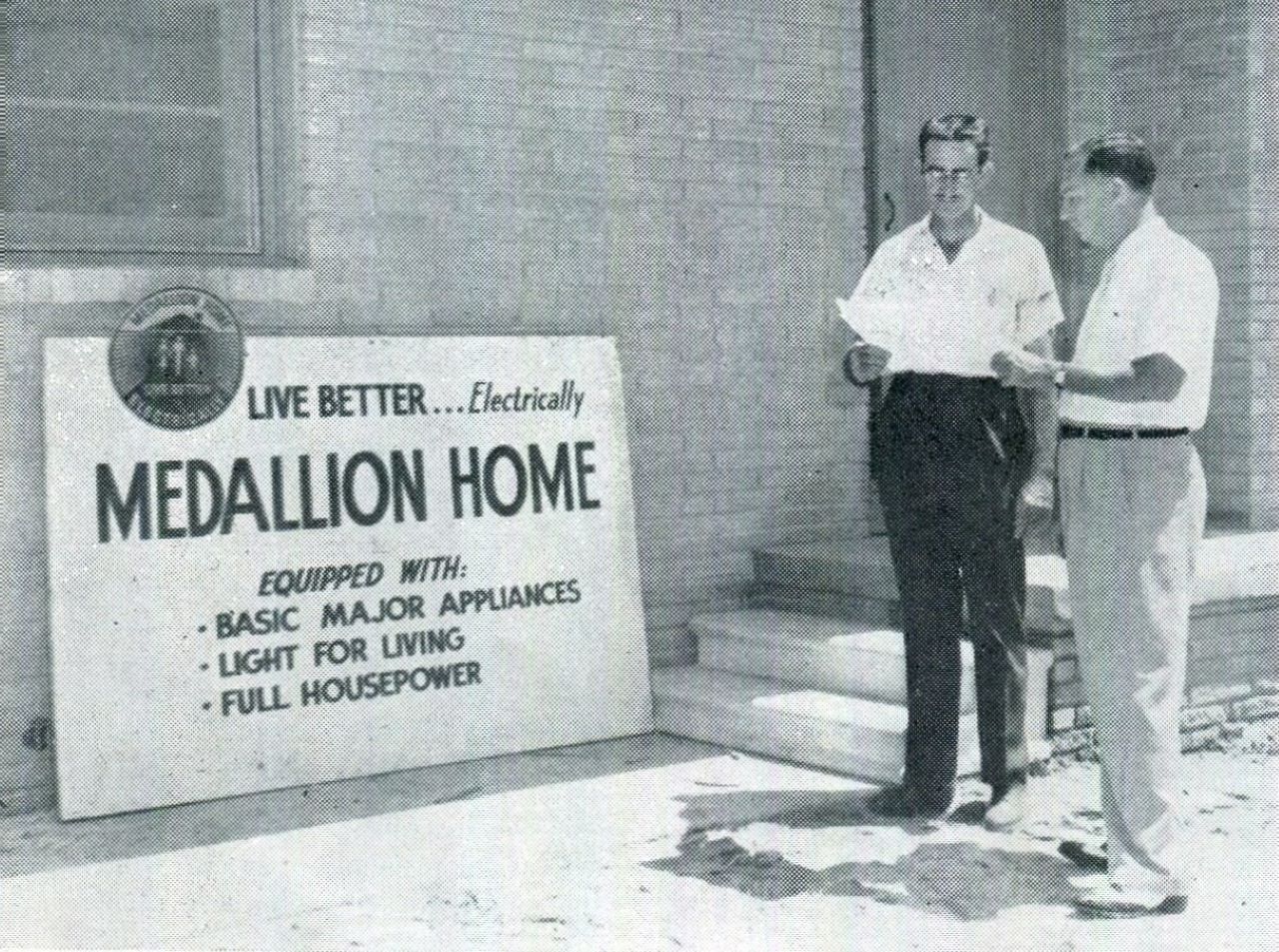 There was a time when a "total electric" home sounded like science fiction. But with the growing availability of electric appliances in the 1950s—including heat pumps and water heaters—Mississippi Power & Light's new marketing department made total electric homes the literal gold standard for customers in Mississippi.
"We created the total electric concept to position electricity as a safe, efficient and cost-effective choice for modern homes," said Johnny Ervin, who began his career in marketing and customer service at MP&L in the 1970s. "When houses were total electric, we installed a meter on them with a gold lining in the meter container. A lot of people wanted their gold meter."
The campaign's success resulted in the coveted Total Electric Gold Medallion home award, first presented in 1958 to Jackson-based home builder Walter Ferguson. Associating electricity with modernity was a smart idea that paved the way to today's smart home technologies that use WiFi-connected devices to optimize energy savings.
Introducing energy efficiency
Until the mid-20th century, electricity was mainly used for lighting. But that began to change as the means of producing, distributing and consuming electricity grew more efficient. With new electric appliances on the market, electricity became a direct competitor with natural gas, which had cornered the energy market for heating.
In Mississippi, energy usage peaks in the summer as air conditioners kick into high gear. After divesting its natural gas properties in 1952, MP&L led a series of campaigns to promote the benefits of electricity and grow energy consumption during off-peak months, which accounted for two-thirds of the year.
"We were trying to increase our wintertime load because we had lots of plants that weren't running, and we had the transmission distribution capacity to serve our customers," Ervin says. "Electric resistance heating is an inefficient way to heat homes, generally because it uses a lot more electricity. Back then, new heat pumps used half as much, and summertime air conditioning used about the same."
As electricity use rose, the cost to produce it fell, creating additional revenue for investors and a cost savings MP&L could pass to its customers.
MP&L's program to promote efficient energy consumption proved prophetic in two major ways. First, during the 1970s, energy costs surged as an oil embargo gripped the developed world. And the following decade, the concept of conserving energy on a mass scale arrived.
The company's marketing department stayed ahead of the game with the E3 initiative, or Energy Efficient Electric, which consolidated efforts to encourage the use of electric appliances and increase efficiency of homes by helping homebuilders and future homeowners during construction design stages.
The primary goal for an E3 home was to keep the loss of BTUs (British thermal units) under a certain threshold.
Keeping more of the heat generated by electric devices inside homes became a major industry focus. MP&L devised new construction specifications to replace the typically drafty, minimally insulated houses common during the era with homes that held consistent temperature in summer and winter. Construction upgrades of added wall, ceiling and floor insulation, and insulated glass for windows improved comfort levels while reducing peak power consumption.
Making the design even more attractive was a new technique that enabled customers to harness the power of the sun passively through windows and flooring by reducing east/west windows while increasing window area on the southern wall to capture the natural warming of the sun during the winter.
An outreach campaign to promote the new specifications among homebuilders was a success, and local home plan designers began bringing the concepts to life with attractive stock plans maximizing the energy efficiency, comfort and appeal.
Making the switch to electric appliances
MP&L also made it easy and affordable for customers to switch from gas to electric appliances. When aging gas water heaters reached the end of their usefulness, MP&L offered to replace them with more efficient electric models for as low as $2 per month to cover appliance and installation costs.
In the following decades as environmental concerns about fossil fuels mounted, the need for energy efficiency and sustainability grew exponentially, with Entergy taking the lead. In 2001, Entergy became the first U.S. utility to voluntarily stabilize its carbon dioxide emissions.
Entergy also continued offering new programs to help customers increase energy efficiency and save money, including free home energy audits and cashback incentives for investing in ENERGY STAR-certified products.
WiFi-enabled technologies such as the Smart Thermostat Program help customers increase overall home energy efficiency by shaving usage and saving kilowatts. It echoes efforts the company pioneered in the 1980s and 90s when it deployed mechanisms to residential air conditioners and used a paging network to signal when to shut off a unit, usually for 10 or 15 minutes at a time. 
"Entergy has always leveraged the power of technology to balance customers' needs with the needs and requirements of the electric grid," said Tison Reno, Energy Mississippi's manager of product and services deployment. "There's a lot of other technologies coming online, such as electric vehicles and backup generation that can be dispatched and run on the grid to help meet supply and demand. Technology changes quickly, and our responsibility is to stay ahead to bring its value to our customers."
---