Insights > Unstable Driver Needed Help; Daniel Pruitt Was There for Her With Lifesaving Quick Action
Unstable Driver Needed Help; Daniel Pruitt Was There for Her With Lifesaving Quick Action
10/13/2021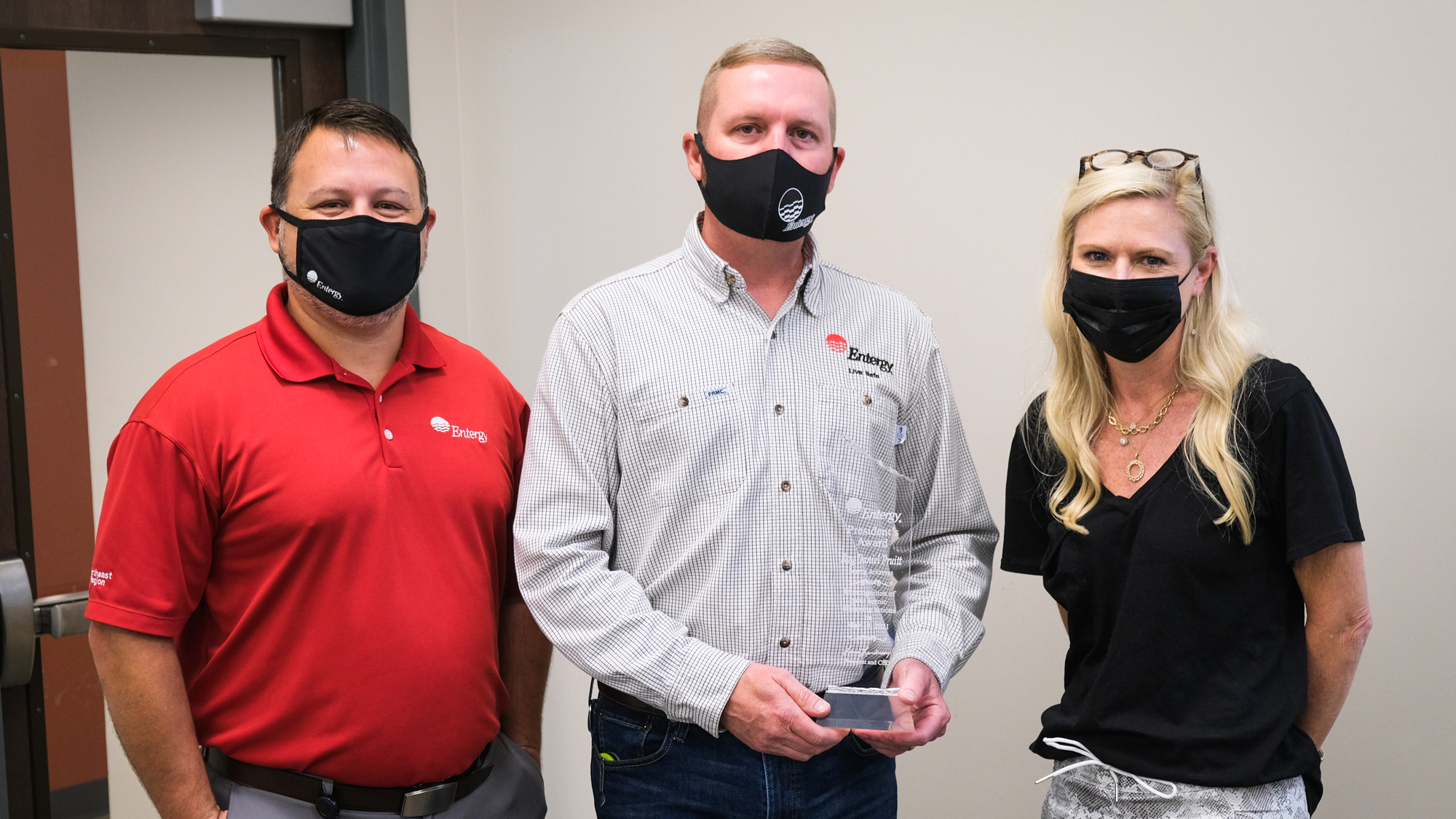 Entergy Arkansas line workers and other field employees spend a great deal of time on the road. If someone's in trouble, it's not unusual that it's one of our folks who stops to help. On May 18, a driver on Highway 267 south of Searcy was definitely in trouble. Fortunately for her, she crossed paths, quite literally, with Construction Supervisor Daniel Pruitt.
(This incident happened in May, but because of COVID and storms, presentation of this award was postponed until today.)
"I noticed a truck traveling slow on the south shoulder on my lane. I slowed down and gave her plenty of space to pass me and I noticed that she was slumped," Pruitt explained after he got back to the Searcy service center. "I turned around and pulled up behind her when she stopped. When I approached the vehicle, she shut the engine off and opened her door. She was semi-conscious and vomiting all over herself when I walked up to assess the scene. I called 911 to get officers and rescue on the way.
"I went back to my truck and got my gloves and the one-way rescue breather. I also put my AED in the front seat, just in case. When I got back to the truck, she was unconscious with her head back on the seat rest," he said. "At one point she vomited while lying back and started choking on it. I leaned her over and did a finger sweep to try to clear her airway, then patted her on the back a few times -- each time a little harder. She coughed tried to vomit some more and started breathing fine. She started coming to a little and was able to speak some, but she was very disoriented and still vomiting. Police arrived and after a few minutes, and the officer said he didn't need me for anything. So, I left the scene."
Entergy line workers are trained in first aid and equipped with kits to respond to medical emergencies, including carrying an automated electric defibrillator (AED) for cardiac emergencies.
Pruitt says he did what anyone would do in the same situation, but we're very proud that he both knew what to do to save this woman's life AND did it.
---