Insights > Whatever It Takes
Whatever It Takes
05/06/2020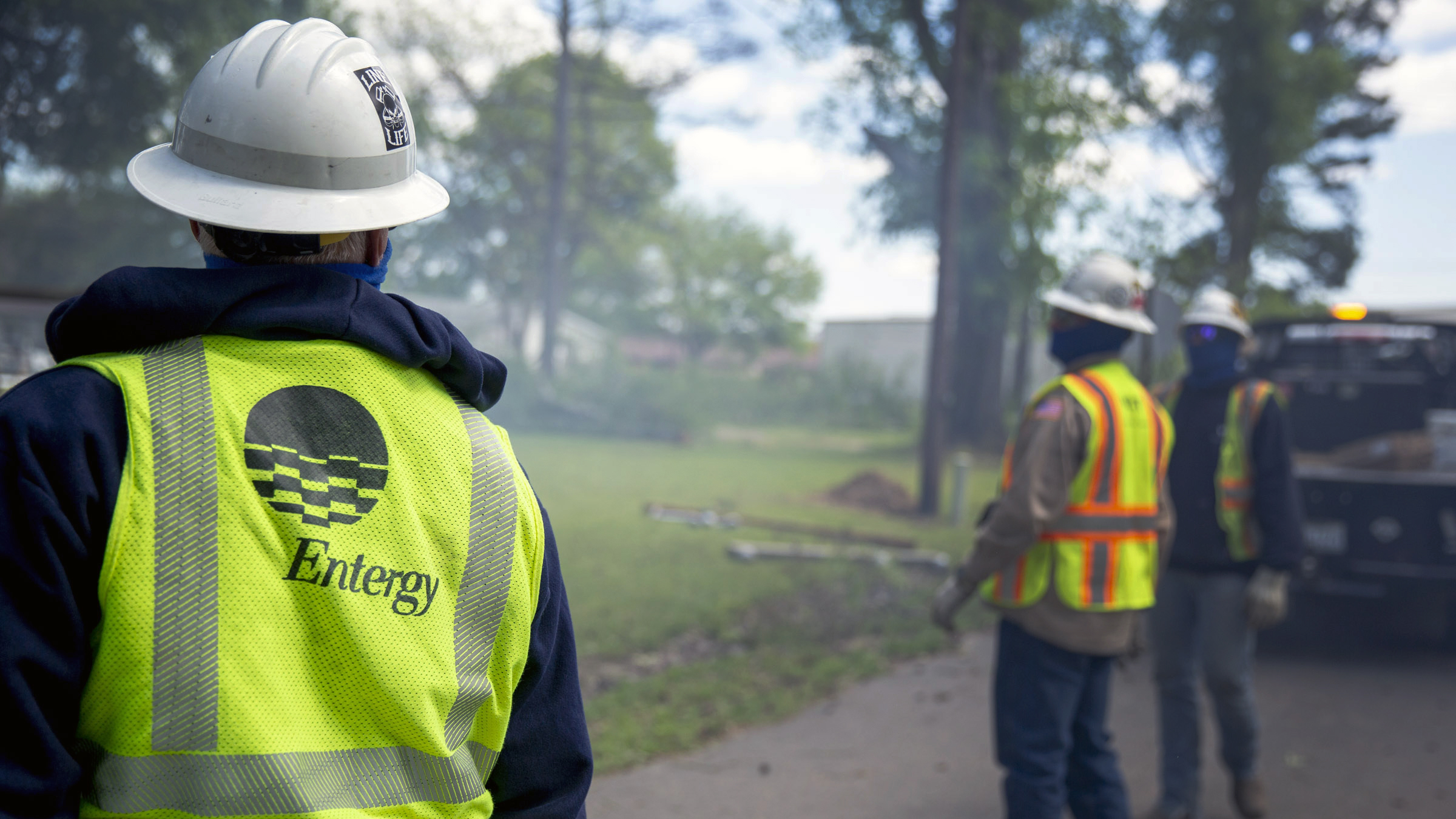 Entergy employees push through all challenges, even a pandemic
The life of a lineworker is one of adventure, duty and love for family. It is also one that can, at times, include cold sandwiches and showers, up to 16-hour days bringing electricity back to disaster-stricken communities, and now due to the COVID-19 pandemic, many added health precautions.
Now, lineworkers step into separate vehicles and occupy separate hotel rooms. They may pick up takeout rather than eat at a local diner. They are supplied hand sanitizer and protective masks and stand 6-feet apart during pre-job safety meetings and, if safely possible, when working in the field. And their families are asking them to stay safe now more than ever. 
Entergy Louisiana lineworkers and others experienced this firsthand while helping restore power for Entergy customers in Arkansas after thousands lost electric service when devastating storms swept through that state in mid-April. 
And while they were in Arkansas, other Entergy employees like Arnetra King, Heather Frost, Lynette Sanderson and Kathy Sandford were fueling restoration efforts through logistical support in the Monroe area where severe weather and tornadoes knocked out power to thousands in north Louisiana.
The four made sure food was provided to workers, and whatever remained they boxed up and delivered to hotels where some customers had taken temporary shelter.
"This storm situation was like no other that we have ever been faced with because of the pandemic," King said. "I just remained safety conscious at all times, and we did what we had to do to get the job done."
Like King and the logistics team, several lineworkers said that while the pandemic has added a layer of complexity to an already demanding profession, their sense of duty encouraged them to get the lights back on, whatever it takes. And when the job was done, they returned home to the Bayou State, with many receiving warm hugs from exhausted spouses and energetic, and in some cases surprised, children.  
Aaron Bertrand, a lineman out of Lake Charles, and his family were vacationing at a camp near Toledo Bend when he received word the company needed employees to join a team traveling to Arkansas. He went home, packed and headed to work near El Dorado and its surrounding communities. 
Jared Murray, a lineworker from Luling, also answered the call. The day before leaving, he told his wife, Haley, that he'd be working late and would have to be up early. That night, Murray arrived home to packed bags (thanks to Haley) so that he could spend quality time with their three children before getting some rest and leaving for Arkansas in the morning. 
Murray drove to Monticello and, later, Pine Bluff, as did his Luling co-workers Johnny Goris and Keronne Lewis.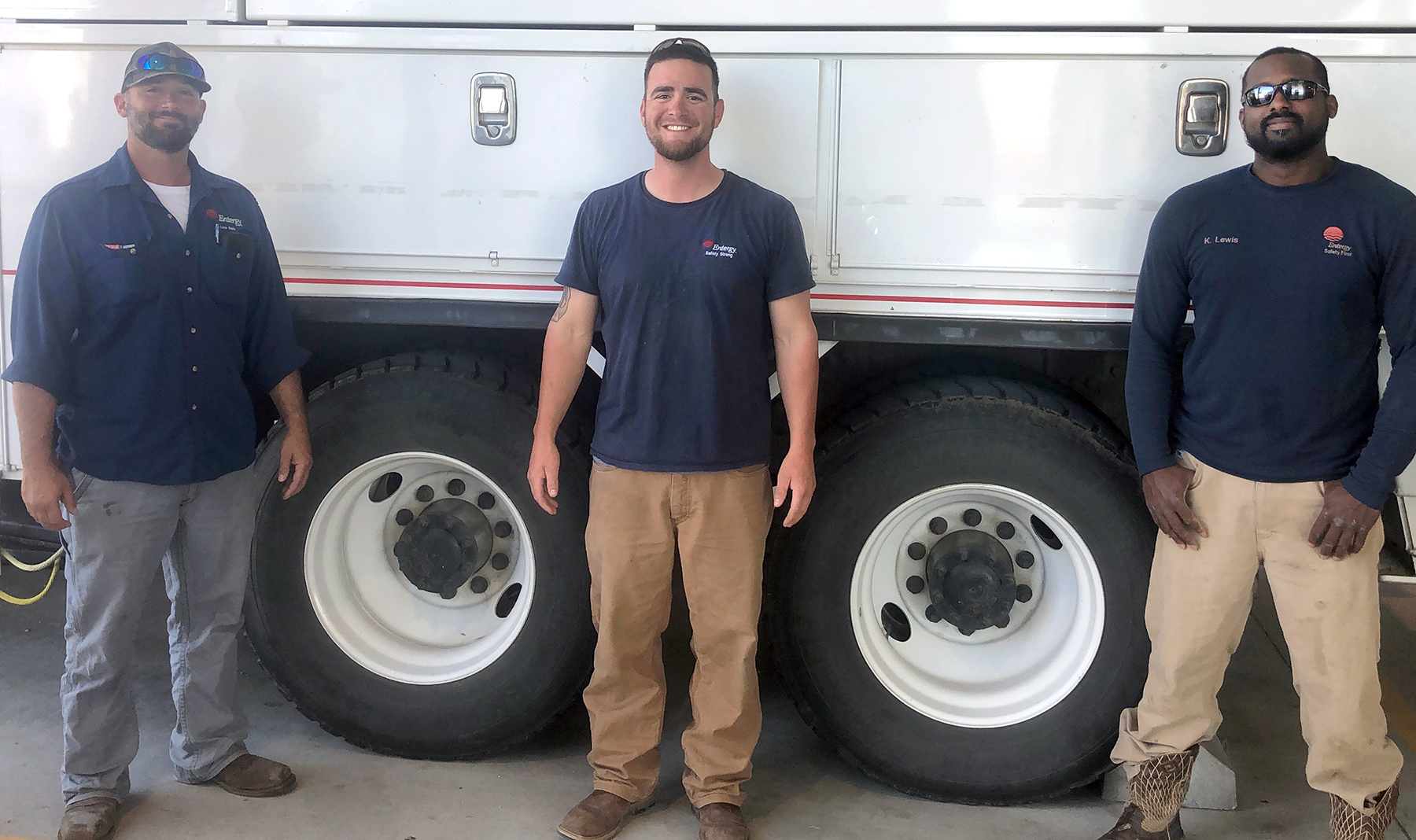 Lineworkers Johnny Goris, Jared Murray and Keronne Lewis help keep the lights on for St. Charles Parish residents and businesses. Sometimes, they also bid farewell to their families to travel miles away to restore power for communities in need.
And fortunately for those assigned to Stuttgart, so was Phil Hoffman, a lineman out of Jefferson who brought a barbecue grill along with him, thinking food would be scarce because of shuttered restaurants. 
While the geography differed from one location to another, the work was similar. Aside from setting poles, stringing wire and rebuilding parts of the electrical system, there were the occasional surprises, like the time Lewis was chased by a dog, only to make it safely to his truck in time to radio other crew members to turn around. Then there was the time Murray watched power lines jolt outward and break two utility poles as a result of released tension from a tree being cut and removed off the lines.
"I said, 'Ah, well that's more work for us," Murray recalled.
And after they worked for a stretch of time, the lineworkers would get food, usually a cold sandwich, but as David Janusa, a line supervisor who led the Louisiana storm team, put it, "No one was complaining because they knew the eatin' was tough."
They'd also call their families, usually through their phone's video chat feature, which is the next best thing to seeing your family in person, the lineworkers said. All received similar questions: "What'd you do today?" "When are you coming home?" "Are you all practicing social distancing?" 
Although there was no avoiding the topic, they all assured their spouses they were doing everything they could to remain safe. But to most, it was routine line work plus some added precautions. 
"I didn't let the pandemic worry me because while it's always in the back of your mind, storm work forces you to focus on safety and getting the lights back on," Hoffman said. 
Much like work in the field, there were a few memorable moments during rest-time phone calls to family. Murray watched his 5-month-old daughter, Julianna, crawl for the first time on the screen of his phone. And Hoffman told his family about the time a woman came out of her house crying when he and other lineworkers restored power to her home.
"She was just overwhelmed with joy that we were there and could give her some sense of normalcy. And being from Louisiana and away from our families, to see her overwhelmed with joy like that was a good feeling," Hoffman said.
Arkansas customers were among the kindest people they had ever met, with many stopping along roadways to express gratitude and say, "Thank you."
"They made us feel like heroes," Bertrand said. "But I don't think of it that way. We were just doing our jobs."
He added, "It's rewarding and gives you motivation while you're up there away from home and missing the kids and family."
The time away was especially tough on Lewis, whose wife was sick through most of the trip. His two children had to pick up some additional responsibilities at home, including caring for mom.  
"She really wanted me to come home, but we made it work," Lewis said. 
And work is what they did. In fact, while they spent their days repairing and rebuilding the local power grid, their spouses cared for sons and daughters while also working from home. Lewis, Hoffman and Murray's wives are schoolteachers, and as Murray described it, working from home and looking after the kids can be a tough balancing act.  
It's common for conference calls and diaper changes to occur simultaneously, he said.
While their wives and children were confined to their homes and around one another more than perhaps the most tight-knit family unit could tolerate, the lineworkers, contractors and support personnel were keeping their distance from one another in Arkansas.
The pandemic, some described, has pushed what is usually a social trade — line work — to the brinks of solitude at times.
"You could just tell it was a different kind of storm and that it wasn't going to be like every other trip," Murray said.
But the labor of love made returning home to Louisiana that much more special.
Bertrand came home to "squeezed the life out of me" hugs from wife Cortney, Azalee, 3, and Finn Archer, 2. The kids received snacks and goodies Bertrand scrounged up during his travels in Arkansas.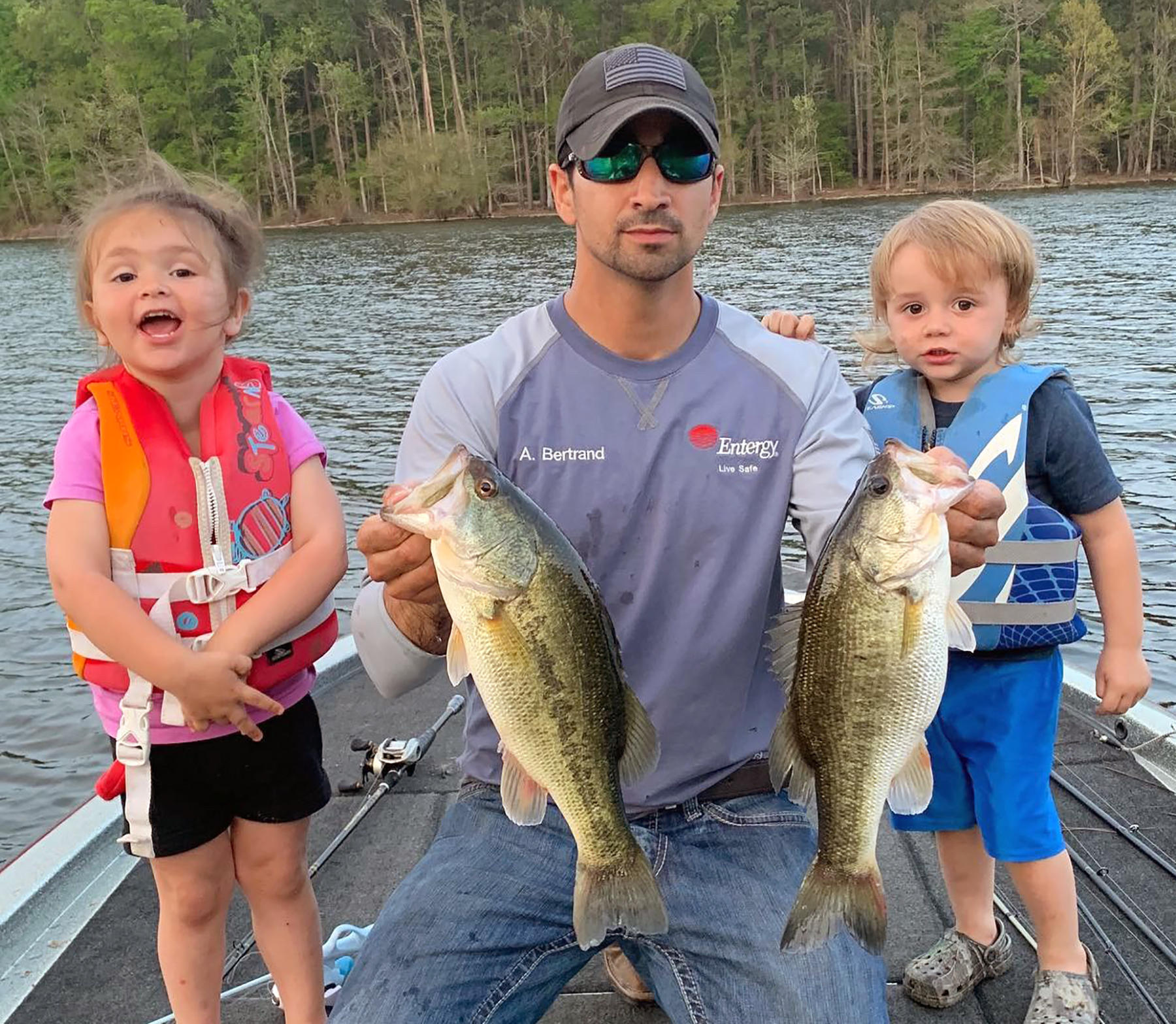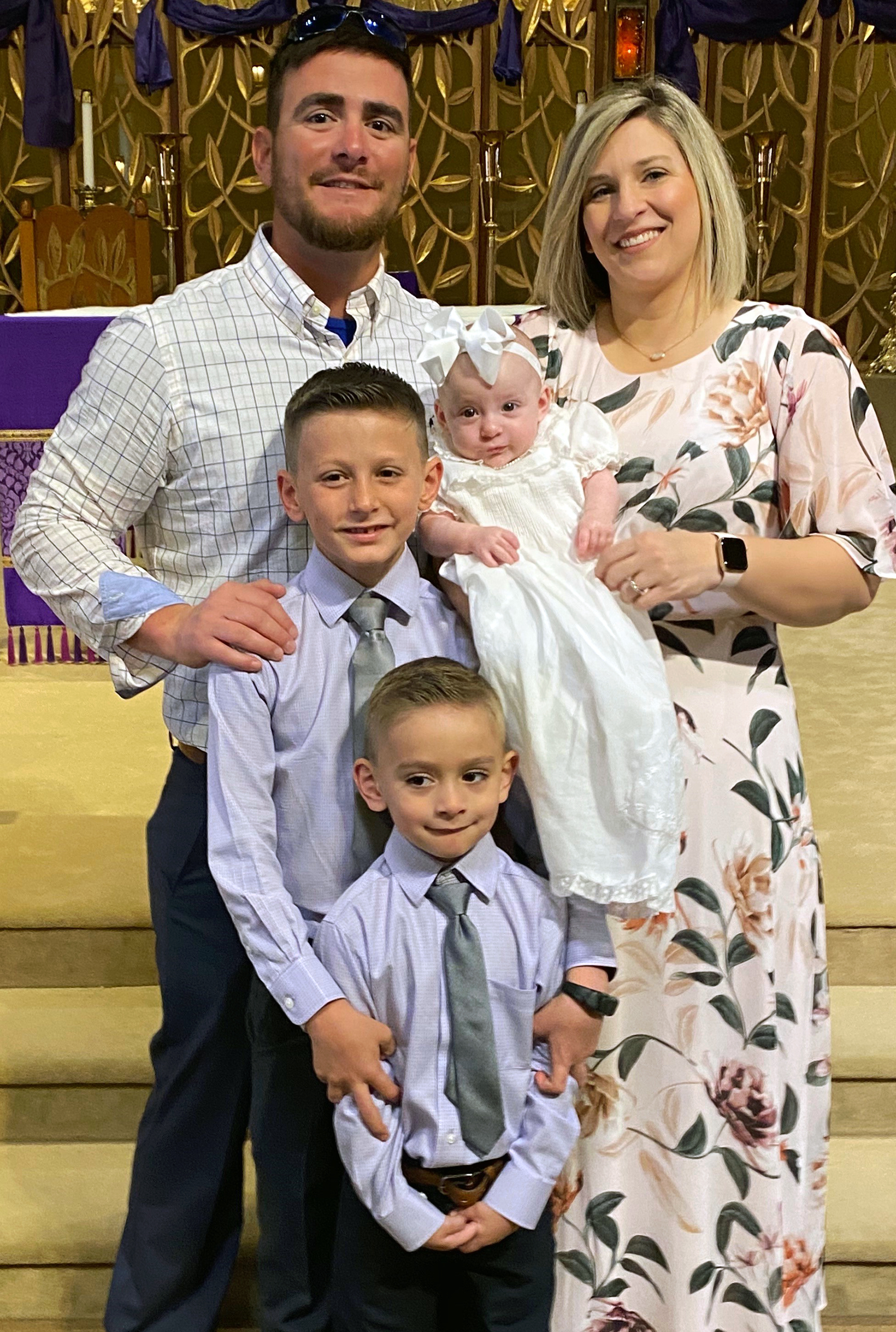 Pictured, at left, are Lineworker Aaron Bertrand and Azalee, 3, and Finn Archer, 2. At right, are Lineworkers Jared and Haley Murray, as well as Ayden, 10, Luke, 4, and 5-month-old Julianna.
Meanwhile, Goris fired up the barbecue pit and cooked his family dinner, and Lewis took his wife to the doctor.
Murray, who traditionally arrives home a day early to surprise his sons, spent a few minutes with his wife and baby girl before opening the back door to greet Ayden, 10, and Luke, 4.
"They just lost it — screaming and hollering because they were happy to see me. That really is a good feeling," Murray said. 
---