News Center > Entergy Arkansas makes significant progress towards storm restoration
For Immediate Release
Entergy Arkansas makes significant progress towards storm restoration
04/04/2023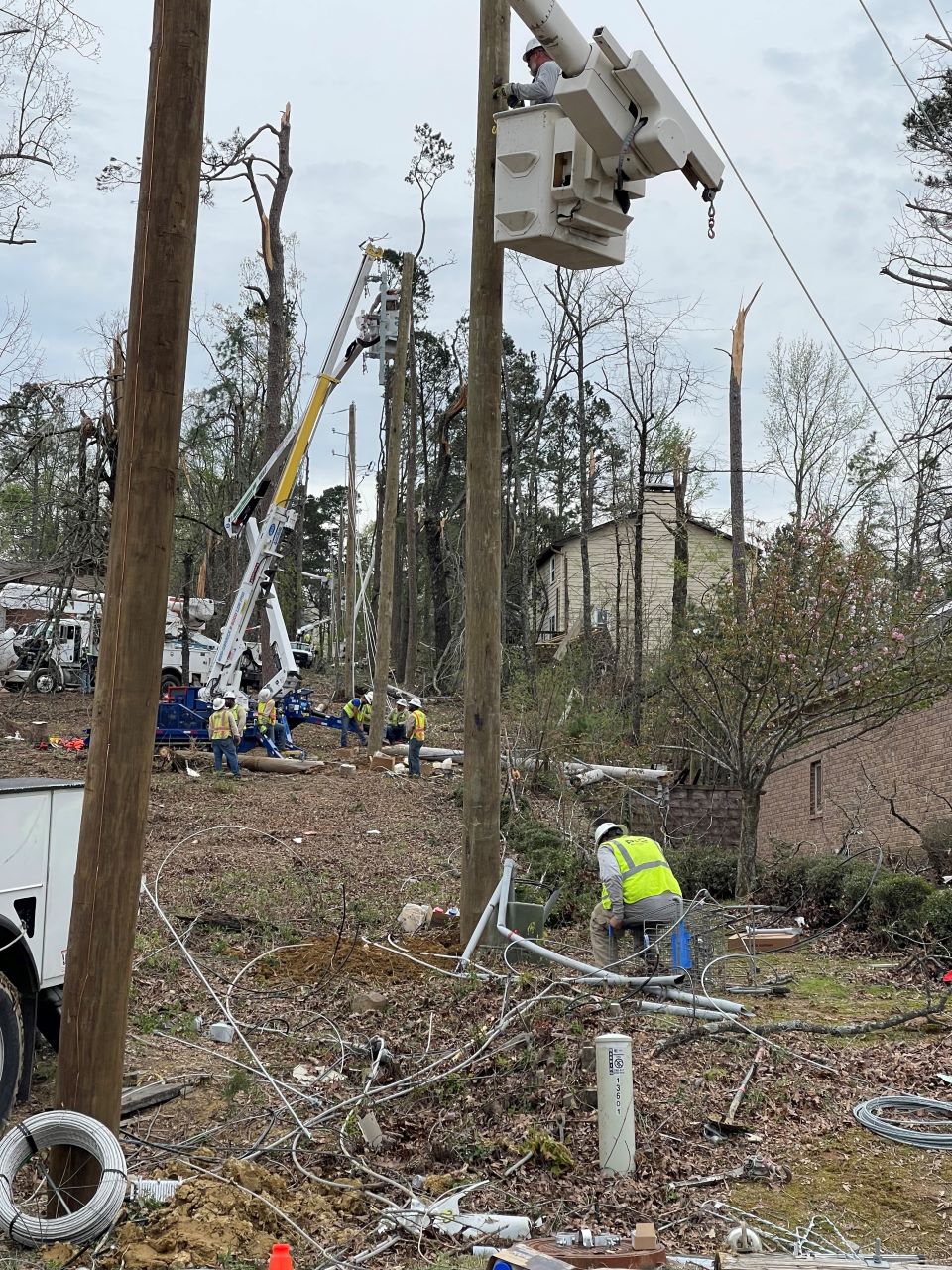 Significant progress made toward restoring power so communities can rebuild; Customers in the heaviest-hit areas will have power restored in under a week
LITTLE ROCK, Ark. – Entergy Arkansas continues to rebuild storm ravaged equipment and restore power to the communities affected by Friday's devastating tornadoes, with an estimated 5,500 customers without power Tuesday at noon from a peak of 56,000.
More than 1,500 utility poles, 435 transformers and nearly 2,000 spans of wire were damaged or destroyed in the Little Rock, Jacksonville, Sherwood and Wynne areas. A workforce of approximately 3,300 are rebuilding the electric system with upgraded wire, thicker and stronger wooden poles, and concrete poles in some areas, to harden system infrastructure and to make it more resilient against future storms.  
Specialized equipment such as helicopters, backyard machines, excavators and bulldozers are being used to assist with storm restoration efforts. However, the remainder of the work necessary to restore power is primarily off-road and in densely populated areas with hard-to-access backyards, hampered by lots of debris and vegetation to still be removed. In some cases, these access challenges require workers to carry the equipment into the yards and manually climb poles to restore power.
Coupled with a forecast for more rain and severe weather, it will be later in the week before some customers in the greatest impacted areas are restored, and additional outages may occur. 
Entergy Arkansas estimates some 1,600 customers are unable to safely receive power due to damage to their home or business. Customers who are still without electricity and unable to safely receive power due to damages should contact the company at 1-800-ENTERGY to ensure that information is noted on the account.
"We understand the tremendous hardship this storm has placed on our customers, employees and communities," said Ventrell Thompson, vice president of customer service. "Our crews are working around the clock to restore power so our communities can begin the rebuilding process."
A customer care center has been established to answer questions and provide account assistance this week at the Little Rock Family Assistance Center hosted by the city at Immanuel Baptist City Center, 315 N. Shackleford Rd., from 10 a.m. to 6 p.m. daily.
Customer service representatives for Entergy Arkansas are also on-site starting today at the Wynne Technology Center, 1790 Falls Blvd., from 10 a.m. to 6 p.m.
Customers are encouraged to exercise caution as they assess damages near their home or business and begin cleaning up, being especially careful around downed power lines, which could still be energized and cause great harm. Also, customers should use generators safely by following manufacturer's instruction and locating the unit outdoors and away from doors, windows or vents. More specific information can be found in our Storm Center.
Customers can stay up to date on restoration efforts several ways:
Download the Entergy app. Customers can use the app to report outages or check on the status of power at their home or business in the Outage Map.
Follow Entergy on Facebook and Twitter. Social media also plays an important role in keeping you informed, and we place a high priority on updating our social media channels throughout an event.
Text us: If you are signed up to receive our notifications, you can text OUT to 36778 to report an outage or STAT for the status of your power outage. To sign up for text messaging, go to myEntergy.com or by texting REG to 36778. Have your account number and ZIP code handy. The registration pattern is as follows including spaces: REG (account number) (ZIP code).
Visit the Entergy Storm Center The site has storm safety, preparation and restoration information that is updated throughout the day.
Entergy Arkansas provides electricity to approximately 728,000 customers in 63 counties. Entergy Arkansas is a subsidiary of Entergy Corporation, an integrated energy company engaged in electric power production, transmission and retail distribution operations. Entergy delivers electricity to 3 million utility customers through its operating companies in Arkansas, Louisiana, Mississippi and Texas. Entergy owns and operates one of the cleanest large-scale U.S. power generating fleets with approximately 24,000 megawatts of electric generating capacity, including 5,000 megawatts of nuclear power. Entergy has annual revenues of $10 billion and approximately 12,000 employees.
---