News Center > Entergy Shareholders Create Cleaner Communities with $1M in Grants
For Immediate Release
Entergy Shareholders Create Cleaner Communities with $1M in Grants
12/20/2021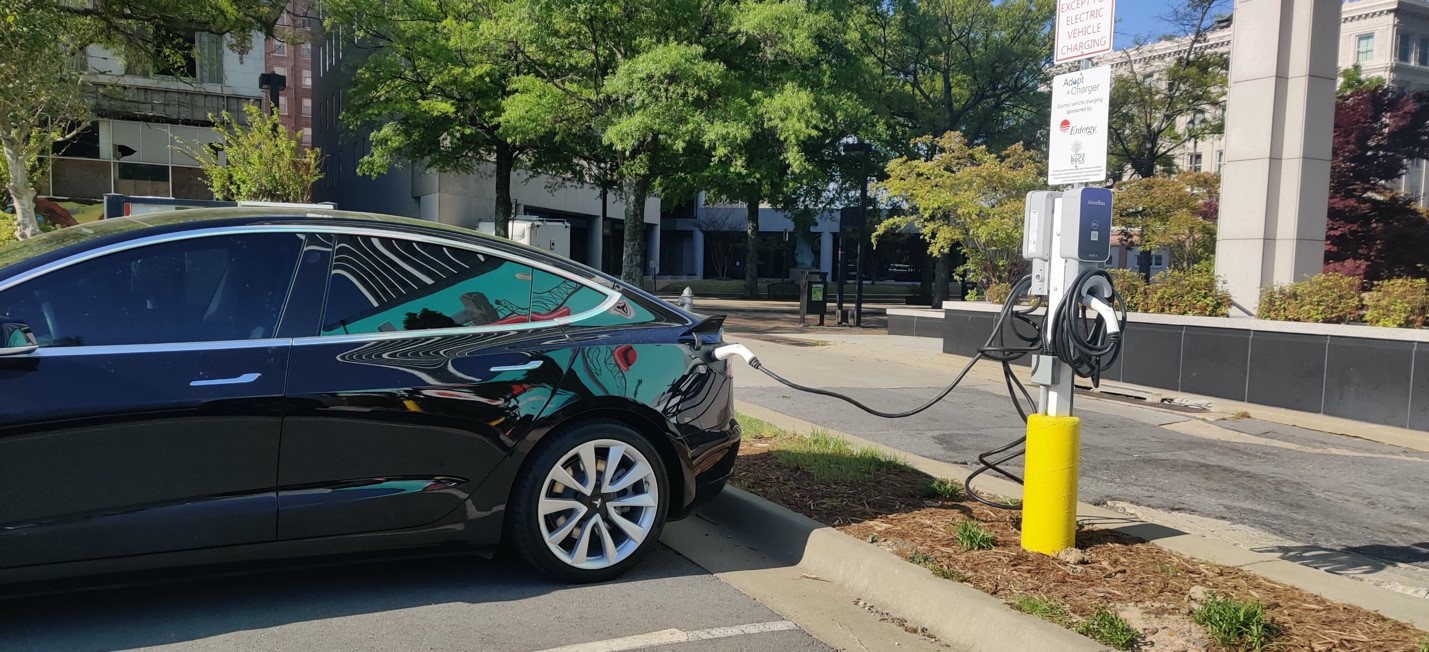 Arkansas environmental awards go for EV chargers, planting trees
LITTLE ROCK, Arkansas – Entergy Corporation's shareholders are helping protect the environment by contributing more than $1 million to 14 partnering organizations through the company's Environmental Initiatives Fund, including three programs funded in the Entergy Arkansas service area. These grants mark the 21st consecutive year that Entergy has earmarked funds at this scale to support the work of these important local drivers of needed environmental progress.
"Entergy is proud to partner with our communities to help reduce environmental risk and seize opportunities for everyone's benefit," said John Weiss, vice president of sustainability and environmental policy at Entergy. "Through these strategic environmental partnerships, we are supporting all of our stakeholders as we work together to build stronger and cleaner communities. These environmental projects help support Entergy's vision to create long-term, sustainable value that benefits all our stakeholders."
Entergy's Environmental Initiatives Fund identifies environmentally beneficial projects or programs that help better the environment by reducing emissions, protecting natural resources and restoring wetlands and forests. The fund also focuses on educating Entergy customers, employees, communities and owners on the value of natural resources and other environmental improvements.
Environmental Initiative Fund recipients in Arkansas this year include:
Adopt a Charger, which received $160,000 for the installation of 10 electric vehicle charging stations that are free of charge to the user and installed in high-profile locations in Arkansas.
Arbor Day Foundation, which received $100,000 for its free tree giveaway program that helps Entergy customers in Arkansas, Louisiana, Mississippi and Texas strategically plant a tree near their homes for environmental and energy-savings benefits.
Xerox Print Relief , which will receive more than 5,200 trees to plant in Arkansas, Louisiana, Mississippi and Texas as part of its Reforestation Certification program, for which Entergy provides one tree for every 8,200 pages printed.
Since 2001, more than $40 million of Entergy shareholder contributions have been invested in environmentally beneficial projects and programs through the Environmental Initiatives Fund. View the complete list of 2021 EIF grant recipients here.
The EIF also contributes to Entergy's leadership role as an advocate for and contributor to solutions to our most critical environmental challenges, consistent with the United Nations Sustainable Development Goals. The UNSDGs were established in 2015 as a "shared blueprint for peace and prosperity for people and the planet, now and into the future."
Learn how Entergy's operations contribute to the achievement of these global goals here.
ABOUT ENTERGY ARKANSAS
Entergy Arkansas provides electricity to approximately 722,000 customers in 63 counties. Entergy Arkansas is a subsidiary of Entergy Corporation (NYSE: ETR), an integrated energy company engaged primarily in electric power production and retail distribution operations. Entergy delivers electricity to three million utility customers in Arkansas, Louisiana, Mississippi and Texas. Entergy has annual revenues of $10 billion and approximately 12,500 employees.
---