News Center > Mississippi Communities Awarded Excellerator Grants from Entergy Mississippi, Inc.
For Immediate Release
Mississippi Communities Awarded Excellerator Grants from Entergy Mississippi, Inc.
06/07/2017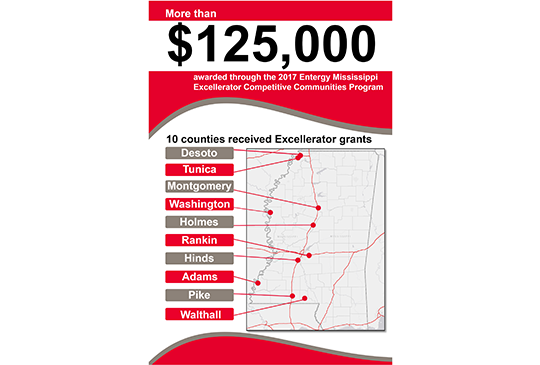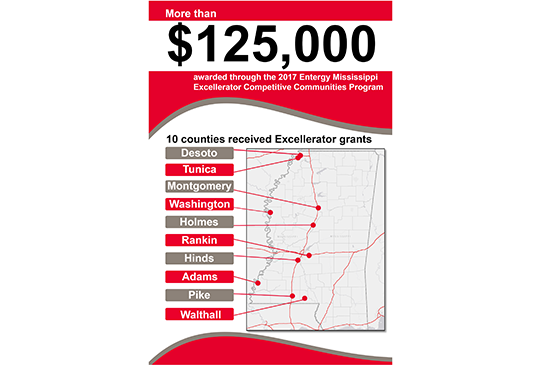 JACKSON, Mississippi – When it comes to economic development, Mississippi communities are often edged out of the competition when companies consider where to establish or expand their businesses. Entergy Mississippi's economic development team has set out to change that.  Through the new Excellerator Competitive Communities Program, the company recently awarded more than $125,000 in grants to support economic development.
"We're only as successful as our communities," said Ed Gardner, Entergy Mississippi director of business and economic development. "As a regulated utility, we're limited to growth within our service area. To foster that growth, we need to bring in new business as well as provide support for existing businesses. We can encourage that and the economic development health of our communities by improving the competitiveness of our entire 45-county service area. It's a win for all involved."
"Excell-erating" Competitiveness
The Excellerator program collaborates with communities to improve their competitiveness. They already have advantages like proximity to major waterways and interstate systems, low cost of living and low utility rates, but that's not enough. With Entergy's expertise and financial support, these communities can improve their site readiness, marketing and other key areas that will help them stand out to prospective businesses.
The Grants
The Excellerator program includes three different grant categories, focused on:  
increasing competitiveness,
leadership capacity and
organizational excellence.
The Recipients
In its first year, the Excellerator program will fund projects in these 10 communities:
Adams County: Phase 1 environmental update and engineering plans and mapping for the 110-acre Belwood Industrial Site.
Desoto and Tunica Counties: Third-party assessment on a 2,021-acre mega site in Tunica and the 1,667-acre Northwest Mississippi Mega Site.
Hinds County: Phase 1 environmental study update and retention pond work for the I-55 South Wynndale Industrial Park.
Montgomery County: Phase 1 environmental study on Winona's 47-acre site in its industrial park.
Pike County: Phase 1 environmental study for a 25-acre county-owned site on Highway 51.
Rankin County: Clearing and grubbing of a 25-acre industrial site in East Metro Center Business Park in Brandon.
Walthall County: Phase 1 environmental study on a 50,000 square-foot town-owned facility.
Holmes County: Website development to market available sites and buildings, existing industries and overall community quality of life.
Washington County: Digital marketing initiative for website videos of available buildings.
In addition to the assessments and grants, the Excellerator program will offer training and workshops to all counties in our service area. The Entergy Mississippi Economic Development team will conduct community assessments annually so communities can prepare for the grant cycle each year.
The Mission
 "The Excellerator program is about more than our commitment to enhancing economic development," Gardner said. "We're investing in our communities so our customers can have opportunities without having to leave the state. Through this program, we're helping people stay and thrive in Mississippi."
Economic development is a critical part of Entergy's effort to power a brighter future. We're investing in workforce development and key tools to help our communities grow. Learn more about economic development at Entergy.
Entergy Mississippi, Inc. provides electricity to approximately 445,000 customers in 45  counties. Entergy Corporation is an integrated energy company engaged primarily in electric power production and retail distribution operations. Entergy owns and operates power plants with approximately 30,000 megawatts of electric generating capacity, including nearly 9,000 megawatts of nuclear power. Entergy delivers electricity to 2.9 million utility customers in Arkansas, Louisiana, Mississippi and Texas. Entergy has annual revenues of approximately $10.8 billion and nearly 13,000 employees.
-30-
---