News Release > Restarting Power Plant Paves Way to Bring Additional Lights to Sulphur, Lake Charles Areas
For Immediate Release
Restarting Power Plant Paves Way to Bring Additional Lights to Sulphur, Lake Charles Areas
09/09/2020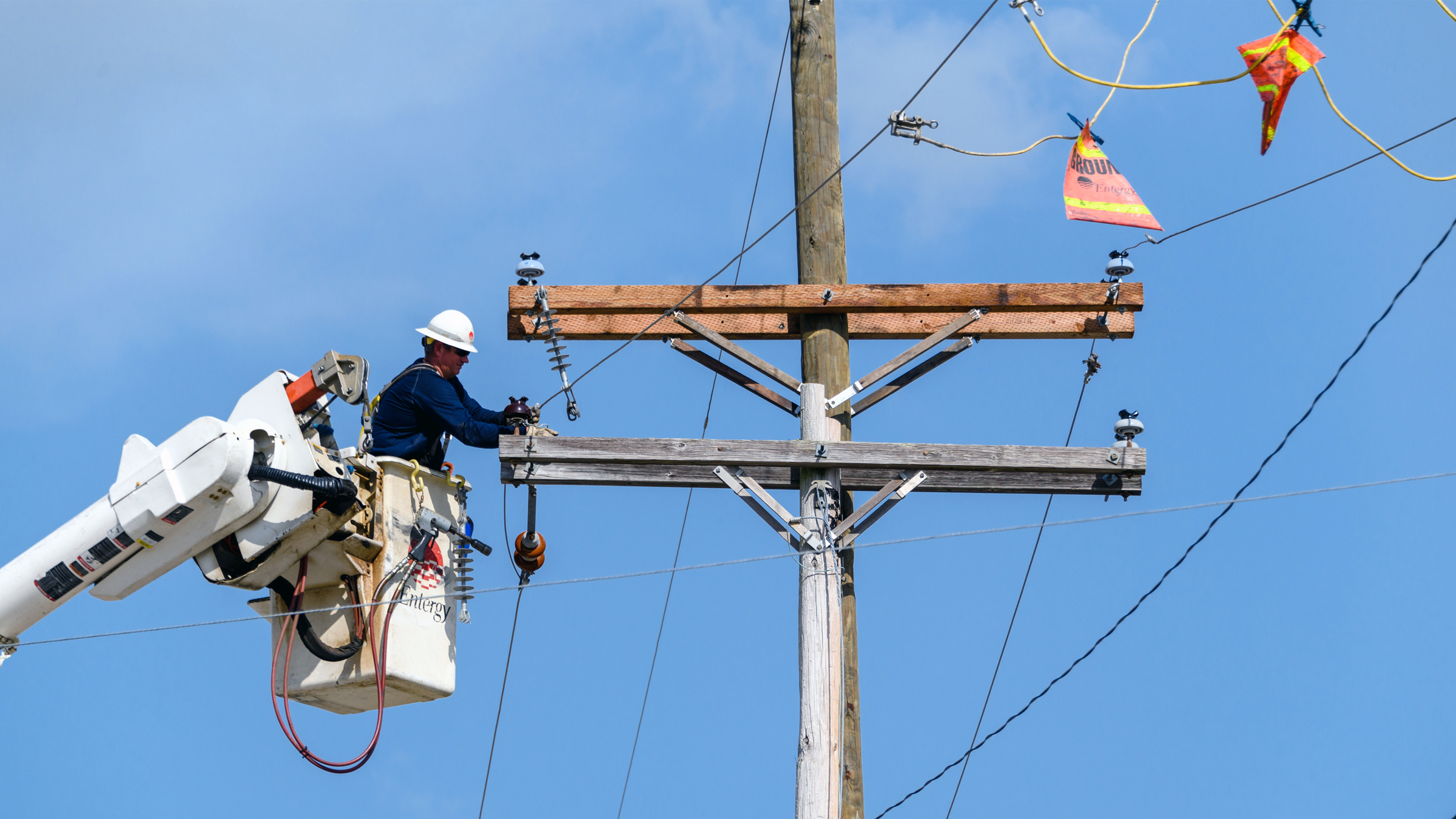 LAKE CHARLES, La. – Entergy Louisiana successfully restarted one of its power plants in Calcasieu Parish Wednesday, an achievement that paves the way for restoring power to additional communities impacted by Hurricane Laura in Sulphur and Lake Charles.
Initially, the plant will provide power to thousands of customers in the area predominately south of Interstate 210 and west of Lake Street, the commercial district and surrounding communities on Nelson Road to Country Club Road and a portion of the Prien area.
Crews brought the Calcasieu Plant online, in part, by sending power to the facility by way of a repaired transmission line, the first of nine high-voltage lines into the Lake Charles area to be repaired since Laura's 150 mph winds severely damaged the company's electric system in southwest Louisiana and beyond.
"Restarting the Calcasieu Plant was a critical next step to restore power to additional communities," said Phillip May, Entergy Louisiana president and CEO. "Going forward, it will be a slow, methodical and controlled process, but you have my commitment that we will not stop repairing and rebuilding the electric system until every customer who was impacted by the storm has power available to them."
Jim Schott, Entergy vice president of transmission, said, "Reaching this milestone was a tightly coordinated joint effort involving every part of our organization as well as key external stakeholders. We still have a lot of work to do, but this brings us closer to our goal of quickly and safely restoring power to Calcasieu and Cameron parishes."
Customers receiving power are along undamaged or repaired paths connected to the Calcasieu Plant. Some customers may have damage to the electric equipment on the exterior of their home. To learn more about the steps you should take if your home's exterior electric equipment was damaged, visit the Storm Center. And to learn more about electrical equipment that serves your home and whether the equipment is yours or Entergy's, visit the Entergy Newsroom.
Restarting Calcasieu Plant followed Saturday's milestone where crews restored power to approximately 2,000 customers in the communities of Toomey and Starks.
For full details on our Laura restoration effort, please visit our site at entergy.com/hurricanelaura.
Entergy Louisiana, LLC provides electric service to more than 1 million customers and natural gas service to more than 93,000 customers in the greater Baton Rouge area. It has operations in southern, central and northern Louisiana. The company is a subsidiary of Entergy Corporation.
Entergy Corporation is an integrated energy company engaged primarily in electric power production and retail distribution operations. Entergy owns and operates power plants with approximately 30,000 megawatts of electric generating capacity, including nearly 9,000 megawatts of nuclear power. Entergy delivers electricity to 2.9 million utility customers in Arkansas, Louisiana, Mississippi and Texas. Entergy has annual revenues of $11 billion and approximately 13,600 employees.
-30-
entergylouisiana.com
facebook.com/EntergyLA
Twitter: @EntergyLA
---