Insights > Employees Help Wherever Needed As Flooding Continues in Louisiana
Employees Help Wherever Needed As Flooding Continues in Louisiana
08/19/2016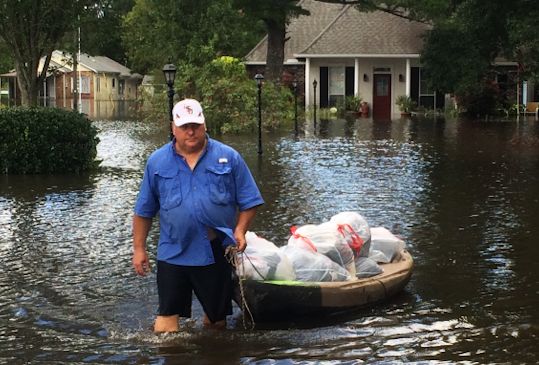 Stories are surfacing all over flooded parts of Louisiana about the many ways Entergy employees are helping people in need. "These stories speak volumes about the character of our employees," said Dennis Dawsey, vice president of customer service for Entergy Louisiana. "We're hearing about so many selfless acts of giving back to the community." 
On Tuesday, an Entergy crew working in Luling saw volunteers filling sandbags at Westbank Bridge Park and decided to help out during their lunch break. Lt. Derek Pertuis and deputies from the St. Charles Parish Sheriff's Office were also pitching in. 
"Not only did employees join the effort, but they also called other Entergy employees who came and helped," said Pertius, whose mother's home in Gramercy was among those protected by the sandbags. "On behalf of my entire family, I cannot thank Entergy employees enough." 
Employees who volunteered during their lunch break were Chris Hof, Erick Peltier, Matt Mollere, Keronne Lewis, Jake Schultz and John Goris.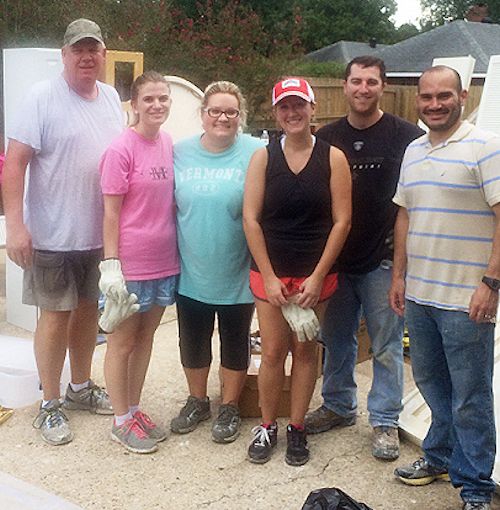 A River Bend Station team helped coworker Katie Damratoski (third from left) clean her parent's home in the Sherwood Forest neighborhood in Baton Rouge. Pictured with Katie are (from left) Eric Olson, Natalie Wood, Elizabeth Fako, Rob Barrios and Orlando Rivera.
The week also has been busy for Ted Babin, customer service representative in Baton Rouge, whose neighborhood in Ascension Parish stayed dry while others around it were submerged.  
"On Sunday, my son and I used my boat to rescue people out of Manchac Harbor subdivision, which is across the street from where we live," he said. "We didn't flood, but our neighborhood was an island ― there was no way we could get out because all the main roads were flooded." 
On Tuesday, Babin cooked breakfast for neighbors who were housing relatives displaced by the flood, including a resident who had 14 people staying at his home. Babin also used his boat that day to help friends in St. Amant move possessions out of their flooded house to higher ground. Babin is currently assisting with Entergy's restoration efforts in the Gonzales network. 
"Everybody here is doing everything they can to help others, and there are so many Entergy employees who are volunteering," he said. "It's amazing, the willingness of employees who want to help."
---