Insights > Entergy Louisiana's Emily Crowley Promotes Line Worker Careers at CEWD Conference
Entergy Louisiana's Emily Crowley Promotes Line Worker Careers at CEWD Conference
11/19/2020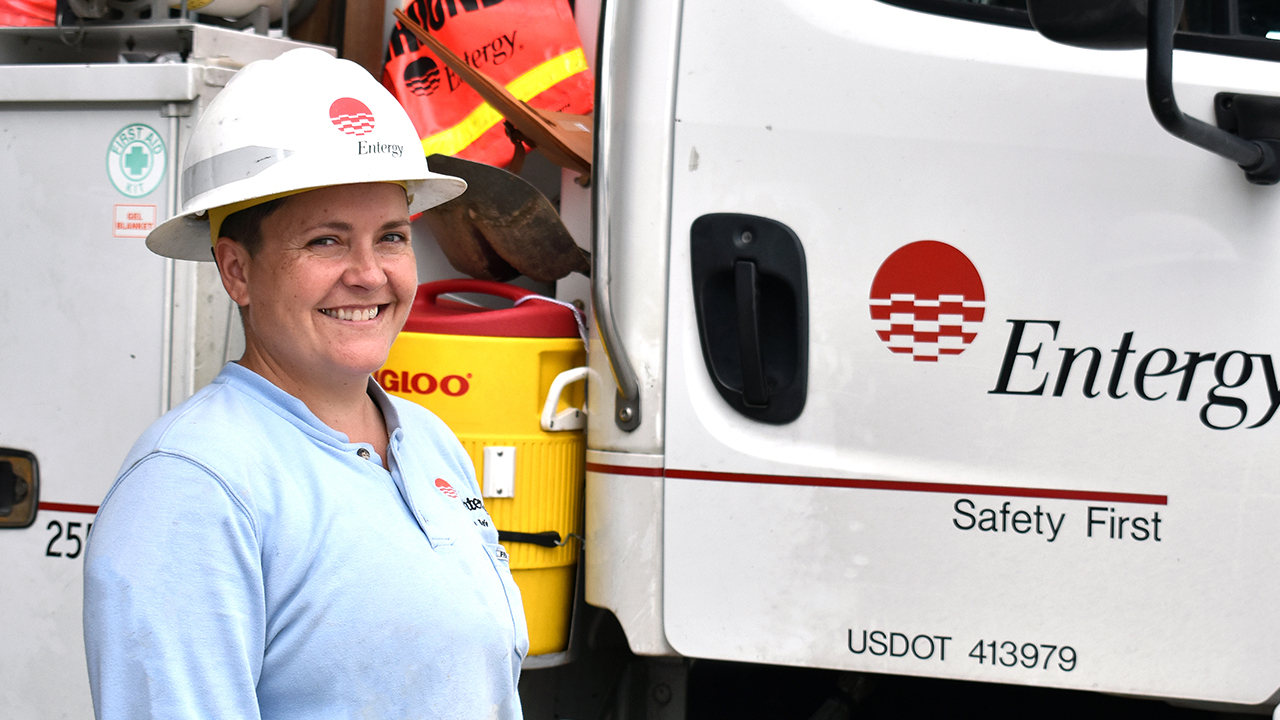 Emily Crowley, an apprentice line worker for Entergy Louisiana, discussed her career journey and job opportunities in the utility industry during the Center for Energy Workforce Development's 2020 Careers in Energy Day. More than 1,000 job seekers registered for the virtual event last month.
Crowley, who joined Entergy last year after graduating from Fletcher Technical Community College's Certified Line Worker Training Program, was one of four utility professionals interviewed in a breakout session called "Students, Discover Careers in Energy!" During the one-hour session, they talked about their personal career journeys and experiences that led them to their current roles.
A native of St. Francisville, Louisiana, Crowley was employed as an electrical helper for a solar company in New Orleans when she heard about Fletcher's training program. In December 2019, she became the program's first female graduate.
When asked what it felt like to be a "groundbreaker" as a female in her profession, Crowley emphasized that trade careers are great options for anyone interested in exciting, rewarding work that provides growth opportunities.
"I got into line work because I was trying to build my career and learn new skills, and I learn something new every day in my job," she said. "In the underground department, I get to fix splices, make connections to transformers and get up in the bucket. I help with everything I can. The majority of the time, it's really fun."
She noted that being an apprentice line worker can lead to a variety of career options, such as journeyman electrician, engineering assistant, project manager and foreman.
"In my experience, a lot of trade careers have a ceiling" that limits advancement, she said. "As an apprentice line worker, you can do pretty much anything."
When asked to describe the favorite parts of their jobs, Crowley talked about storm response — a job responsibility that has been exceptionally demanding during her first year with Entergy Louisiana.
"I really like working storms because it's exciting, and you get to help people," she said. "When customers' lights are out and you throw a fuse in, the lights come back on and everyone comes out and cheers. It's a great feeling."
Crowley's line superintendent, Dickie Tholborn, has attended line worker graduation ceremonies and participated in career day events at Fletcher to promote job opportunities at Entergy.
"Line worker training programs are helping raise awareness in communities about professions in our industry," Tholborn said. "Emily has been a great addition to the Choctaw family and fits in well with our team. We're glad to have her on board."
In addition to serving Entergy Louisiana customers, Crowley is helping Entergy fill a critical workforce need as the utility industry continues facing shortages in line worker resources.
"Partnering with training programs like Fletcher is a key component in our strategy to build a talent pool of line workers who understand the craft and want to work in our industry," said Greg Guilbeau, senior manager of region customer service. "Emily is a great example of how Entergy's community partnerships are benefiting our customers and our future." 
Entergy's training partnerships not only strengthen workforce development but also help attract diverse candidates to line worker careers. The strategy supports Entergy's mission to become a premier utility by reinforcing the company's commitment to diversity, inclusion and belonging.
"We're excited that Emily represented Entergy and her profession at the CEWD conference —she was very encouraging about growth opportunities for line workers in our industry," said Brian Gary, manager of workforce strategy. "Entergy is working to cultivate a workforce that reflects the diversity of the communities we serve. Partnering with schools and organizations like CEWD helps raise awareness about career opportunities in our industry and opens new doors for recruiting, training and hiring employees."
---