Insights > Drones play crucial role in storm preparedness for Entergy New Orleans
Drones play crucial role in storm preparedness for Entergy New Orleans
09/06/2023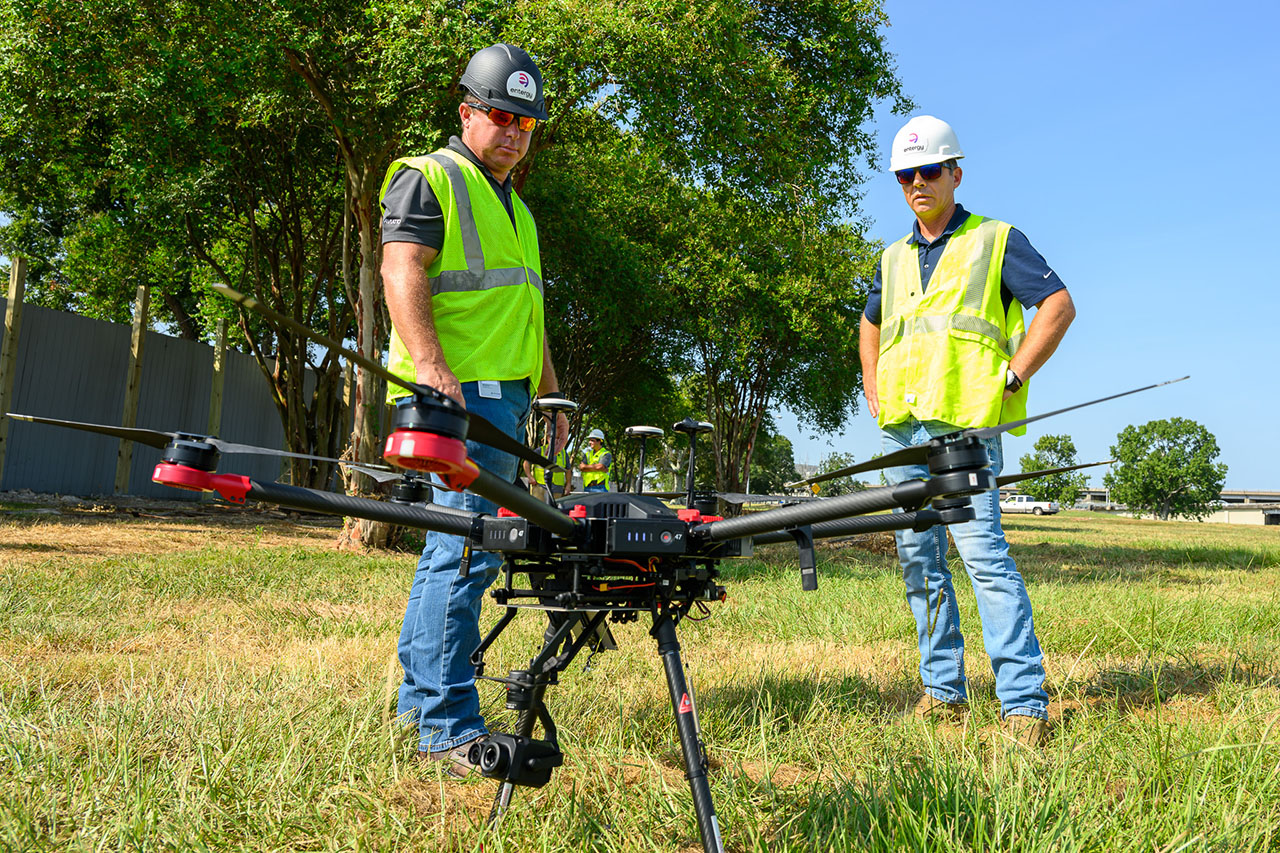 Entergy New Orleans crews stay prepared for severe weather year-round and are constantly on the look-out for ways to improve our system's resilience. During hurricane season, you might notice a unique set of eyes buzzing around the city's highways, neighborhoods and swampland to ensure our electric system is ready for the next challenge.
Since 2018, drones have played a crucial role in the storm restoration process, flying through damaged areas to survey miles of hard-hit infrastructure. Now, Entergy's Unmanned Aerial Systems Pilots are utilizing this technology more frequently before a storm occurs, gathering information on our system from a bird's eye view. In this way, Entergy's crews inspect large portions of our service territory in a fraction of the time it might have taken in the past.
"The use of drones has been a major technological breakthrough as we continue to evolve the maintenance and improvement processes for our city's power grid," said Drew Thompson, Distribution Reliability Manager of Entergy New Orleans. "I strongly believe that continuous improvement of our reliability standards is made possible by bridging the gap between traditional methods and new, innovative, cutting-edge tools."
During the busiest phase of hurricane season, Thompson and Entergy's engineers are ensuring our system is as reliable and resilient as possible. Drones increasingly play a key part to ensure the team has eyes on every distribution line, utility pole and substation in New Orleans. Our engineers then use the data to help plan for vegetation management, equipment upgrades and maintenance.
While we stay storm ready, we want to encourage all our customers to prepare, too. It is critical for everyone in the community to make a plan and stay informed before severe weather threatens our area. Prepare and be safety aware with these resources:  
Entergy's drone pilots are trained professionals licensed through the Federal Aviation Administration. For your safety, and the safety of Entergy's equipment, do not fly drones near powerlines, substations or other electrical equipment.
---