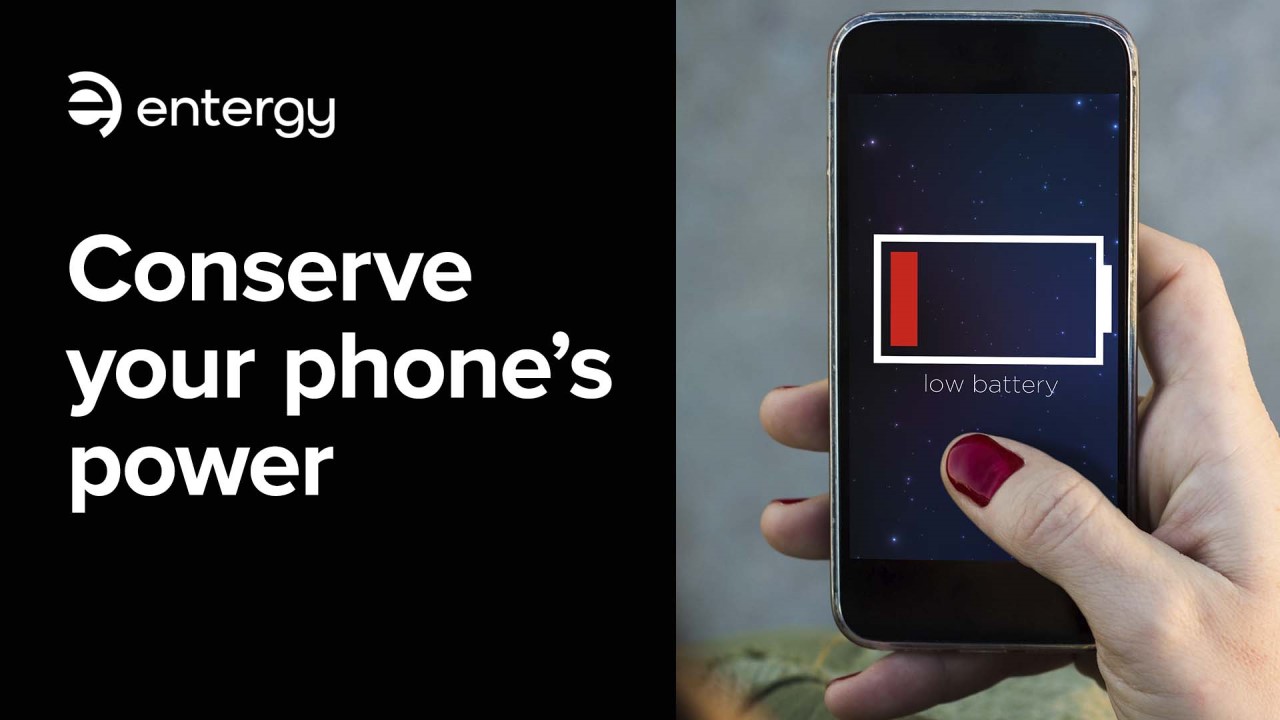 A lifeline during a disaster
The importance of staying connected and having access to information only increases in the event of a natural disaster. From checking on loved ones to accessing critical updates, a working smartphone makes a huge difference during a crisis. Remember your phone during your disaster planning.  
Plan ahead
Store useful phone numbers. Check the numbers for your emergency contacts to keep them up to date. Save contact information for your local police and fire departments, and your utility companies. Then, you can quickly report emergencies or power outages following severe weather. Report downed lines immediately to Entergy at 1-800-9OUTAGE (1-800-968-8243).
Create a group for your emergency contacts. Some smartphones allow you to create contact groups or lists, allowing you to send a single text message to a group to let them know your status. Many social networking sites also allow you to create a list or group of contacts, making it easy to reach out following a disaster.
Store important documents in a secure, password-protected jump drive or in the cloud. Many productivity apps for mobile devices make document storage easier than ever by using your phone's camera as a scanning device. Capture electronic versions of insurance policies, identification documents and medical records. You could also save copies of these documents in your emergency kit.
Download the Entergy mobile app. Stay informed and in control with Entergy's free mobile app. The app offers easy access to our View Outages website, text alert commands, account information, online Storm Center and more.
Sign up for Entergy alerts. My Account text alerts can give you outage update information including estimated restoration time, service crew arrival, number of customers affected and outage cause. Sign up here.
Follow Entergy on social media. Entergy provides restoration updates and other information on our official social media feeds. You can find links to Entergy's official company social media feeds online.
Stay connected
Use text messages, social media and email to connect with friends and family. Mobile networks can become overwhelmed during emergencies, making it difficult to place and receive phone calls. Text messages require less bandwidth. They transmit more reliably when many people are trying to use their mobile phones at the same time. Social media channels such as Facebook and Twitter can be an effective way to update family and friends during emergencies. Facebook's Safety Check feature allows users to easily post a status update indicating that they're safe during a time of disaster.
Have an emergency charging option for your phone and other mobile devices. At home: Prior to severe weather, make sure your electronic devices are fully charged. Keep a back-up power source on hand to recharge your phone so you can stay connected even during an extended power outage. In your car: Keep a portable phone charger in your vehicle at all times, and consider purchasing a back-up power supply to keep in your vehicle as well.
Conserve your phone's power. Most phones have a battery-saver mode that disables automatic updates and notifications. You can also save energy by reducing your phone's display brightness and turning off the auto-brightness feature. Turn off WiFi if you're on the road and away from a WiFi network. Don't use power-hungry apps unless they're totally necessary. Avoid streaming video, shooting video or even taking pictures to reduce power usage.
Stash a power strip. In a crisis, a power strip can be invaluable while charging devices with similarly powerless neighbors. Whether it's plugged up to your car or at a local shelter, a power strip can make you a hero after a disaster.
Sources: Federal Emergency Management Agency, U.S. Department of Homeland Security
Call 1-800-9OUTAGE (1-800-968-8243) to report downed power lines