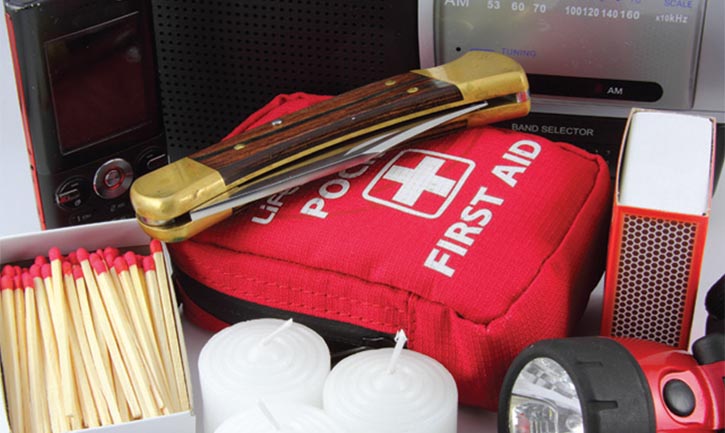 GET PREPARED. 
Make a Plan, and Make a Kit. 
Experts agree that having a family emergency plan and a kit of the basic supplies you'll need in an emergency is the best way to be prepared for severe weather. Entergy has plans in place for how we'll react to severe weather. We urge our customers to have a plan, too. 
Preparing your family emergency plan isn't complicated. If your family is separated when disaster strikes, having a plan in advance will help you know how to contact one another and get back together after the storm passes. A kit of basic emergency supplies and a first aid kit are easy to assemble and are smart ways you can prepare for severe weather. Remember to check the expiration dates on your supplies often and replace the expired items.

Make a Plan 
There are many things to consider when making your family emergency plan. Sit down with your family and decide how you'll contact each other, where you'll go for safety and what you'll do during and after the storm.
Things to discuss: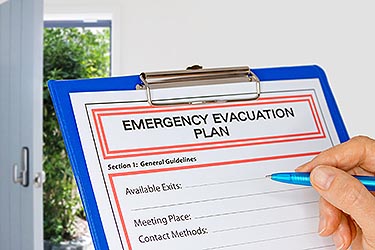 Designate one or more out-of-town contacts. These people may be reached more easily and can relay messages to your family members if you become separated during or after the storm. Check with your emergency contacts beforehand to make sure they are willing and able to assist you in an emergency.


Important phone numbers. Be sure every member of your family knows the phone numbers to call your emergency contacts. If you have a cellphone for each family member, program your emergency contacts' phone numbers in as "ICE" (In Case of Emergency). Emergency personnel often check your ICE listings in order to reach someone you know. Make sure to tell your family and friends that you've listed them as emergency contacts. 


Learn to text message. Often times a text message can get around network disruptions when voice communications cannot. Knowing how to send and receive text messages can be an important way to communicate with loved ones. Check out other tips for preparing your mobile phone for a crisis event.


Decide to stay or go. Before the storm approaches, decide whether you'll stay where you are or evacuate. You should understand and plan for both possibilities. If you evacuate, you may need several possible destinations to travel to depending on where the storm is headed and should plan accordingly.

A mandatory evacuation is just that– mandatory. However, use common sense in reaching your decision. Remember in an emergency, local authorities may or may not immediately be able to provide information on what's happening and what you should do. Radio, TV and the internet may provide you with official information as it becomes available to help you decide if there is an immediate danger.


Know the plan at work or school. Find out about emergency plans at places where your family spends time: work, day care and school. If there are no plans, then consider volunteering to help create one.
Make a Kit
After a storm passes, it likely will be some time before things return to normal. It could be hours or days. You may have to fend for yourself and your family until help arrives. The best way to accomplish that is to have a kit ready containing the basic supplies you'll need in an emergency. You can find lists from many sources to help you make your kit, including ready.gov and the American Red Cross. In general, experts agree your kit could include:
Water, one gallon of water per person per day for at least three days, for drinking and sanitation.


Battery-powered or hand-crank radio and a National Oceanic and Atmospheric Administration Weather Radio with tone alert and extra batteries for both.


Cellphone with charger, inverter or solar charger.


Flashlight and extra batteries. 


First aid kit with emergency reference material, such as a first aid book.


Complete change of clothing including a long-sleeved shirt, long pants and sturdy shoes. Consider additional clothing if you live in a cold-weather climate.


Sleeping bag or warm blanket for each person. Consider additional bedding if you live in a cold-weather climate.


Important family documents such as copies of insurance policies, identification and bank account records in a waterproof, portable container.


Moist towelettes, garbage bags and plastic ties for personal sanitation.


Personal hygiene items including feminine supplies. 


Matches in a waterproof container.


Paper towels, paper cups, plates and plastic utensils or mess kits.


Cash or traveler's checks and change.


Paper and pencil.


Wrench or pliers to turn off utilities.


Whistle to signal for help.


Dust mask, to help filter contaminated air and plastic sheeting and duct tape to shelter-in-place.


Household chlorine bleach and medicine dropper. When diluted nine parts water to one part bleach, bleach can be used as a disinfectant. Or in an emergency, you can use it to treat water by using 16 drops of regular household liquid bleach per gallon of water. Do not use scented, color safe or bleaches with added cleaners.


Fire extinguisher.


Local maps.


Prescription medications and glasses.


Infant formula and diapers. 


Pet food and extra water for your pet.


Books, games, puzzles or other activities for children.


Knowing how to use the supplies in your kit will make a difference in an emergency.

First Aid Kits
In an emergency, you or a loved one may suffer injuries like cuts or burns or worse. Not every injury is life-threatening, and it is important not to panic. Remain calm instead. Knowing how to use the supplies in your first aid kit can make a difference in an emergency. Store your supplies in a watertight container where you can easily reach it in an emergency. Keep your first aid kit updated and replace anything past its expiration date. Make your kit with the following supplies: 
Two pairs of latex or other sterile gloves.


Sterile dressings to stop bleeding. 


Cleansing agent/soap and antibiotic towelettes to disinfect.


Antibiotic ointment to prevent infection.


Burn ointment to prevent infection.


Adhesive bandages in a variety of sizes.


Eyewash solution to flush the eyes or as general decontaminant.


A thermometer.


Prescription medications you take every day such as insulin, heart medicine and asthma inhalers. You should periodically rotate medicines to account for expiration dates.


Prescribed medical supplies such as glucose and blood pressure monitoring equipment and supplies.


Scissors and tweezers.


Cellphone and charger.


Tube of petroleum jelly or other lubricant.


Non-prescription drugs such as aspirin or nonaspirin pain relievers, anti-diarrhea medication, antacid and laxatives.

For more information 
For more information on creating an emergency plan and a basic emergency supply kit, visit these agency websites:
Is a storm coming your way? Download our handy, quick prep list.
Related article: Is your business prepared for a disaster?