Insights > Entergy winter storm restoration update – 12/23/22, 3 p.m.
Entergy winter storm restoration update – 12/23/22, 3 p.m.
12/23/2022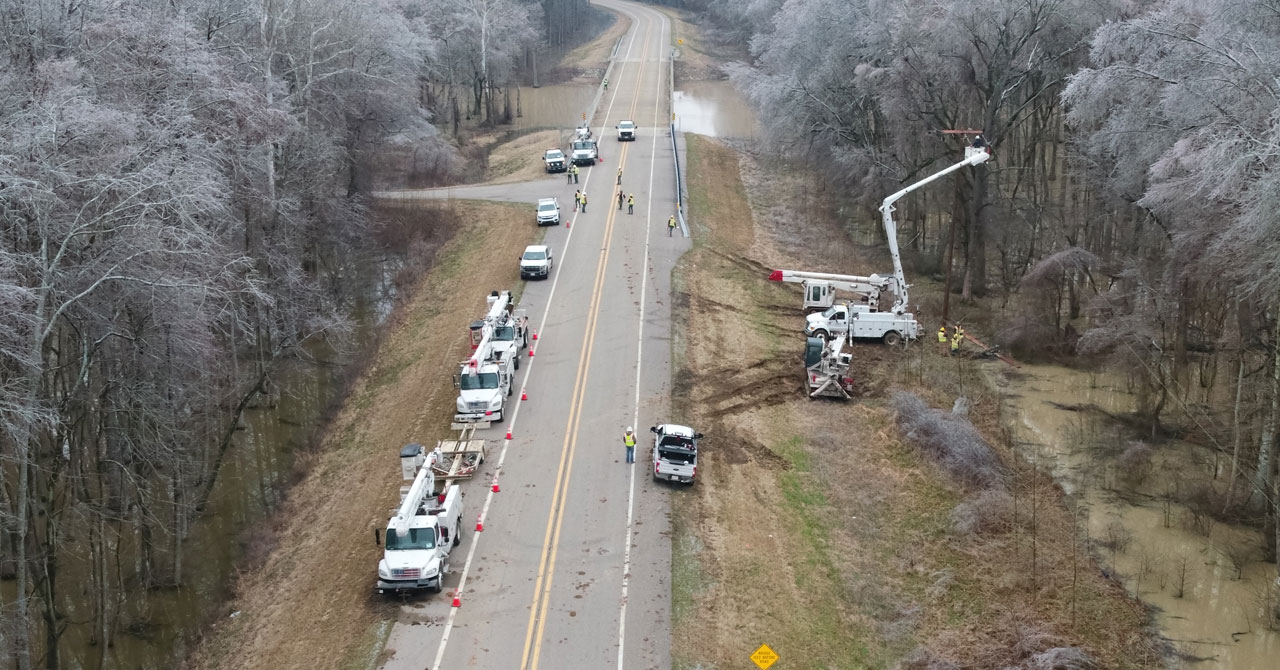 About 57% of customers without power have been restored, down from more than 53,000 outages
We have started restoring service to our customers where it is safe to do so and assessing damage to our system. A winter storm system bringing record and near-record low temperatures across most of the Entergy service area continues as we head into this holiday weekend. Another deep dive into freezing temperatures is forecast for tonight, and our teams are monitoring for the possible effects of the cold, wind and, and/or ice impacting service.
Safely restoring power is the top priority and first order of business. We assemble and organize the workforce needed to restore service safely and quickly to all customers. As of 2:00 p.m. Dec. 23, the storm has disrupted electrical service (current outages) to a total of approximately 24,000 customers.
Entergy Louisiana – 5,100
Entergy New Orleans – 130
Entergy Texas – 8,500
Entergy Mississippi – 2,500
Entergy Arkansas – 7,400
Storm preparations are performed 365 days/year.
Entergy continually reviews its data and processes and has identified ways to be more prepared for prolonged freezes. Read more on our winter preparedness here.
Our power plants have customized plans to support fleetwide winter preparedness efforts, including:
Insulating critical equipment using improved methods and materials to protect them from lower temperatures.
Insulating all piping, with the potential for standing water during normal operation, to prevent freezing.
Designing and building permanent windbreaks or enclosures to protect pumps and other critical equipment.
Exploring the use of wireless instrument line monitoring systems to monitor temperatures of critical equipment.
Other efforts to prepare and maintain critical systems and infrastructure across the grid in advance of colder temperatures included:
Inspecting and testing equipment that can be impacted by extreme cold such as gas-filled circuit breakers.
Ensuring the readiness of assets that provide electric service to critical gas infrastructure and other points of delivery that are vital to support generation reliability and resiliency.
Inspecting and maintaining substations and transmission lines that are critical to Bulk Electric System reliability.
Cold weather restoration is handled differently.
We use a methodical and calculated process in bringing customers back online after an outage in very cold weather, regardless of whether the initial cause of the outage was specifically weather-related.
Rather than simply energizing an entire power line all at once, we must bring customers back online one section at a time to avoid damage to the system and making the situation worse.
During cold temperature extremes, customers tend to use a lot of electricity to keep heating or other devices running. Electric heaters often will run continuously, creating a constant power demand.
When power is disrupted during winter, many customers leave their heating systems and appliances turned on, creating too much energy demand all at once when service is restored.
We have devices that protect our system during times of normal, day-to-day operations and power demand. During weather extremes, we must change our processes to protect our system and restore power in a way that best ensures safety and reliability for our customers.
Restoring all customers on the same power line simultaneously can create large, instantaneous power demands. The instant demand could be higher than the built-in protective devices on a line were designed to handle.
During this extreme cold weather conditions, these specific restoration challenges are experienced not just by Entergy, but throughout the industry and the country.
Customers without power can help by turning off major appliances but leaving on a lamp or other light to indicate when power is restored. Then, gradually turn other appliances on to spread out the increase in power usage over a longer time.
Several online resources are available to help you stay safe during severe winter weather.
Safekeeping resources on our Storm Center 
---