Insights > Entergy Texas winter storm update – 12/23/22, 1:30 p.m.
Entergy Texas winter storm update – 12/23/22, 1:30 p.m.
12/23/2022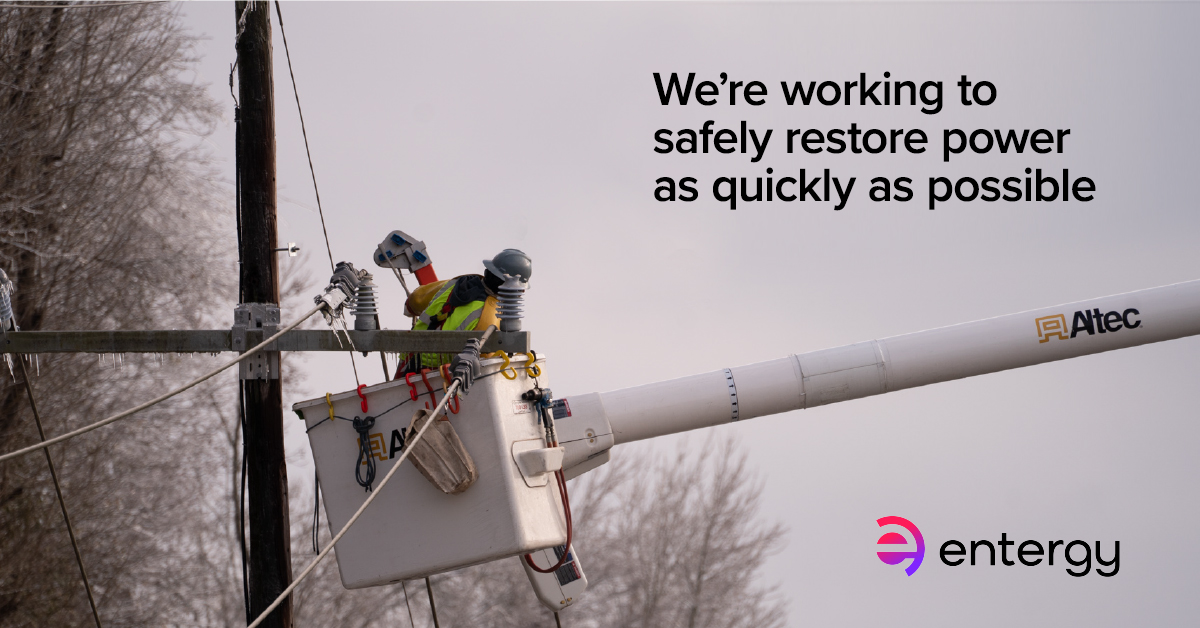 More than 75% of customers restored in less than 24 hours; no power generation concerns at this time
After working through the night and this morning, Entergy Texas crews have restored power to approximately 36,000 (75%) of the 48,000 customers in the impacted regions across Southeast Texas.
Our crews continue to assess damages and repair portions of infrastructure that were impacted by Thursday's severe wind gusts. 
Power is expected to be restored to most of the remaining customers by late tonight, with some customers in the most impacted locations potentially being restored tomorrow. Estimated times of restoration may be adjusted as more information becomes available through damage assessment and work in the field progresses throughout the day. 
We currently do not have any power generation concerns and all units are online with appropriate fuel supply. It's also important to note that Entergy Texas operates under the Midcontinent Independent System Operator.
Customers are encouraged to make safety a priority by keeping their distance from utility crews and their worksites and calling 1-800-ENTERGY (1-800-368-3749) to report downed power lines.
Also, never use a generator indoors. Carbon monoxide from the exhaust is deadly. Never plug the generator into a wall outlet. If you plan to use a standby built-in generator, always use a licensed electrician to hook it up. When using standby built-in generators, the main breakers should be opened to avoid feeding power back into Entergy's lines and creating a hazard for the public and power line workers.
Restoring power in extreme cold is different 
The restoration process is done in an orderly and deliberate manner. As soon as it's safe to work, our crews start turning the lights back on for our customers. Restoration efforts begin as scouts start assessing the storm's damage, and crews start needed repairs at the source and work outward. Certain types of work, such as repairs requiring the use of bucket trucks, cannot be safely completed when winds exceed 35 miles per hour.
When temperatures are extremely cold, we must bring customers back online one section at a time, rather than simply energizing an entire power line all at once. Restoring all customers on the same power line simultaneously can create large, instantaneous power demands. The instant demand is different than day-to-day operations and could be higher than the built-in protective devices on lines were designed to handle. This is done for the safety of our customers, and to avoid damaging our system or making the situation worse.
We will continue to provide updates throughout the restoration process. For the most current information, view our Outage Map, download the Entergy app, and sign up for texts alerts by texting REG to 36778. 
For the safety of our crews and your individual safety, please stay away from their work zones. If you need to report a problem with your service or get bill payment help, we're just a phone call away: 1-800-ENTERGY (1-800-368-3749). Additional safety tips are available on the Storm Center. Find further updates and safety tips on the Entergy Texas Facebook and Twitter pages.
Safekeeping resources on our Storm Center
About Entergy Texas
Entergy Texas, Inc. provides electricity to more than 486,000 customers in 27 counties. Entergy Texas is a subsidiary of Entergy Corporation, a Fortune 500 company headquartered in New Orleans. Entergy powers life for 3 million customers through its operating companies across Arkansas, Louisiana, Mississippi and Texas. Entergy is creating a cleaner, more resilient energy future for everyone with our diverse power generation portfolio, including increasingly carbon-free energy sources. With roots in the Gulf South region for more than a century, Entergy is a recognized leader in corporate citizenship, delivering more than $100 million in economic benefits to local communities through philanthropy and advocacy efforts annually over the last several years. Our approximately 12,000 employees are dedicated to powering life today and for future generations. For the latest news from Entergy, visit the Newsroom.
Download a high-resolution Entergy logo here.
---